The first KUN shoulder rest patent was granted to Joseph Kun 50 years ago. The Czech violin pedagogue and inventor had immigrated to Ottawa where he met his wife, Marina. Together, they developed the Kun business and brand, which is now a staple for string players around the world.
To help celebrate the company's 50th anniversary, The Violin Channel, is giving away five KUN Bravo collapsible shoulder rests this week. Launched in 1999, it is a favorite of professional violinists including James Ehnes, Lara St. John, Kelly Hall-Tompkins, and many more.
We chatted with Marina Kun and her daughter, Juliana Farha, about the memories created in the company's 50 years.
In 1972, your then-to-be husband, Joseph Kun, published a design patent for what would become the Kun Original shoulder rest. You started working with him, hand-making and marketing the shoulder rest soon after that. Since 50 years have passed, what are some of your favorite memories from developing the company?
Marina: Our first workshop was a nondescript building at a busy intersection in downtown Ottawa. Hardly inspiring, but it was where we gathered to hand assemble the first Kun rests which were made from metal. I even recruited my young children to help! Joseph would offer the shoulder rests to players who came to the shop, and I must say they took off relatively quickly. Violinists took to them straight away, which encouraged us to think big.
Of course, we knew nothing about plastics or injection molding but we managed to find a company to work with about two hours from Ottawa. Needless to say, they knew nothing about playing the violin but they were really just there to reproduce what we were already making.
GEWA quickly became our exclusive wholesaler in Germany because they were the only company that saw the potential of our product. In fact, a few years ago I was approached at a trade fair by the owner of one of the companies that turned us down. He told me it was one of his biggest business regrets!
I do recall the first time I saw a shoulder rest on the instrument of a player on a European stage. Wow! It was then I really understood that we had made a connection with thousands of players around the world, from our small shop in Ottawa.
How would you define KUN in 5 words?
Julia: Innovative, meticulous, local, pioneering, ambitious.
KUN has always put players' comfort as a priority in its shoulder rest designs. Would you say this is one of the main reasons why KUN is so popular among violinists and violists around the world?
Marina: Absolutely. From its beginning, the Kun rest was conceived as a way of making playing more comfortable and eliminating the physical problems that result from an activity the body wasn't built for. We regularly meet players who tell us that their shoulder rest feels like part of their instrument, and they can't imagine playing without it. Later, we learned that raising the instrument off the shoulder can also enhance its sound, which was wonderful. Still, player comfort was always our top priority. But the other big reason for the popularity of Kun rests is because they're so reliable, and that's been crucial to us. Players figure out very quickly that buying cheap copies is a false-economy because they break so fast.
What have been some of the major challenges you faced while running such a successful and world-known company for 50 years?
Marina: Well, the biggest challenge is certainly the illegal copies of our product. On a practical level, it's frustrating that Kun is obliged to devote so much time and energy to simply protecting its own ideas. Perhaps big companies like Apple have the resources for that, but for a small family-run business like ours, it can be onerous. It's also hard for me to understand how anyone could build a business that just copies other people's inventions and exploits their marketing.
Another challenge is that lots of people come to us with ideas and very strong opinions but it can be difficult to gauge where there's a real appetite in the market. Our premium Bravo rest has been a huge success, but I'm not sure our carbon fiber Voce model found its audience. It certainly had its devotees and many people were disappointed when we discontinued it, but it never really hit its stride despite the use of really innovative materials and an entirely new mechanism, in an award-winning design.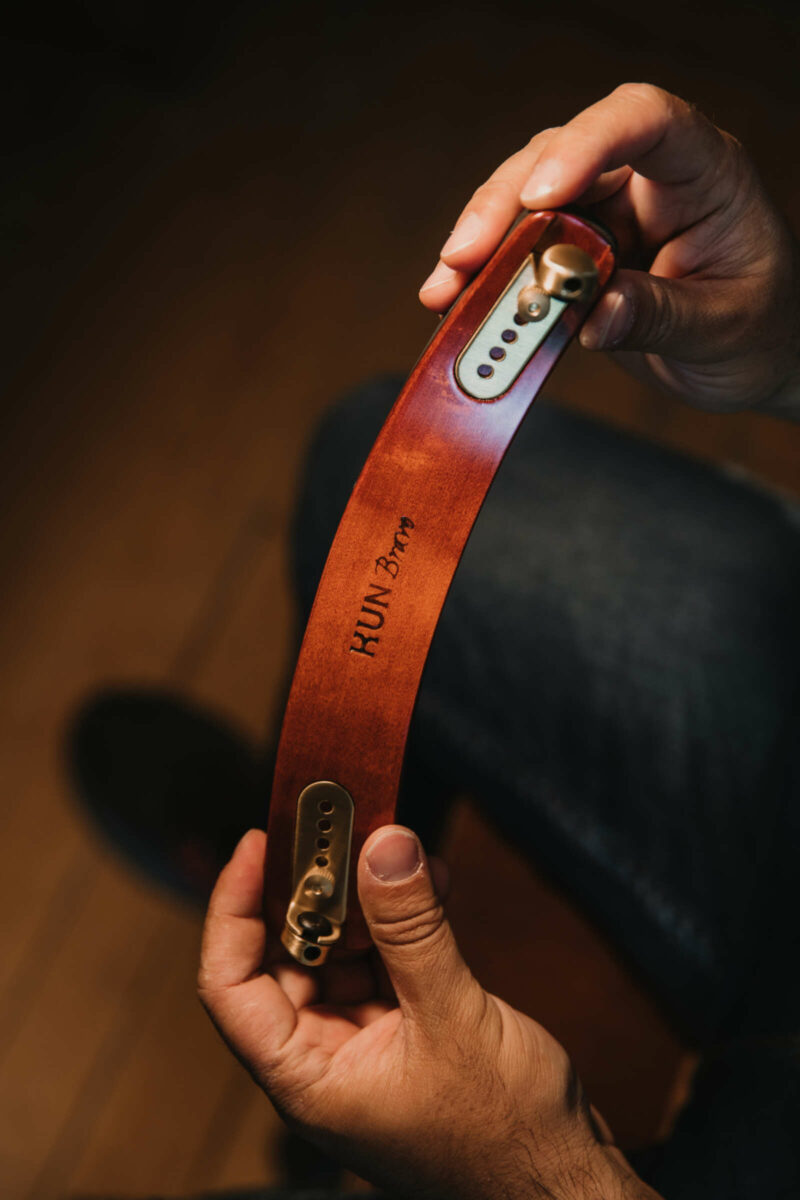 Who were some of your major artistic partners over the years?
Marina: We've tended to keep our efforts local, so we're very longstanding supporters of Chamberfest in Ottawa, as well as Thirteen Strings, the Ottawa Symphony Orchestra, and Music and Beyond. We've also been sponsors of the Banff International String Quartet Competition, and I sat on the board of Canada's National Youth Orchestra for many years.
On the lutherie front, many years ago now I did manage to persuade the VSA to hold its annual convention outside the US for the first time ever!
Also, over the past few years, we have assembled a wonderful international list of Kun Featured Artists — well-known violinists and violists across musical genres who have used our products for many years. Some of them have agreed to trial our new model when the protypes are ready, and we're very keen to get their feedback.
You have been supporting numerous music organizations, many of whom work with the younger generations. Can you tell us more about your philanthropic work and why it's so important to you?
Marina: In terms of performance, I suppose I felt that Chamberfest's aspiration to bring top-notch international artists to Ottawa would enhance the city's cultural offering, and I wanted to support that. But really, I wanted to share my love of music. I have had a love of classical music from a very young age. We didn't listen to classical music in my home, but in elementary school we had music appreciation classes and that seemed to trigger my interest. And then in my teens I started to take a more active interest and would sometimes go to concerts on my own.
I was also really inspired by the work of Jose Antonio Abreu, the founder of El Sistema in Venezuela and many of the music education charities we support are modeled on that approach, where the focus is less on becoming musicians, and more on seeing yourself and the possibilities of your own life differently.
Juliana: We've also become more actively involved in the community by doing more than just donating shoulder rests to these organizations. For instance, we've worked with OrKidstra to get the input of their students in creating new products for young people. Also, during the pandemic when we were all struggling to keep our voices out in the world, we committed "spotlight" weeks on our social channels to highlight Orkidstra and Sistema Toronto's work in affecting social change through music education.
In addition to our work with El Sistema programs, we have supported a variety of charitable organizations internationally. This includes the Belgian-based Music Fund, which collects musical instruments, has them restored, and then distributes them to its partners, and the Jerusalemite Youth Cultural Forum, which has responded to the challenges faced by young Palestinians in East Jerusalem through an ambitious range of arts programs and activities aimed at young children in the community.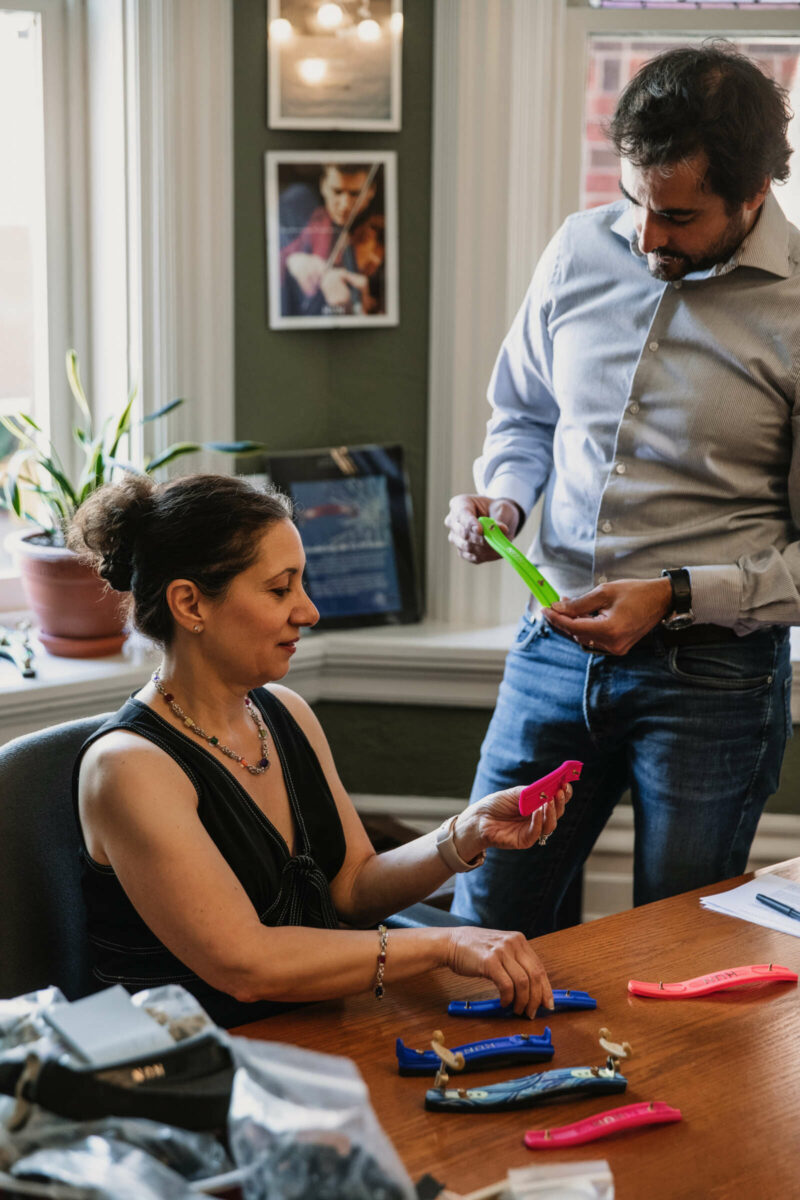 How does it feel to be celebrating this major milestone?
Marina: Frankly, it hit me like a ton of bricks because I wasn't counting the years. It was Juliana who did the arithmetic and reminded me! I was surprised it had been so long — it sure doesn't feel like half a century. Nonetheless, it's very gratifying that so many players around the world continue to seek out and value our products so much, and that teachers continue to recommend them. There's a lot more competition than there was in our early years, not to mention more copies, so the fact that we're still going strong at this stage is amazing.

Can you tell us about the celebratory concert that will take place on July 30th? What can listeners expect to hear?
Juliana: We're really excited about this concert, and it's been in the works for a while. It's part of Chamberfest in Ottawa, and they've been very gracious about allowing us to participate in the programming. That's been lovely as we wanted the concert to reflect the history of Kun and the family behind it.
We're also really pleased that the performers include two fantastic Kun Featured Artists, Lara St John, and Kelly Hall-Tompkins.
As for the music, we're celebrating Joseph Kun's Czech and Hungarian heritage with Dvorak and Bartok, and our own family background with a piece by the French-Lebanese composer, Bechara El-Khoury. My mother's longstanding love of anything Latin will come courtesy of the women-led Afro-Cuban ensemble OKAN. And we're thrilled to be presenting 'White Mans Cattle' by the Indigenous cellist and composer, Cris Derksen. I think the concert will be a dynamic and lively mash-up!
What is in store for the future of KUN?
Juliana: For a couple of years now, we've been working on Kun Seven, a completely new model, which will launch later this year. It's been beset by delays, partly because of Covid but also because its functionality is ambitious. Once the Seven launches, we plan to explore a couple of ideas for more modest but significant modifications to our current models. At the same time, we are very keen to produce complementary products, and began exploring some of these ideas in earnest before Covid started. I'm really looking forward to returning to that exercise.