VC INTERVIEW | Dr Thomas Zwieg - Larsen Strings Product Development Manager
VC recently caught up with Larsen Strings' Product Development Manager, Dr. Thomas Zwieg - to get a better understanding of the revolutionary new Larsen 'Il Cannone' violin string set
The Violin Channel recently caught up with Larsen Strings' Vice President of Product Development, Dr Thomas Zwieg - at the Kronberg Academy, in Germany.
We sat the acclaimed string engineer down to get a better understanding of the revolutionary new Larsen Il Cannone violin string set.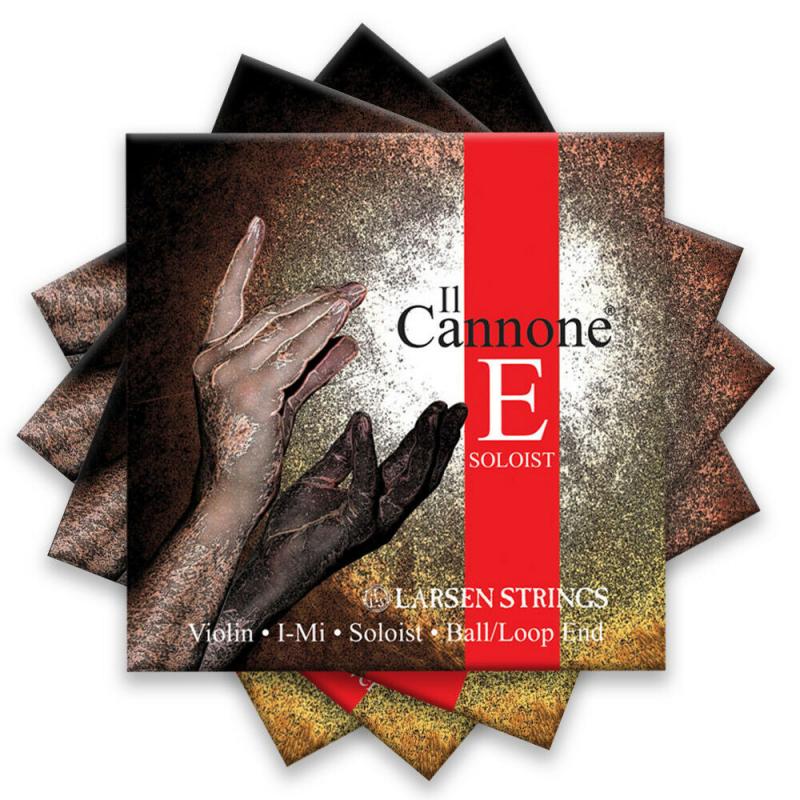 Hi Dr Zweig. Tell us about the new Larsen Il Cannone violin string set?
"The Il Cannone violin strings combine a clear and colorful sound with punch and projection.
There are many violin strings available on the market which offer a direct sound with strong projection, however, these we've felt these strings can often lack the color and depth to the sound - or are too direct and/or too one-dimensional.
When testing strings, we were challenged by the musicians to create a new string set with color and roundness in the sound - but without compromising direction or projection"
What type of player and instrument are the Il Cannone most suited to?
"The Larsen Il Cannone strings are best suited to instruments with a warm to neutral sound ... for very brilliant sounding instruments, the Il Cannone is not recommended.
We've found Il Cannone also work best with a dynamic bowing technique rather than heavy bow weight.
I found that violinists who are used to playing with a higher bow weight can have some trouble with these strings - often struggling with the response and resistance to the bow.
However, when adapting their bowing technique, the same players were often very happy with the strings - praising the fast response and sound colours"
We're noted you have a number of variants in the tensions and sound quality within the Il Cannone suite? Can you tell us about these? How would one go about exploring what is the right combination for them?
"We offer the Il Cannone strings in two versions - a medium and a soloist version.
The medium has a moderate tension - so it is therefore more noble and round and often opens the instrument up in sound.
The soloist version has a higher tension, and brings a fuller tone, with more power, presence and focus and more resistance to the bow.
Which version fits best obviously depends on the instrument and on the player ....
In addition, for both sets we now offer two types of a-strings - one direct and focused and one warm and broad.
These options are to optimize the individual set-up even further.
For testing the Il Cannone strings, I always recommend to musicians to start with just the g-string ... I would suggest buying the g 'medium' and 'soloist' string and testing both on your violin.
You will of course not get the full potential of these strings in such a set-up, but you will be able to immediately feel if you are attracted to the strings or not - and whether the 'medium' or 'soloist' variant is the better choice for you.
Than I would suggest buying the rest of the set to match your favorite g-string"
How does the Il Cannone differ to the other sets in the Larsen family?
"The Il Cannone strings are sound wise in the same family with the Larsen 'Virtuoso' strings - designed to provide a clear and colorful sound.
The Il Cannone does however offer more punch and a more direct sound - and a distinctly faster response with spiccato.
The Larsen Tzigane and Larsen Original strings are warmer and more saturated in sound - and are therefore more ideal for brighter sounding instruments"
What is your personal process for creating and developing a new string?
"String development at Larsen Strings is driven by our testing with the large amount of string musicians we are in close contact with.
We consider the musicians our partners, and our role is to understand and unlock their sound quality and playability dreams.
We calculate all our strings on a computer before making prototypes, so to ensure the physical parameters, tensions, pitch frequencies, diameters, layers and winding materials are all possible.
We then thoroughly test all our prototypes in our lab first before the musicians can get in touch with them.
The string testing process is long and time consuming - but it is a wonderful process with endless amounts of learning"
Are you currently working on any new strings or ideas?
"Of course, we are working on new string projects and ideas ... and we've recently filed several patents.
However, of course there is no rush ...
There are many many strings available on the market, so we feel we need to do our job very carefully and thoroughly - whilst always focusing on the needs of the musicians in order to truly make a difference with all new releases."