BREAKING | Finalists Announced for New York's Young Concert Artists Auditions
The 12 candidates advancing to the Final stage of the 2018 Young Concert Artists International Auditions have been announced
The 12 candidates advancing to the Final stage of the 2018 Young Concert Artists International Auditions, in New York City, have just minutes ago been announced.
The 2018 Young Concert Artists International Auditions Finalists are:
VC Young Artist Aurélien Pascal (Cello)
Sae Yoon Chon (Piano)
Juan Perez Floristan (Piano)
Randall Goosby (Violin)
Nicholas Ho (Piano)
Simon Höfele (Trumpet)
Risa Hokamura (Violin)
Ian Koziara (Tenor)
Maxim Lando (Piano)
Haesue Lee (Viola)
Aristo Sham (Piano)
Jonathan Swensen (Cello)
Open to international instrumentalists aged 16 and 26, the 2018 winners will join the Young Concert Artists roster – granting access to a minimum of 3 years management services, career engagements, publicity and career guidance plus coveted recital debuts in New York City and at the Washington DC Kennedy Center for the Performing Arts.
Founded in 1961 by Susan Wadsworth, The Young Concert Artists International Auditions differ from a competition, as there are no rankings, and any number of winners can be selected – with each candidate competing against a standard of excellence, not each other.
Previous recipients include: Pinchas Zukerman, Ida Kavafian, Chee-Yun, Emanuel Ax, Murray Perahia and Anne Akiko Meyers – and VC Artists Paul Huang, Bella Hristova, Benjamin Beilman, Ray Chen, Stephen Warts, Zlatomir Fung, Edgar Moreau, Xavier Foley, SooBeen Lee and Zlatomir Fung.
This year's final round jury will comprise: Susan Wadsworth (Chair), vocalists Peggy Bouveret and Randall Scarlata, violinists Koichiro Harada and Chee-Yun, pianists Jerome Lowenthal and Ilana Vered, violist Scott Nickrenz, cellist Fred Sherry and trumpeter/conductor Gerard Schwarz.
The Final round of auditions, to be held at Merkin Concert Hall in New York City on Sunday the 11th of November, will be streamed live on The Violin Channel.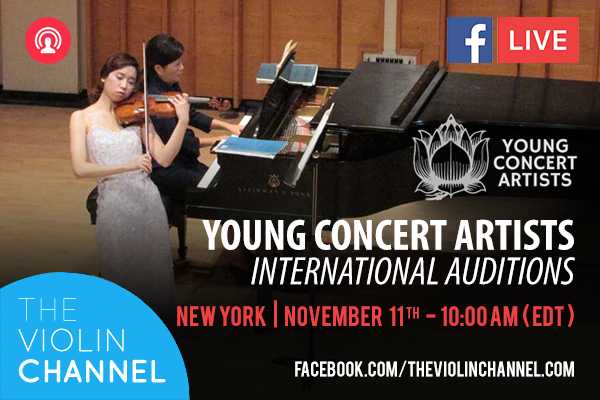 PICTURED: 2018 YOUNG CONCERT ARTISTS INTERNATIONAL AUDITIONS FINALIST, VC YOUNG ARTIST AURELIEN PASCAL FROM FRANCE