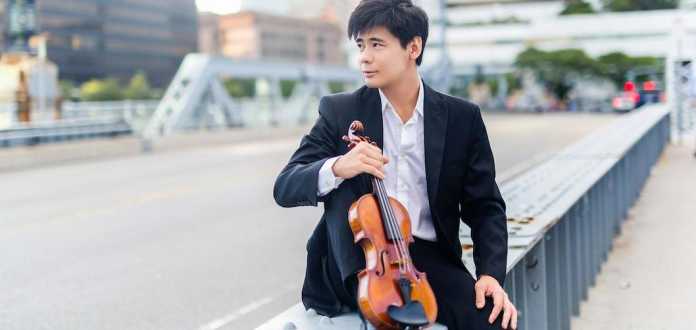 Chinese violin virtuoso Angelo Xiang Yu is quickly building an international reputation as one of today's most exciting and gifted young concert artists – praised for his maturity and profound musicality.
A recent graduate of the New England Conservatory, where he studied with Donald Weilerstein and Miriam Fried, Angelo is a former major prize winner at the Michael Hill and Wieniawski International Violin Competitions - and former 1st prize winner in the Senior Division of the Menuhin Competition.
He was recently awarded a prestigious Avery Fisher Career Grant - in addition to a highly sought after Lincoln Center Emerging Artist Prize. 
Angelo's recent orchestral engagements include performances with the San Francisco Symphony, Pittsburgh Symphony, Houston Symphony, Shanghai Philharmonic, Auckland Philharmonia, Munich Chamber Orchestra and the Oslo Philharmonic Orchestra - and summer festival performances at Chicago's Grant Park Music Festival, the Verbier Festival, the Chamber Music Northwest, [email protected], the Aspen Music Festival - and the Ravinia and Sarasota Music Festivals. 
He currently plays on a 1729 Antonio Stradivarius violin - on generous loan from an anonymous donor.
VC ARTIST ANGELO XIANG YU & ANDREW HSU | SARASATE | CARMEN FANTASY | 2018
VC ARTIST ANGELO XIANG YU & ANDREW HSU | BEETHOVEN | 'SPRING' VIOLIN SONATA NO. 5 IN F MAJOR | 2018
VC ARTIST ANGELO XIANG YU | PROKOFIEV VIOLIN CONCERTO NO. 1 IN D MAJOR | HUGH WOLF & NEW ENGLAND CONSERVATORY PHILHARMONIA | 2014
VC ARTIST ANGELO XIANG YU & MEI RUI | CHAUSSON | POEME | 2013
VC ARTIST ANGELO XIANG YU & DINA VAINSHTEIN | SCHUBERT | 'FANTASY' IN C MAJOR | 2014
VC ARTIST ANGELO XIANG YU & ANDREW HSU | MOZART VIOLIN SONATA IN E MINOR | 2018
VC ARTIST ANGELO XIANG YU & QING JIANG | MOZART | 'ADAGIO' IN E MAJOR | 2015
VC ARTIST ANGELO XIANG YU & DAVID MEIER | SZYMANOWSKI | NOCTURNE & TARANTELLA | 2010 MENUHIN COMPETITION | 1ST PRIZE
VC ARTIST ANGELO XIANG YU | PROKOFIEV VIOLIN CONCERTO NO. 2 IN G MINOR | 3RD MVT | 2010 MENUHIN COMPETITION | 1ST PRIZE
VC ARTIST ANGELO XIANG YU | BACH | SOLO PARTITA NO. 2 IN D MINOR | CHACONNE | 2013
Violin: 1729 Antonio Stradivarius Violin
Bow: W.E.Hill & Sons
Strings: Thomastik Peter Infeld G, D, A | Jargar E
Accessories: Kun Bravo Shoulder Rest | Musafia Lievissima Violin Case | BAM La Defense Contoured Violin Case
Teachers: Donald Weilerstein | Miriam Fried
School: New England Conservatory
Website: www.angeloviolin.com
Facebook: www.facebook.com/angeloxiangyu
Instagram: @angeloviolin
YouTube: www.youtube.com/angeloviolin