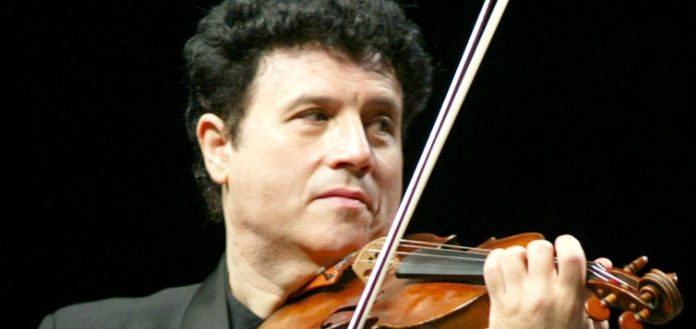 VC member Pauline Jackson from Toronto was keen to know: 'What is the logical methodology for choosing repertoire for a student?'
We threw the question over to Columbus State University Schwob School of Music Violin Professor, Sergiu Schwartz:
'Hi Pauline,
When addressing this question one has to relate to traditional methods of teaching going back historically to established violin schools including Italian, Franco-Belgian, German, Russian, Hungarian, Czech and their more contemporary relatives from US, Asia, or more recently El Sistema.
My good fortune was to study early on with remarkable artists pedagogues, themselves direct disciples of Enescu, Oistrach, Hubay, Flesch, Rostal and Galamian.
While there is freedom for arguments and different methods or principals, the "logical methodology for choosing repertoire for a student" could be best answered by mentioning a few of my assigning criteria.
First, teaching and mentoring young students from different  backgrounds, countries, ages or playing levels, requires my assessment of  their capability and natural qualities.
When assigning works of Bach, Mozart, Beethoven, Schubert or Brahms my approach factors in the complex structural elements of shape, sequencing, harmony, voicing, type of sound, vibrato, bowing, etc. characteristic of the above German masters, but not easily grasped by young students.
There is an appropriate time to assign repertoire meant to develop coordination, facility or individual projection through mostly romantic works, or when is necessary to assign repertoire meant to help develop deeper artistry and maturity.
The foundation of solid violin playing and coordination is anchored in the well established methodology of 19th and 20th century.
I favor a good diet of such repertoire while avoiding a "cookie cutter" one system fits all, by selectively assigning technical exercises- including my own formulas- combined with the études and short works most beneficial for a concrete and applicable outcome.
Most composers who wrote violin works, incorporated the technical advances and practices of  Locatelli , Tartini, Viotti , Kreutzer, Rode, Dont, Gavinies, Dancla, Wieniavski, Vieuxtemps, Paganini, Ysaye, to name a few of the influential ones.
Under the category I named " Time and Space connections" I bridge the gap, meaning that for each particular challenge in a Virtuoso piece, Sonata or Concerto, I assign a matching exercise or étude to address and improve what is needed specifically.
When asked about the source of his golden, rich sound, violinist Mischa Elman referred to his grandfather side of klezmer playing and cantorial singing. Just like a good singer, the violinist's sound needs a demanding build up, leading to finding the inner and most beautiful voice.
Consequently, I assign repertoire meant to develop the free sound production characteristic of the violin as primarily a singing instrument. Through " Finding the inner voice" category of repertoire assignment, I witnessed tangible development of sound expression.
Operatic transcriptions of Dancla, Vieuxtemps, Masenet, Spohr, Paganini, Sarasate , Hubay, Gershwin, Heifetz's transcriptions from Ave Maria to American folklore, Rachmaninov's Vocalize, or the expressive writing of movie composer John Williams come to mind.
The category of repertoire assignment I call " Competitive Motivational Outcome" could benefit students I deem ready to enter a competition.
Having judged in many national or international ones, I personally favor situations when the range of repertoire encompasses more styles and periods, as well as multiple choices.
Many competitions require the performance of a contemporary or commissioned new work. Most notable and long tradition has been established by Queen Elizabeth competition in Bruxelles. I welcome such expansion of repertoire as additional means to stimulate the student's interest in learning and practicing new works. A few of my students are successfully composing, arranging, transcribing or writing own cadenzas.
Finally, my own interaction with giants such as Isaac Stern, Yehudi Menuhin, Sandor Vegh, Nathan Milstein or Sergiu Celibidache, further shaped and deepened my understanding of styles, and how these artists approached various repertoire themselves.
They always put the integrity and style of the composer above their otherwise amazing interpretative imagination and individuality. This is a credo I abide too when assigning various repertoire and helping my students to achieve their best.
- Sergiu'
Sergiu Schwartz currently serves a teaching Professorships on faculty at the Columbus State University Schwob School of Music and a Guest Professorship at the Conservatoire de Lausanne, in Switzerland | He has performed as a soloist on four continents  - and frequently conducts masterclasses in Europe, Israel, Russia, Canada, Asia and the United States | His students include prize winners at the Paganini, Sarasate, Szeryng and Oistrakh International Violin Competitions