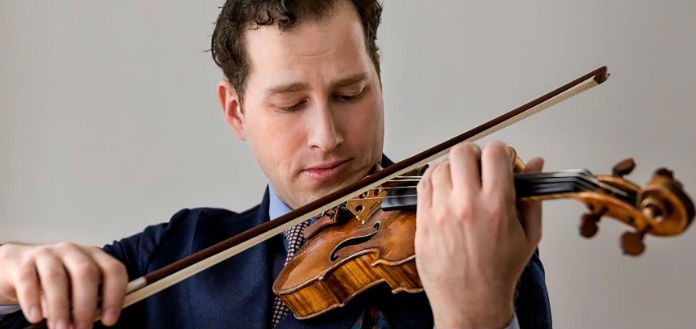 The Violin Channel recently caught up with acclaimed Danish-Israeli violin soloist Nikolaj Znaider.
In a VC-exclusive guest blog, Nikolaj, who's recently released Mozart's 4th and 5th Violin Concertos on the London Symphony Orchestra's LSO LIVE label, shares his tips and insights for leading a concerto performance without a conductor:
"Tip #1: Don't do it ... only joking of course, but it is quite difficult.
The first difficult point is that you turn your back on people you're supposed to lead.
You're playing away from them, so the sound is going away and it is harder for them to hear you."
Tip #2: Choose your repertoire wisely ... light accompaniment is helpful because the orchestra can hear you.
I would start with Mozart, and maybe Beethoven.
I've done Mendelssohn many times, but found it very difficult.
I've also tried Schumann but to my detriment, it is very difficult without a conductor."
Tip #3: Position yourself carefully and trust one another ... a small semi-circle or oval works, as long as no one is too far from you.
What's important to me is that the playing never becomes too vertical.
The danger of playing and directing is that one may play slightly less refined in order to stay together.
It's finding that balance between still narrating the piece in a way that is expressive and finding something practical that everybody can react to. 
That's why the more trust that is involved, the better."
Tip #4: Buy the concertmaster dinner.
The concertmaster is one of the people who can feel and hear you strongest.
There are a couple of practical entrances and upbeats that can only be given by somebody who likes you.
Tip #5: Split the violin sections ... or don't.
I do rather like to have split violins ... I think it brings a nice sound quality to the performance.
At the same time, it is nice to have something a little more bassy. I don't think there's a right or wrong.
Tip #6: Enjoy the energy.  There is an added sense of participation from the orchestra.
Simply, they feel more empowered when there isn't somebody standing and waving a stick. ... it actually works really really well.
Tip #7: Don't base musical decisions on what's practical.
One danger is playing too clearly.
Tip #8: Know your music, obviously.
Make sure to rehearse your accompaniment and make clear of the phrases.
This is something that chamber orchestras do incredibly well, they phrase everything.
Tip #9: Let the music call the shots.
Let the music dictate.
People say play it like chamber music, because they say we listen and react to each other in chamber music, but really, what we should say is: play it like music, since that's what we have to do always, in all music.
Tip #10: Don't play Schoenberg!
You're making a very big mistake there…
Good luck.
- Nikolaj"