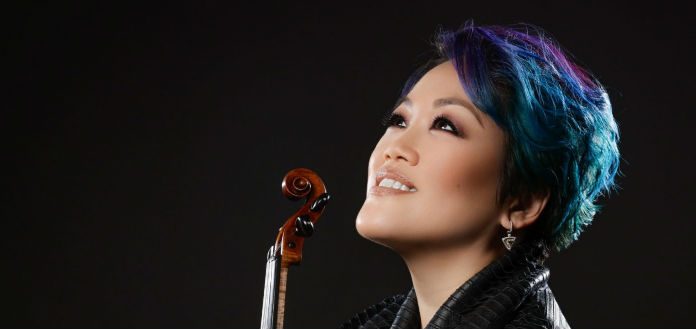 The Violin Channel recently caught up with long-time London Symphony Orchestra 1st violinist, Ms Maxine Kwok-Adams.
In a VC-exclusive guest blog, Maxine shares her insights on the best aspects and the challenges of a career in a full time orchestra.
"I wanted to be a member of a symphony orchestra since I was eleven years old but admittedly I probably had a romanticized view of what it would actually be like as a career.
Having been a member of the LSO for almost twenty years I can say that the challenges range from learning and assimilating music at a fast pace to mastering the art of diplomacy within a section!
London orchestral life is extremely hectic. Concerts are rarely repeated so the sheer volume of repertoire you learn on the go is vast.
Having a suitcase close to hand and renewing your passport at an alarming rate is another huge part of the job.
I've had the privilege of travelling to so many places I'd never have had the opportunity to for work but of course it can be a challenge balancing your family and touring lives.
You can end up spending far more time with your colleagues than you might wish to and certainly more than you do at home so I always refer to a job within an orchestral as a lifestyle rather than a career.
You can return from an Asia tour one day and be working in London the next morning so having stamina physically and mentally is definitely a challenge.
There are long hours spent in the recording studio so being able to sightread and adapt to different kinds of music at a moment's notice is essential. The work is often shrouded in secrecy so access to the music in advance is pretty much impossible.
I do love the commercial work we are involved in as it can range from recording Hollywood blockbusters or new commissions to laying down Christmas tracks in July!
There are always fascinating people to meet on these projects from sound engineers to actors dropping in to watch the process.
The best aspects for me are the camaraderie and intense friendships that are formed within an orchestra.
Not only do you have the opportunity to play the most incredible music surrounded by amazing musicians but you get to call them friends as well.
It doesn't matter where in the world we are or how jet lagged, if you're playing a piece like Mahler 9 in a great concert hall I'd call it a privilege. Y
ou also gain a useful insight into where in the world to find restaurants that are open post-concert ... an orchestra marches on its stomach after all
- Maxine"