NEW MUSIC TUESDAY | Violinist Daniel Hope - Alan Fletcher Violin Concerto, Aspen Festival [2018]
Violinist Daniel Hope leading and performing American composer Alan Fletcher's newly-premiered Violin Concerto - with the Aspen Festival Ensemble
British violin virtuoso Daniel Hope leading and performing American composer Alan Fletcher's newly-premiered Violin Concerto - with the Aspen Festival Ensemble.
Recorded live on the 17th of July, 2018 - at the Aspen Music Festival, in Aspen, Colorado, USA.
The 26 minute, 3 movement work, scored for solo virtuoso violin and 20 individual string chamber orchestra parts, was premiered in September 2017 by Daniel Hope and the New Century Chamber Orchestra.
DANIEL HOPE | ALAN FLETCHER VIOLIN CONCERTO | ASPEN FESTIVAL ENSEMBLE | 2018 ASPEN MUSIC FESTIVAL
"Daniel Hope originally requested my violin concerto for the Zurich Chamber Orchestra and asked for some sort of nod to Zurich …." composer Alan Fletcher has told The Violin Channel.
"Rejecting bankers and precision gold watches … and even William Tell … I decided to portray the beauty of the lake and the mountains … in particular, the lake at night under a full moon …" he has said.
"I selected a hymn written in Zurich by Ulrich Zwingli, one of the founders of the Protestant Reformation and also a musician, and made the second movement an exploration of the hymn in variation form."
"I hope the water images are understood … and that it provides a window for each listener to see through … and feel the undercurrents of emotion."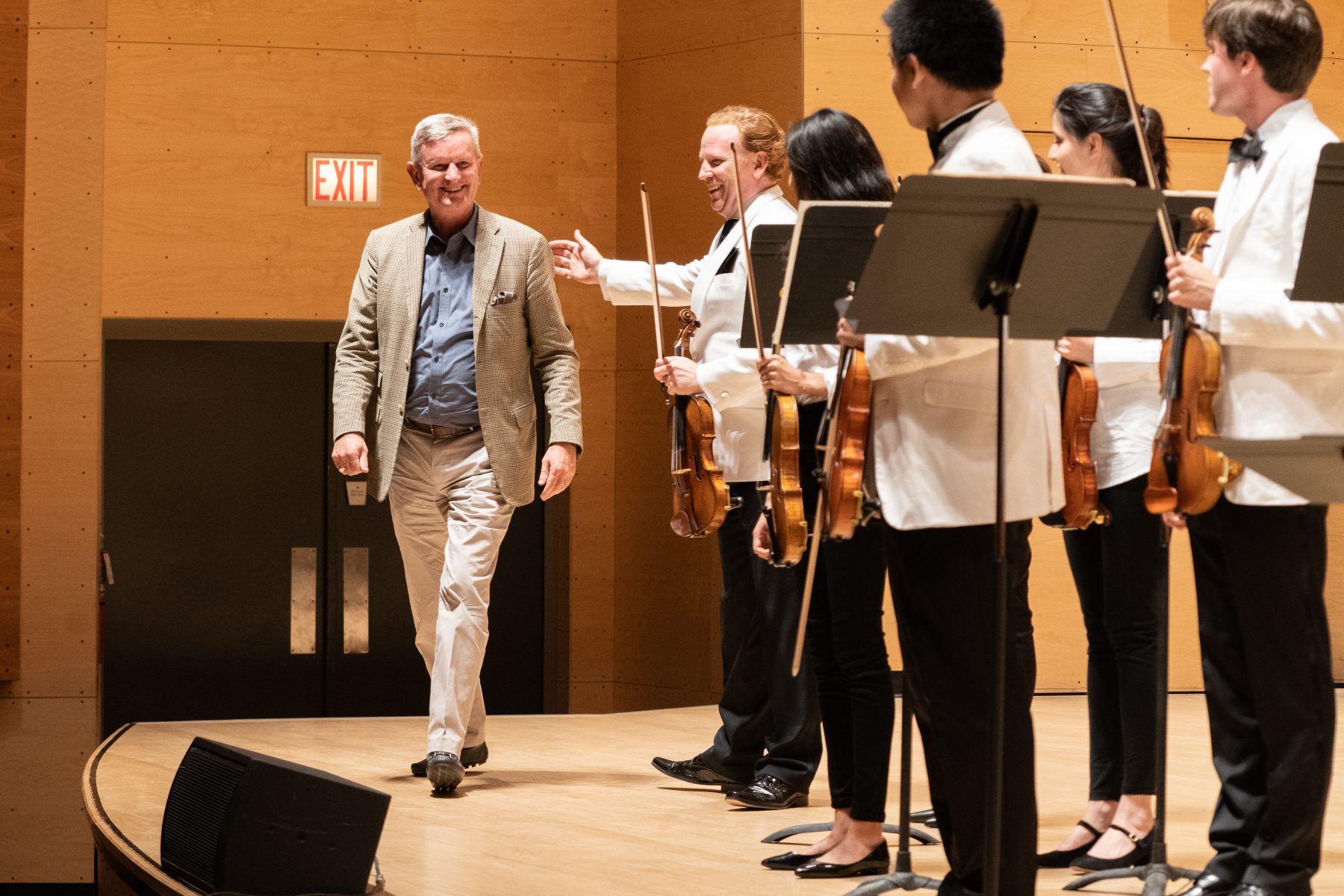 Composer and music administrator Alan Fletcher currently serves as President and CEO of the Aspen Music Festival and School | He has previously served as Head of School Music and Professor of Music at Pittsburgh's Carnegie Mellon University and as Provost and Senior Vice President of the New England Conservatory | He holds doctorate and master's degrees from The Juilliard School and a bachelor's degree from Princeton University, and has studied with distinguished composers - including Roger Sessions, Milton Babbitt, Edward T. Cone, and Paul Lansky
PHOTO CREDITS: GRITTANI CREATIVE