Violinist Andrew Jennings Discusses Keeping Up Your Own Playing As a Teacher
"How do teachers maintain their instrumental playing amidst their busy teaching schedules?" We threw the question over to violin pedagogue, Andrew Jennings.
As an active teacher, the day can go by without having touched your instrument. Teaching is a full-time job, and hours upon hours are spent guiding and nurturing students. Sometimes, it can be a challenge to squeeze in personal practice time! VC reader Jonathan Attias was curious to know more about how teachers upkeep their own instrumental playing. 
How do you stay motivated and consistent with your personal practice despite a busy teaching schedule? What are your tips on maintaining a high caliber of playing? Please leave a comment below, we are keen to know your thoughts.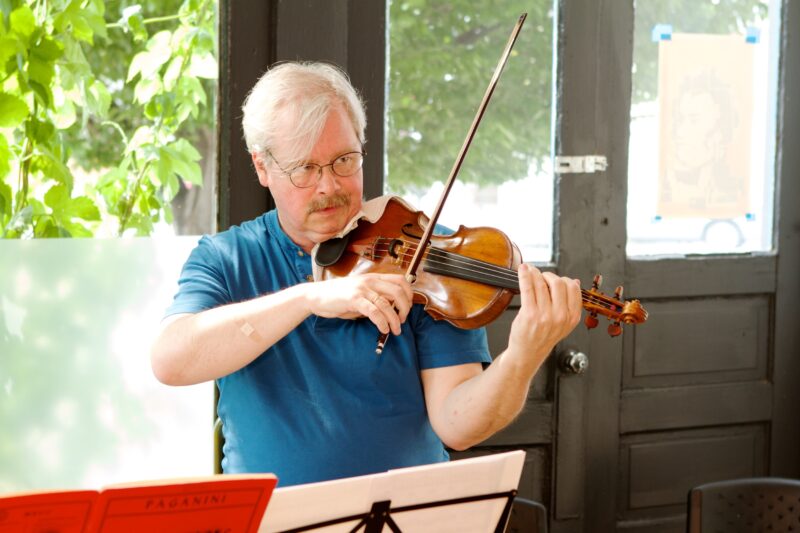 Violinist Andrew Jennings Shares Tips on Sustaining High-Caliber Instrumental Performance as a Teacher
Hi Jonathan,
Glib answer #1: "With great difficulty"
(Not-quite-so) Glib answer #2: "Sometimes you do and sometimes you don't"
Once a long time ago, I made a rule never to teach a piece I was currently playing because the two processes seemed so different, and doing them together led to compromises in both.
1) Teaching and coaching have several components which must work together to be effective. 
- Analytical observation 
- Understanding the physical component of our art 
- Strategic/psychological planning
More fully:
- Analytical observation is really all about hearing. What is the difference between what the group or student is presenting to you in a lesson and what should it sound like ideally in your opinion? What are the components of that difference and how clearly can you define them?
- Understanding the physical or acoustic component means you can identify root causes of difficulties that are created by set-up, posture, or group awareness ("radar"). 
- 'And the third aspect: strategic/psychological planning has to do with what to say when; what are the learning styles of students or groups that I can tap into to create understanding. Also, how much do I need to "simplify" or codify in order to make the ideas clear. The whole teaching process is heavily verbal and descriptive.
2) Performing, in my experience, does share several components of this; certainly a keen ear and the formulation of a clear sound goal, as well as the necessary ability to identify physical solutions which may make achieving that goal more successful. But essentially performing is NON-verbal and developing your own performance may happen much faster because you don't have to explain anything nor do you engage in simplification. It is a much more intuitive process and far harder to describe. It also does not adhere to the didactic process which can be an important tool in teaching. One doesn't always do the "correct" thing to get the best result.
Let me give an example. For the first part of my career, from the point I began to play seriously and through my many years playing in the Concord String Quartet, my life was 95% playing and 5% teaching/coaching. I played, practiced, rehearsed 8-12 hours a day but in any given week I might teach only an hour or two and much of that was in public masterclasses. I often found it hard to be an effective coach/teacher (I felt) because so much of what I did on stage and in the rehearsal room WAS non-verbal and intuitive and just saying to a group "well, I don't know, just play it better" was not a particularly effective tact. Hours later I would have that "if only I had said" or "what I should have done" experience. For the last twenty-five years, the formula has been reversed as I now do much more teaching than performing and I have learned methods of communicating with fiddlers and groups that can be effective, but I realize that there is a gap between what we achieve in the studio and the more intuitive process that must happen to make a great performance. It is one of the really joyful experiences to hear my students walk onstage and give a performance where intuition has taken over (building on what work we did) and create an experience far different than either they or I expected - letting intuition and inspiration take over.
What I have always noticed is that making that transition between the two modes, teaching and playing is not always easy. There is a physical sensation very like the sensation in your muscles when you go from one type of activity to another. Going from walking down the street to doing housework, to playing a sport or anything can result in a certain stiffness until the muscles get used to the new demands placed on them. The brain is often compared to a muscle, and going from teaching to playing feels very like moving from one physical activity to another; it takes a while for the mental "stiffness" to subside. Even more important is that it takes a great deal of time to move from verbal to intuitive modes of playing and thinking. It is one of the reasons I don't like to demonstrate in lessons/coachings. Not only do I think that older students should not still be in the imitative mode they used earlier in life, but it is quite painful for me to play at times in those circumstances (and sounds terrible).
Time seems always to be the biggest part of the equation. For a serious teacher there are usually three life components that have to be juggled: teaching, playing/practicing and family/life ("everything else").
In Dr. Pangloss' "best of all possible worlds," we have full time to practice and perform to achieve the best we can be; we have the time to give our students full attention, support and encouragement; and we can be full citizens of our home life, our communities and the world.
Each of those is a FULL-TIME JOB and until we can all share Hermione Grainger's magic spell to be many places at once, IT AIN'T GOIN' TO HAPPEN.
The trick is, of course, to manage time as a precious resource (which it is) and adopt a flexible approach to our lives.
Over the years I have started many time-management technics: calendars, schedules, computer programs, journals, self-help studies etc. Ultimately, though each has its pluses, all fail against the onset of LIFE. Monday morning I planned to do a three-hour practice on a current project, then teach and coach for 5 hours in the afternoon and then a nice dinner at home and a rehearsal or concert to attend in the evening. Simple…then the water heater leaked and I had to bail out the basement and call an emergency plumber; missed the first lesson which had to be moved to the dinner hour; found that one of my students was having a family crisis and needed to talk; and the evening rehearsal was not going to be on what I thought but was instead on a movement I hadn't spent sufficient prep time on. And did you notice, there was NO practice time……The next day when I start teaching at 8, I am depressed at having sounded so bad at the evening rehearsal, my muscles ache from all the bailing; and when I try to demonstrate at the first lesson I sound so terrible that I cannot believe my ears. The student who was having a crisis did not get his lesson because we were just talking and so we rescheduled for the one hour I had today to practice. So now 2 days have gone by without any time for the violin. And this does not take into account that creative practicing can't be shoe-horned into 30 minutes but needs an open space without looming commitments on the other end. Nor can it be "saved up" for that long weekend at the end of the month. Not that 30 minutes can't be useful...
There are no special tricks to staying in shape as far as I can see. But it takes time and a kind of clear shift of focus. If you can play and demonstrate in lessons and coachings, that is great, but make sure it is your best playing. The idea of "do as I say, not as I do" is to no one's advantage.
SO the short answer to the question you asked is make sure you have plenty of performing projects lined up to keep it necessary to spend time in performance mode, and make sure there is lots of time surrounding your playing time to make the transition to intuitive practice and then again to make the transition back to teaching.
- Andrew
Do you have a burning question for one of the pros? Simply email: [email protected]
A student of Ivan Galamian, Alexander Schneider, Pamela Gearhart, and Raphael Druian, Andrew Jennings was a founding and long-serving member of the famed Concord String Quartet, who came to international recognition by winning the Naumburg Chamber Music Award in 1972. He has held longterm teaching positions at Dartmouth College, Oberlin College, Tanglewood Music Center, and The University of Michigan School of Music.