Ground-Breaking Violin Channel Vanguard Concert Series Surpasses 1.5 Million Viewers
Since the kick-off of the new web series just over two weeks ago, the innovative Violin Channel concert performances have been viewed by more than 1.5 million people, in over 60 different countries
The first two episodes, streamed internationally via The Violin Channel's, the artists' and selected partners' social media channels, presented a preview showcase of all 10 programs in the inaugural series, and a 40 minute recital with violinist Joshua Bell and pianist Alessio Bax.
 "There have been many informal live Facebook and Instagram type videos during the pandemic, but the novelty of this has worn off," said David Lai, Park Avenue Artists Co-President and manager of Joshua Bell. "What is now important is the quality both with respect to the performance and the production. And this series hits the nail on the head."
 "This is the most organized, well-coordinated social media campaign I've ever seen," series violinist Philippe Quint added. "Classical music is not known to have these numbers."
"You're gonna break the internet!" Concert Artists Guild Senior Vice President Chris Williams and manager of series violist, Jordan Bak, retorted when presented with the news.
The series was co-produced by The Violin Channel Founder Geoffrey John Davies, the Alphadyne Foundation and veteran performing arts executive Charles Letourneau, in collaboration with New York-based Creative Director, David Katzive.
"Our series was created with the sole purpose of helping artists during this time of crisis," says VC Founder Geoffrey John Davies. "Not only did we pay the musicians real fees for their performances, but we also strived to create the ultimate promotional materials for them. And, I think we've already shown after just two weeks that this ground-breaking concert series is set to smash all goals."
The remaining concerts in the inaugural series will feature the Dover Quartet, Junction Trio, violinist Philippe Quint with pianist Jun Cho, violinists Nathan Meltzer and Kevin Zhu with pianist Rohan de Silva, violist Jordan Bak, violinist Tessa Lark with pianist Amy Yang and guitarist Frank Vignola, and cellist Sophia Bacelar with pianist Noreen Polera and dancer Jamaii Melvin.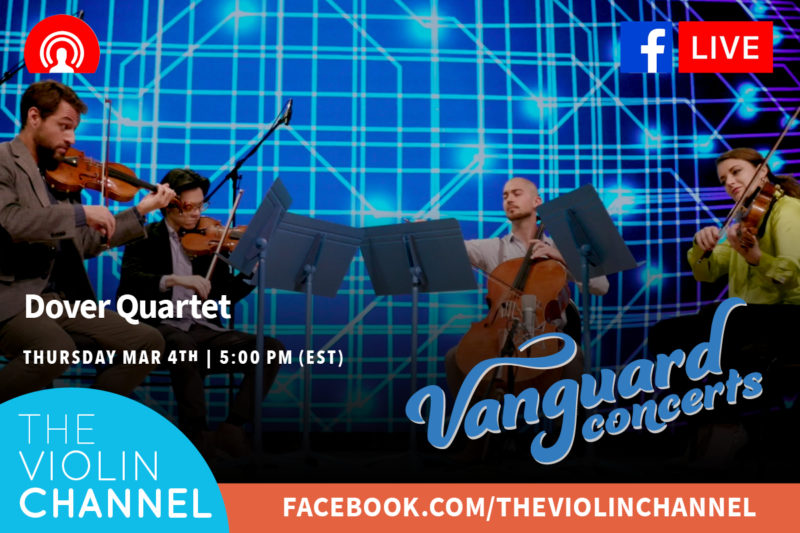 Each episode of Vanguard Concerts was shot in 4K with seven cameras at the Kaufman Music Center's Merkin Hall, in New York City. The artists performed in front of a 41-foot-long and 11.5-foot-high background curved LED wall that incorporated gently moving colors, patterns, or scenic views customized for each performer. The result is a musically and visually stunning product that redefines the virtual concert experience for audiences worldwide.
"I was excited to join my fellow violinists in The Violin Channel's new Vanguard Concerts series," said violinist Joshua Bell. "VC has always been a wonderful resource for musicians and music-lovers, and I'm grateful to this community for providing this opportunity for me and my colleagues to share music and express our spirit of camaraderie."
The VC Artist Dover Quartet will make their Vanguard Concerts series debut this week on Thursday, March 4th, at 5:00 PM (EST).