Violist Yizhak Schotten on The Importance of Students Studying Orchestral Excerpts
Viola pedagogue Yizhak Schotten discusses the importance of string students studying orchestral excerpts as part of their education
What are some famous orchestral excerpts that you know of? The infamous Don Juan or perhaps the opening of Brahms' First Symphony? As beautiful as these music may appear, they are jam packed with tons of useful materials, from learning how to phrase naturally to even requiring one to demonstrate a competence of string crossings, among many others! Are orchestral excerpts truly important for the development of a music student's progress?
University of Michigan School of Music viola pedagogue, Professor Yizhak Schotten shares his opinion on the topic.
Violist Yizhak Schotten on the paramount importance of students working on Orchestral Excerpts
Teaching orchestral excerpts is an important part of my studio work. I feel that this study is essential for the students, not only for those who are preparing for orchestral careers, but for the other students as well. The excerpts from the standard audition repertoire include a very good representation of all the strokes that are important for bow arm technique, such as sautilłé, collé, spiccato, martelé, and more. These strokes are found in orchestral music in more concentration than in solo repertoire, so it is very practical to use fast excerpts to teach bow arm technique. In the slow excerpts, including some of the first chair solo passages, I have the students work on legato playing, string crossings and bow distribution. In addition, I emphasize the correct use of vibrato to enhance the sound, musical expression, and style.
Since the excerpts are short, it is a great way for the students to learn the discipline of practicing with a goal: to achieve the highest level of technical and musical results.
Preparing for an audition teaches the students how to strive for perfection, being relentless in pursuing perfect intonation and rhythm. Metronome work is essential in the slow as well as the fast excerpts. The students also need to pay attention to the smallest details and to produce the most beautiful sound, bringing out contrasts in dynamics and colors and always putting the music first. I often remind my students that many of these excerpts come from some of the greatest music ever composed. I encourage them to listen to recordings so they are aware of what is going on in the orchestra when they play the excerpts.
I have a weekly orchestral excerpts class, and whenever students are preparing for auditions, I teach them the excerpts in their lessons as well. At the end of every semester, I hold a mock audition for the students and give them comments. For some of my graduate students who are planning to have orchestra careers, I assign excerpts in lieu of etudes for their technical studies. I find this is a more practical way to work on certain technical challenges.
When I came to the United States to study with William Primrose, I was very fortunate that he spent a lot of time teaching me, among other things, his bow arm technique. Later studies with Lillian Fuchs were very inspiring and also helpful. She was a wonderful violist, but a very different player from Mr. Primrose. On many occasions she favored using the bow in the lower half, and I found it very useful in many of the orchestral excerpts as well as in the solo and chamber music repertoire.
Although Primrose and Fuchs did not teach me orchestral excerpts, their training enabled me to win section jobs in the Pittsburgh and Boston symphonies and then principal positions in the Cincinnati and Houston orchestras.
Auditioning and playing in these orchestras as well as sitting on many audition committees gave me vital experience. This in turn contributed to my success in preparing students for orchestra auditions. You can find more detailed information on my Orchestral Excerpts CD, where I play and teach most of the standard audition repertoire. In addition, my recently released YouTube video, THE ART OF THE BOW ARM, has many references to orchestral excerpts as well.
–Yizhak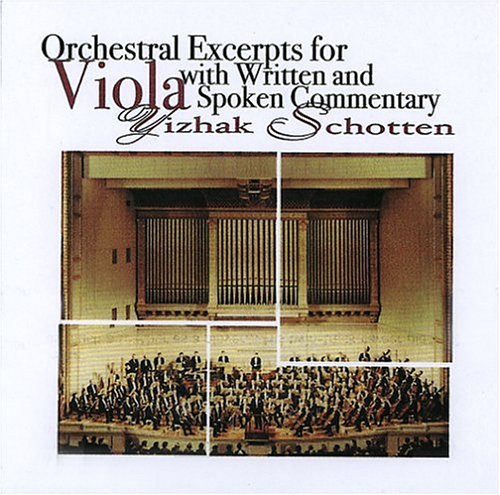 Do you have an idea for a blog or news tip? Simply email: [email protected]
Yizhak Schotten was discovered and brought the the U.S by renowned violist William Primrose. He studied with Primrose at Indiana University and the University of Southern California. Other studies were with Lillian Fuchs at the Manhattan School of Music. A feature article about Yizhak Schotten in STRAD Magazine called him "one of America's finest viola players... a leading light of the U.S. viola establishment." His solo appearances with orchestras in this country and abroad have included performances with conductors Seiji Ozawa, Thomas Schippers, Sergiu Commissiona, Joseph Swensen, Arthur Fiedler and others. He has concertized in Israel, Japan, Taiwan, Malaysia, Holland, Austria, Mexico, England, Canada and throughout the United States. His solo recitals have included Town Hall, Carnegie Hall, and Merkin Hall in New York, Boston's Jordan Hall, the Phillips Collection in Washington, D.C., the Dame Myra Hess Series in Chicago, and the Cleveland Museum of Art, among others.