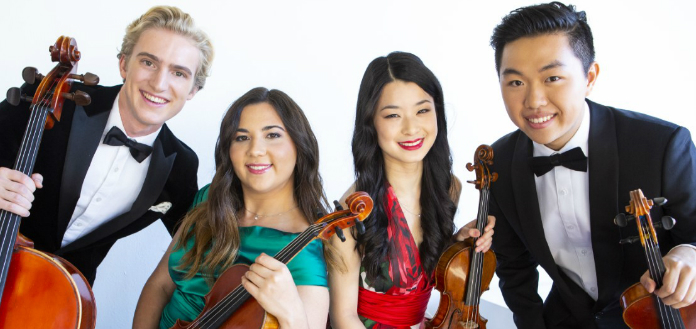 Comprising violinists Hao Zhou and Lucy Wang, violist Aiden Kane and cellist Tate Zawadiuk, the Viano Quartet are former major prize winners at the Osaka, Wigmore Hall, Yellow Springs and Fischoff International Chamber Music Competitions. In September of 2019, they were awarded 1st prize at the prestigious Banff International String Quartet Competition, in Banff, Canada.
Recent appearances include performances at the Great Lakes Chamber Music Festival, the Friends of Chamber Music of Troy, the Salt Lake Chamber Music Society, and the Banff International String Quartet Festival.
They are currently the Ensemble-in-Residence at the Colburn Conservatory of Music.
VC YOUNG ARTIST VIANO STRING QUARTET | SCHUBERT | STRING QUARTET NO. 14 IN D MINOR | 4TH MVT | FRIENDS OF CHAMBER MUSIC OF TROY, NEW YORK | 2020
VC YOUNG ARTIST VIANO STRING QUARTET | JOSEPH BOLOGNE | CONCERTANTE QUARTET NO. 3 IN C MAJOR | 1ST MVT | COLBURN ARTISTS | 2020
VC YOUNG ARTIST VIANO STRING QUARTET | DVORÁK | STRING QUARTET IN G MAJOR OP. 106 | 1ST MVT | BANFF INTERNATIONAL STRING QUARTET FESTIVAL | 2020
VC YOUNG ARTIST VIANO STRING QUARTET | FLORENCE PRICE | STRING QUARTET IN G MAJOR FRIENDS OF CHAMBER MUSIC OF TROY, NEW YORK | 2020
VC YOUNG ARTIST VIANO STRING QUARTET | DVORÁK | STRING QUARTET IN G MAJOR, OP. 106 | 2ND MVT | BANFF INTERNATIONAL STRING QUARTET FESTIVAL | 2020
VC YOUNG ARTIST VIANO STRING QUARTET | MENDELSSOHN | STRING QUARTET NO. 2 IN A MINOR OP. 13 | 1ST MVT | COLBURN ARTISTS | 2020
VC YOUNG ARTIST VIANO STRING QUARTET & RODOLFO LEONE | SCHUMANN | PIANO QUINTET IN E-FLAT MAJOR OP. 44 | BANFF INTERNATIONAL STRING QUARTET FESTIVAL | 2020
VC YOUNG ARTIST VIANO STRING QUARTET | MENDELSSOHN | STRING QUARTET NO. 2 IN A MINOR OP. 13 | 2ND MVT | COLBURN ARTISTS | 2020
VC YOUNG ARTIST VIANO STRING QUARTET | MENDELSSOHN | STRING QUARTET NO. 2 IN A MINOR OP. 13 | 4TH MVT | COLBURN ARTISTS | 2020
VC YOUNG ARTIST VIANO STRING QUARTET | MENDELSSOHN | STRING QUARTET NO. 6 IN F MINOR OP. 80 | 4TH MVT | GREAT LAKES CHAMBER MUSIC FESTIVAL | 2020
VC YOUNG ARTIST VIANO STRING QUARTET | CAROLINE SHAW | ENTR'ACTE | COLBURN ARTISTS | 2020
Name: Hao Zhou
Instrument: 1783 Joseph and Antonio Gagliano violin on generous loan from the Aftergood Family
Bow: Thomas Dignan
Accessories: Kun Bravo shoulder rest | Thomastik Vision Solo strings | Larica II Gold rosin
Teachers: Martin Beaver | Henry Gronnier | Danielle Belen | Aimee Kreston
Instagram: @haotoplayviolin
Name: Lucy Wang
Instrument: 1715 Dominicus Montagnana violin (on loan from Canada Council Musical Instrument Bank)
Bow: Bernard Walke
Accessories: Kun Bravo shoulder rest | Thomastik Vision Solo strings | Melos dark violin rosin | Bam Hightech contoured violin case
Teachers: Martin Beaver | Gerald Stanick | Carla Birston
Facebook: N/A
Instagram: @fromlucy
Name: Aiden Kane
Instrument: Instrument: on loan from an anonymous donor
Bow: Roy G. Quade
Accessories: Kun Original shoulder rest | Pirastro Obligato strings | Andrea rosin | Bam Hightech Lotus case
Teachers: Paul Coletti | Dan Foster
Facebook: N/A
Instagram: @violaiden
Name: Tate Zawadiuk
Instrument: 1701 David Tecchler cello (on loan from David Kerr's Violin Shop)
Bow: Eugene Sartory (on loan from David Kerr's Violin Shop)
Accessories: Thomastik infeld Spirocore C/G | Versum Soloist A/D | Larson Soloist A/D, Bam Hightech case | Melos rosin
Teachers: Clive Greensmith | Ronald Leonard
Instagram: @tatezcellist