VC 'Young Artist' Angelo Xiang Yu Signed to CM Artists New York Management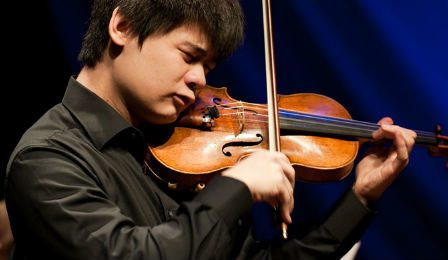 It has been announced today that 25 year old VC 'Young Artist' Angelo Xiang Yu will join the artist management roster of CM Artists New York.
A graduate of the New England Conservatory, Angelo is a former prize winner at the Michael Hill and Wieniawski International Violin Competitions – and former 1st prize winner at the Menuhin Competition.
"It is such a huge honour to work with CM Artists," Angelo has told The Violin Channel, " ...when I see my name next to violinists such as Christian Tetzlaff and Joseph Swensen, I am humbled - but so enormously grateful to be given this opportunity to share my music."
ANGELO XIANG YU | BACH | CHACONNE | NEW ENGLAND CONSERVATORY | JANUARY 2013
"I have been striving to be a concert artist every day for more than 20 years," Angelo, whose mother passed away in 2011, has said, "... there has been much pain, suffering and frustration along the way, but I know I will always keep playing with my heart ... and treasure every note as though it's the last breath I take."