VC WELLNESS | Violinists Elena Urioste & Melissa White - 10 Essential Stretches for Musicians [ADVICE]
VC caught up with violinists and wellness coaches Elena Urioste & Melissa White to get their advice on some simple physical exercises that every string player should be doing daily
The Violin Channel recently caught up with violinists and www.intermissionsessions.com wellness coaches Elena Urioste and Melissa White to get their advice on some simple physical exercises that every string player should be doing to stay physically and mentally healthy - during quarantine and beyond ...
"Welcome to a little "Intermission" from your regularly scheduled programming! 
We're Melissa White and Elena Urioste — violinists, yoginis, and dear friends — who spend much of our lives on the road, performing and jet-setting around the world.
We're also the co-founders of an organization called – you guessed it –  Intermission, which helps musicians unite body, mind, breath, and music-making through yoga and meditation.
Intermission is comprised of Sessions for music students, Retreats for professionals, and an App for absolutely everyone.
The two of us met in 2003 via a combination of the Curtis Institute of Music, the Sphinx Organization, and ENCORE School for Strings, and quickly became wonderful friends and natural collaborators.
(Fun fact: we actually both began playing the violin as a result of watching the very same episode of Sesame Street in 1988!)
And speaking of coincidental timings, we stumbled upon our respective yoga practices during the same summer in two different cities.
Over the past decade, the benefits that we've both experienced as a result of a regular yoga practice have been innumerable, from improved muscular control in our violin playing to an increase in self-discipline to a greater sense of peace with the world around us. 
More recently, we became so passionate about our yoga practices that we each received our 200-hr RYT teaching certifications, Melissa at the Sampoorna Yoga School in Goa, India; and Elena at the Kripalu Center in Stockbridge, Massachusetts.
Our hope is that through exploring mindful movement, alignment, breath-work, and self-compassion, musicians of all ages and stages can begin to unite their physical, mental, and emotional selves so that music-making may become a more holistic, healthy, joyful practice.
The following is a compilation of some of our favorite moves that we've been able to take "off the mat" and incorporate into our lives as busy musicians.
For more thorough explanations, be sure to watch the full video for guidance in and out of each posture, stretch, or grounding exercise; if you've only got a moment to skim, here's an overview of 10 of our favorite yoga moves for musicians"

1. Full-Body Buzz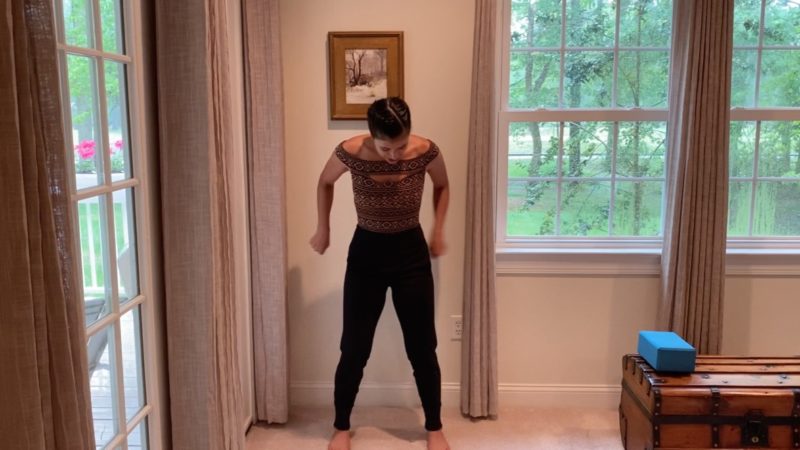 "One of the leading causes of injury amongst musicians is overworking our muscles when they haven't been properly warmed up.
This exercise – in which we tap along the outsides and insides of the limbs and up onto the head – stimulates blood-flow, creates a full-body humming sensation, and prepares the body for any movements that might follow"
2. Shoulder Circles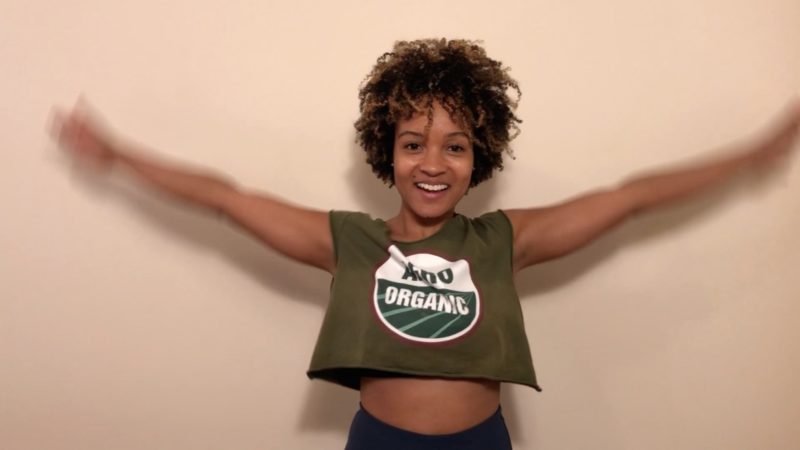 "These various shoulder and arm motions bring a sense of awareness and warmth into the upper part of the body, and lubricate that precious set of ball-and-socket joints which do so much for us (especially if we're making larger motions with the arms like playing chords or using the bow for other powerful, broad strokes)"
3. One Spine, Six Directions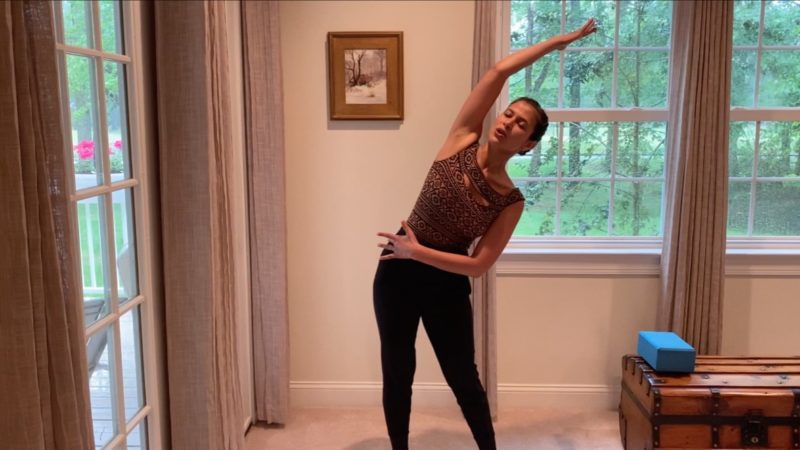 "The spine has six basic directions of movement: it bends from side to side, flexes forwards and extends backwards, and it twists.
By stretching the spine, the nervous system can better communicate with the rest of the body, which means that a command can make its way much more easily from the brain to the fingers (read: MUCH less drilling needed in the practice room!)
A healthy spine also aids the body in quicker transitions from "fight-or-flight" by activating the parasympathetic nervous system – super-important for musicians, many of whom spend a lot of time feeling nervous and then coming down from those adrenaline surges"
4. Eagle Arms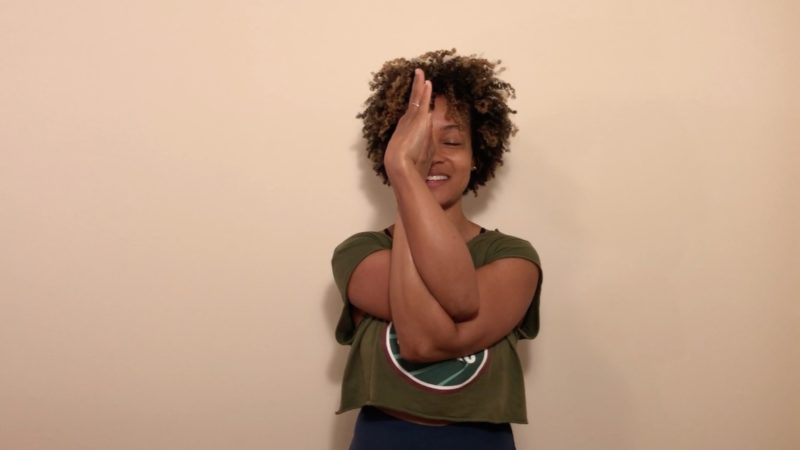 "'Eagle wrap' arms (to be perfectly honest, we're not entirely sure why they're called that) can help to open up a tight upper back and flush fresh blood through the arm joints once released.
If the hand palms are far from touching, no worries – grab whatever you can, or even just hug opposite shoulders to feel a satisfying opening in the upper back"
5. Mountain and Chair Pose (with Prop)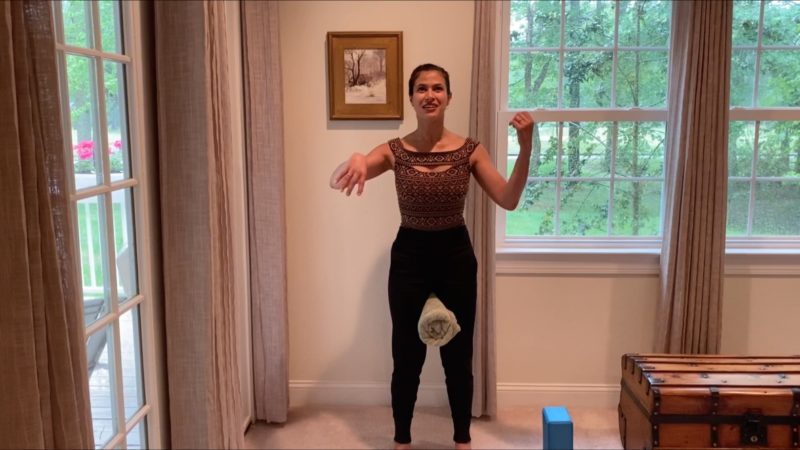 "Many an unsuspecting student has been puzzled when, in an instrumental masterclass, we've whipped out… a yoga block!
This is one of the simplest (if slightly unorthodox) tools to help with feeling grounded, engaged, and in control of where our bodies' energies are being focused.
By stabilizing the lower half and core, we direct any excess tension away from our instruments and into our prop, leaving the upper body free and flexible to produce a sound that's uninhibited and flowing from the inside out.
Explore these sensations by using a block or rolled-up towel to activate the lower half of the body in mountain pose, chair pose, or even while you're doing your instrumental practice!"
6. Wrist Rolls on All Fours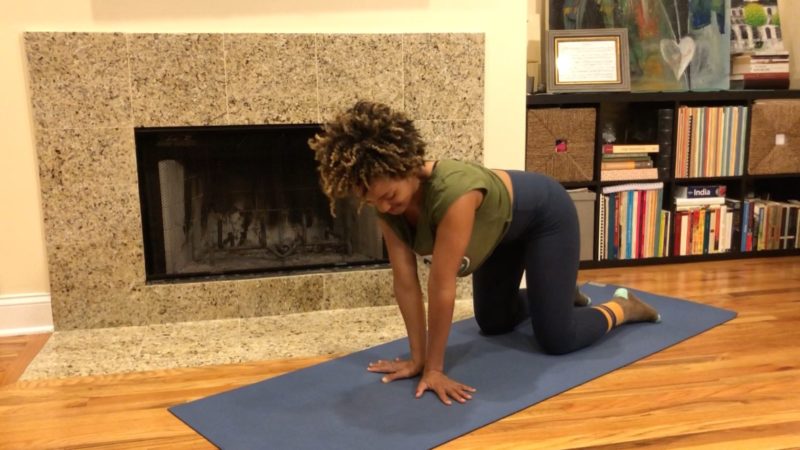 "Weight-bearing on your hands can feel scary if you've never been set up properly, but with a few simple alignment cues, you can safely and effectively begin to build strength in your fingers, wrists, forearms, and shoulders – and in this case, some flexibility, too.
You can always draw your hips back towards your heels to reduce the load on your wrists when you're in a table-top position; in any case, take it slow and rest if the sensations feel overwhelming"
7. Thread the Needle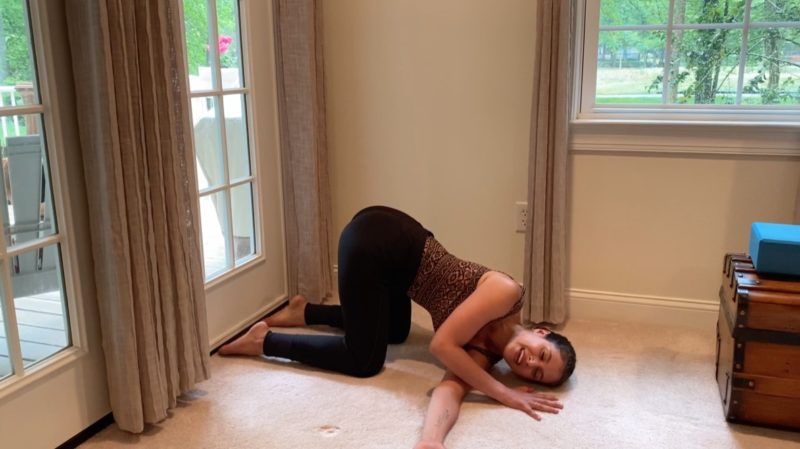 "While we're on all fours, "threading the needle" can be a delicious, passive way to stretch those tough-to-reach muscles behind the shoulder blades.
By feeding one arm through the space between the opposite arm and leg, the area usually hidden behind the scapula is gently stretched. For a more intense sensation, try pressing the back of the hand more actively into the ground"
8. Seated Twist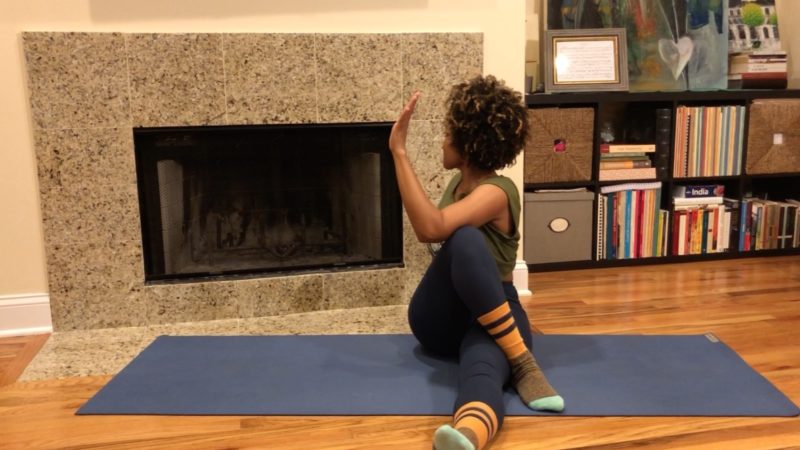 "There's nothing like a gentle twist to relieve lower back pressure, create a feeling of more space between the vertebrae, and soothe the nervous system.
A good rule of thumb for any twist: inhale to lengthen the spine, exhale to deepen the twisting sensation."
9. Breathing Exercise with Lengthened Exhales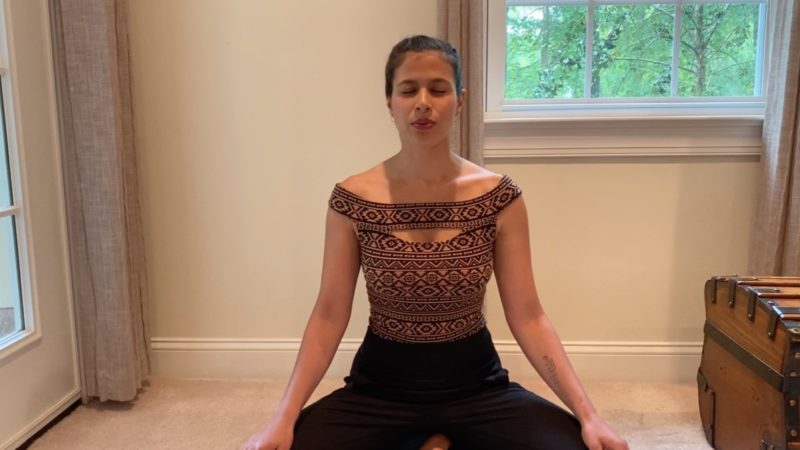 "Most of us are probably accustomed to some version of a "fight-or-flight response" in the moments before we walk onstage, or in any situation that causes us to feel a little out of sorts. Whatever your coping mechanism for dealing with pre-concert jitters, learning to calm the sympathetic nervous system – the control center that's in charge of responding to stressful scenarios – will make us much happier campers, onstage and in life.
Any breathing exercise where you can exhale for longer than you're inhaling will calm you down, even if it does take a bit of practice. Try this one – in which we constrict the flow of air on its way out of the body by narrowing the passageway through the lips – if you're feeling scattered, jittery, nervous, or even just looking for a feeling of deeper grounding in everyday life"
10. Wrist Rolls and Finger Stretches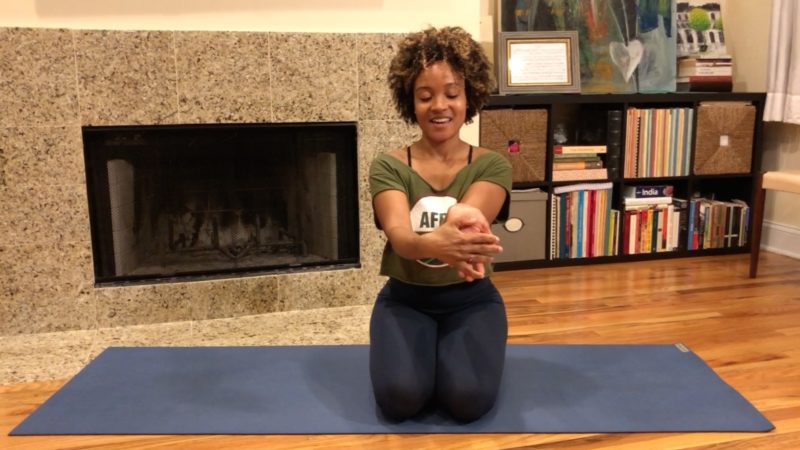 "A runner wouldn't begin sprinting without first preparing his or her legs, right?
Whether your performance, rehearsal, or practice session is a sprint or a marathon, please make sure to show your hands, wrists, and forearms the TLC they deserve.
These wrist rolls and finger extensions are so simple (and addictive) that you can do them anywhere – even onstage during a long rest.
These movements are only a few out of HUNDREDS that can be used to prepare the body, mind, and breath for a day of instrumental playing.
One of the best things about a mindful movement practice like yoga is that it builds a deeper sense of awareness and familiarity with what feels good for each individual, so that we're able to check in and discover what it is we need – additional stretches, deep breaths, stillness, etc. – in any given moment.
Use these ten ideas as a starting point and then see what other needs or wishes come up for you, or you can sneak a peek at our free Intermission App for more suggestions.
Take care of your body, always treat yourself with the kindness that you would show a loved one, and happy practicing!
- Elena & Melissa"