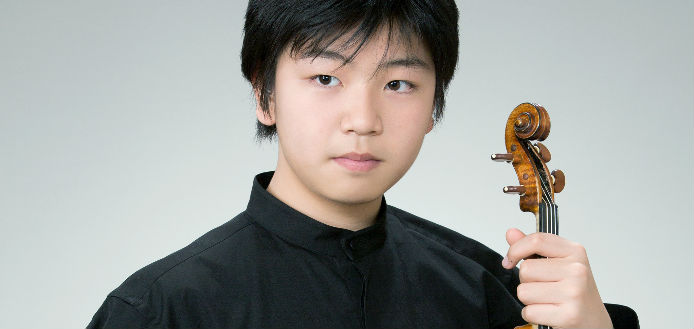 14 year old Japanese violinist Eugene Kawai is quickly building an international reputation as an emerging young concert artist of outstanding potential.
A student of Akiko Tatsumi at the Toho Gakuen School of Music, Eugene is a former 1st prize winner at the Wieniawski-Lipinski International Competition for Young Violinists – and was recently awarded 1st prize at the 2017 International Tchaikovsky Competition for Young Musicians.
Eugene has performed as soloist with a number of Japanese orchestras - and will give his solo debut performance with the Sichuan Symphony Orchestra in March 2018.
VC RISING STAR EUGENE KAWAI | TCHAIKOVSKY VIOLIN CONCERTO | AIDAR TORYBAEV & EURASIAN SYMPHONY ORCHESTRA | 2017 INTERNATIONAL TCHAIKOVSKY COMPETITION FOR YOUNG VIOLINISTS | 1ST PRIZE 
https://www.youtube.com/watch?v=_UlqNQYXgrQ
VC RISING STAR EUGENE KAWAI & SHYNAR OSPANOVA | WIENIAWSKI | SCHERZO TARANTELLE | 2017 INTERNATIONAL TCHAIKOVSKY COMPETITION FOR YOUNG VIOLINISTS | 1ST PRIZE 
VC RISING STAR EUGENE KAWAI & SHYNAR OSPANOVA | TCHAIKOVSKY | VALSE-SCHERZO | 2017 INTERNATIONAL TCHAIKOVSKY COMPETITION FOR YOUNG VIOLINISTS | 1ST PRIZE 
VC RISING STAR EUGENE KAWAI & SHYNAR OSPANOVA | MOZART | VIOLIN SONATA NO. 22 IN A MAJOR | 1ST MVT | 2017 INTERNATIONAL TCHAIKOVSKY COMPETITION FOR YOUNG VIOLINISTS | 1ST PRIZE 
VC RISING STAR EUGENE KAWAI | PAGANINI | CAPRICE NO. 11 | 2017 INTERNATIONAL TCHAIKOVSKY COMPETITION FOR YOUNG VIOLINISTS | 1ST PRIZE 
VC RISING STAR EUGENE KAWAI & SHYNAR OSPANOVA | TCHAIKOVSKY | MELODIE | 2017 INTERNATIONAL TCHAIKOVSKY COMPETITION FOR YOUNG VIOLINISTS | 1ST PRIZE 
https://www.youtube.com/watch?v=XF1hfPSrQII&t=25s
VC RISING STAR EUGENE KAWAI & BAYAN MUKUSHEVA | PROKOFIEV | 5 MELODIES | 2017 INTERNATIONAL TCHAIKOVSKY COMPETITION FOR YOUNG VIOLINISTS | 1ST PRIZE 
VC RISING STAR EUGENE KAWAI | BACH | PARTITA NO. 2 IN D MINOR | ALLEMANDE | 2017 INTERNATIONAL TCHAIKOVSKY COMPETITION FOR YOUNG VIOLINISTS | 1ST PRIZE 
VC RISING STAR EUGENE KAWAI | BACH | PARTITA NO. 2 IN D MINOR | CORRENTE | 2017 INTERNATIONAL TCHAIKOVSKY COMPETITION FOR YOUNG VIOLINISTS | 1ST PRIZE 
Name: Eugene Kawai
Violin: 1932 Annibal Fagnola
Bow: FR Simon
Teacher: Akiko Tatsumi | Nozomi Terasawa