VC REVIEWS | Histoire du Tango – Augustin Hadelich & Pablo Sainz Villegas
Artists: Augustin Hadelich (Violin), Pablo Sanz Villegas (Guitar)
Composer: Piazzola, Falla, Paganini & Sarasate
Label: Avie
ASIN:  BOOB671UQO
Release: March 5th, 2013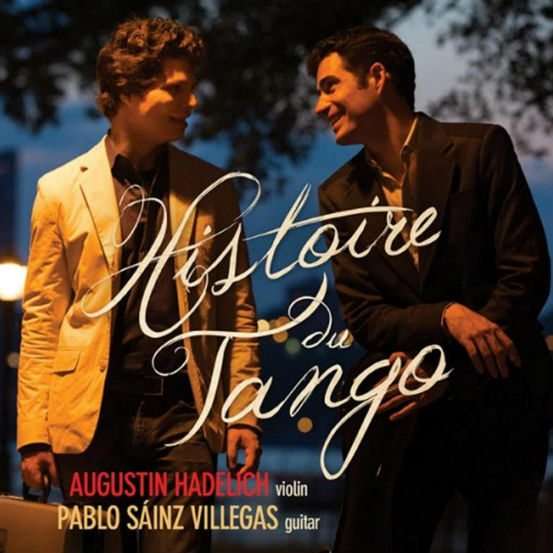 This is the fifth CD by Hadelich I have heard AND enjoyed, in many ways this is the most 'fun' one too!
A young man approaching his 30's Hadelich is a fine musician & has a solid technique. His vibrato generally is of a 'medium rare' style as I like to call it, that is to say of the medium to slow type & fairly wide, but varied (it would be my ONLY slight concern with his playing that occasionally the focus of the note is lost as the vibrato veers too wide from the centre of the note, NOT out of tune, just the oscillation clouds the centre!). His bowing is nicely articulated & displays a good range of colour.
His fellow artist on this disc Villegas is a name new to me. He's also a fine artist, I've no problems to report, his tone is secure, a little light in the bass end of his guitar but the trebles are sweet, & he can make his guitar 'growl' nicely during some of the more animated passages of the Falla or Piazolla for example! I will be looking out for this artist in the future!
A nice varied programme (maybe I'd prefer to swap the overture & finale of the CD-start with the Sarasate & end with Piazolla, easily swapped on a CD machine programme?), my main thought was how authentic sounding this all was! Apart from the Paganini Sonata all the works are arrangements (twice removed in some cases!) & gosh do they work & make sense! Paganini was also a guitarist so that's obvious, the other 3 composers all have a strong Spanish connection, the 'home' of the Guitar! Piazolla's original flute his here the violin & you can easily imagine this combination providing the music for a tango session in a bar, the Sarasate is authentically 'Gypsy,' I mean how many of you recall a gypsy violin with Steinway Grand or even Symphony Orchestra backing? Not I, but a guitar...oh yes, I can taste the Rioja already!!
Sound engineering is good, with a natural balance-yes I do feel the violin could easily swamp the guitar like in a 'live' situation, but it NEVER happens here as these artists are sensitive to balance (amongst everything else).
The only complaint (I feel I ought to mention it as an honest reviewer) was why only 60mins music in the CD? There was room for up to 20mins more...& as it was so enjoyable I WANTED TO HEAR MORE! "Encore!" was shouted!
Look my friends, I'm not going to waste any more time as I want to go & play this Disc again
C.D. George.