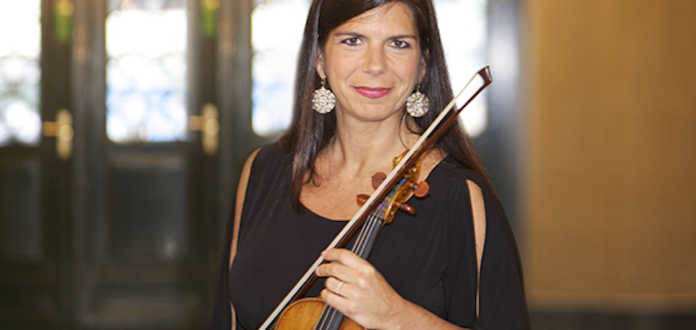 The Violin Channel recently caught up with respected violinist and pedagogue Pamela Frank, from the Curtis Institute of Music, and we put to her the age-old question: 'How Many Hours Should We Be Practicing Everyday?'
Pamela's insight may just surprise you.
[video_lightbox_youtube video_id="koPdt473oBI" width="590" height="385" auto_thumb="1"]
PAMELA FRANK | CURTIS INSTITUTE OF MUSIC | 'HOW MANY HOURS SHOULD WE BE PRACTICING EVERYDAY?'
" People often ask me: 'How much should they be practicing?' - and of course there is no way to answer that question – it completely depends on the person.

But I feel very strongly that practicing should not be a quantitative thing, but a qualitative thing.

When you walk out on stage you don't wear a sign that says: 'Really, I practiced 8 hours a day for 10 weeks on this piece' – and nobody knows nor cares how much you practiced.

The real question is 'How do you practice?' - not 'How much do you practice?'

In my opinion, 1 hour of really focused, concentrated, honest practicing is worth 8 hours of unfocused, undisciplined practice with the tv on – where your mind is not completely in it.

For me, if I'm really concentrating, I can't actually practice for more than an hour.

The trick is to be brutally honest with yourself, try not to practice what you already do well, practice only what you don't do well. Of course this is really hard on your ego - but after a week you will actually see improvement and that will be very encouraging and it will feed on itself.

I have personally never practiced for more than 2 hours in a day - and it's not because I'm more talented than anybody else, but simply I am interested in a lot of things and I wanted to learn as early as possible how to be as efficient as possible.

So if I really cant improve on something in an hour or two it really just means I'm not concentrating on the right things.

So I'm begging all of you to practice less and think more - Practice less and better!

All that matters is to get the job done as well as possible, so that you can go out and have a life for the rest of the day! "

International violinist Pamela Frank has performed extensively with many of world's finest orchestras and conductors | She currently serves the Herbert R and Everlyn Axelrod Rod Chair in Violin Studies at the Curtis Institute of Music, in Philadelphia – where she has taught since 1996.