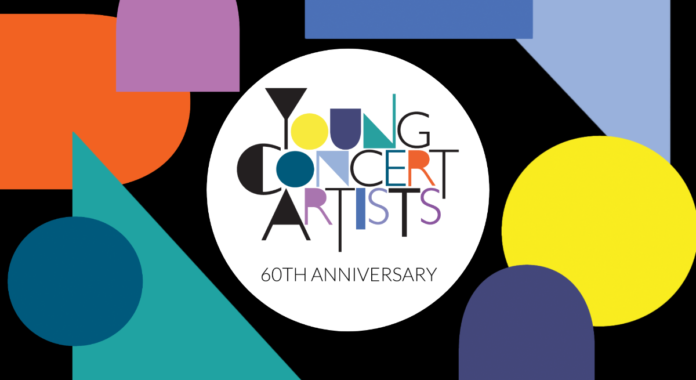 Hana Chang (Violin) | Jessica Osbourne (Piano)
Robert Schumann | Sonata for Violin and Piano No. 2 in D minor | I. Ziemlich langsam – lebhaft (exposition)
Bach | Partita No. 3 in E major | II. Loure & III. Gavotte en Rondeau
Beethoven | Violin Concerto in D major | I. Allegro ma non troppo
Ernst | Grand Caprice on Schubert's Der Erlkönig
Aaron Wolff (Cello) | Luis Ortiz (Piano) | Christopher Staknys (Piano)
Bach | Prelude from Cello Suite No. 3 in C Major, BWV 1009 J.S. Bach
Coleridge-Taylor Perkinson | Blue/s Forms | Jettin' Blues
Britten | Cello Suite No. 1 | Lamento: Lento rubato | Canto secondo: Sostenuto | Serenata: Allegretto pizzicato
Alexander Scriabin | Etude, Op. 8 No. 11 (Arr. Piatigorsky)
Adès | *Lieux Retrouvés Thomas | IV. La Ville: Cancan macabre
Ying Li (Piano)
Mozart | Sonata in B-flat major, K. 333 | Allegro | Andante Cantabile
Liszt | Concert Paraphrase on Verdi's Rigoletto
Ivan Fedele | rom WS Variations | Tema | Variation I:  Repentino! | Variation II: Risonante | Tema
Prokofiev | Sonata No.7  in B-flat major, Op. 83 | Precipitato
Lun Li (Violin)
Robert Schumann | Sonata No.2 in D minor for violin and piano, Op. 121 | I. Ziemlich langsam - lebhaft
Nicola Matteis | Passaggio Rotto from Ayres for the Violin, Book II
Schubert | Sonata in A minor for violin and piano, D. 385 | Allegro
Ernst | Grand Caprice on Schubert's Der Erlkönig, Op. 26
Daniel McGrew (Tenor) | Shawn Chang (Piano)                                                            
Schubert | Des Fräuleins Liebeslauschen
Schubert | Die Liebe hat gelogen
Christopher Berg | St. Paul and All That Song ("Is it dirty?")
Fauré | Green
Benjamin Britten | Canticle I: My beloved is mine
Abeo Quartet
Haydn | String Quartet in D minor, Op. 76 No. 2 | I. Allegro & II. Andante
Jonathan Bailey Holland | Forged Sanctuaries | II. The Hypnosis of Tides
Shostakovich | String Quartet No. 3 in F Major, Op. 73 | I. Allegretto
Erin Wagner (Mezzo-soprano) | Shawn Chang (Piano)
Shawn Chang | from Portraits of Unrelated Colors | Yellow & Green
Hugo Wolf | "Kennst du das Land?" from Mignon Lieder
Benjamin Britten | Phaedra
Harmony Zhu (Piano)
Chopin | Sonata No. 3 in B minor, Op. 58
Allegro maestoso
Haydn | Sonata in E-flat major, Hob.XVI: 52 | Allegro (Moderato)
Bach | Partita No. 2 in C minor, BWV 826 | Sinfonia
Elliott Carter | Caténaires
Mer Wohlgemuth (Soprano)
Joseph Schwantner | from Two Poems of Agueda Pizarro | Shadowinnower
Debussy | "C'est l'extase langoureuse" from Ariettes Oubliées, L. 60
Schubert | Der Musensohn, Op. 92, no. 1
Schubert | Wanderers Nachtlied, Op. 96, no. 3
Samuel Barber | Knoxville: Summer of 1915, Op. 24
James Kim (Cello) | Noreen Cassidy-Polera (Piano)
Krzysztof Penderecki |

Divertimento for solo cello |

Serenade &

Scherzo

Prokofiev | Sonata in C Major, Op. 119 | Allegro, ma non troppo from
Chopin | Introduction and Polonaise brillante, Op. 3
The 2021 winners will join the Young Concert Artists roster — granting access to a minimum of three years of management services, career engagements, publicity, and career guidance, plus coveted recital debuts in New York City and at the Washington D.C. Kennedy Center for the Performing Arts.
Founded in 1961 by Susan Wadsworth, The Young Concert Artists International Auditions differ from other competitions, as there are no rankings, and any number of winners can be selected. Each candidate competes against a standard of excellence, not each other.
"I cannot think of another organization that is more nurturing and sensitive to the birth of one's performing career as Young Concert Artists,"

said 1986 first prize winner, violinist Anne Akiko Meyers.
"I owe everything to YCA,"

2011 first prize winner, VC Artist Paul Huang said.

Throughout their tenure, winners of the YCA International Auditions benefit from YCA's connections with the industry's managers, concert presenters, conductors of major orchestras, and financial supporters, as well as its long-standing reputation for discovering and furthering the careers of extraordinary young artists.
The jury for the final round comprises soprano Amy Burton, flutist Brandon Patrick George, conductors Miguel Harth-Bedoya and David Alan Miller, vocal coach Kayo Iwama, YCA President Daniel Kellogg, violinist Jennifer Koh, pianists Cecile Licad and Anne-Marie McDermott, Philadelphia Orchestra Vice President of Artistic Planning Jeremy Rothman, violist Marcus Thompson, YCA Founder Susan Wadsworth, and cellist Paul Watkins.
Previous recipients include Pinchas Zukerman, Ida Kavafian, Anne Akiko Meyers, Emanuel Ax, and Murray Perahia — and VC Artists Paul Huang, Ray Chen, Stephen Warts, Zlatomir Fung, Xavier Foley, SooBeen Lee, and Jonathan Swensen.
Each of this year's 1st prize recipients will each perform at tomorrow evening's Winners Concert at 7:00PM (ET) at Gilder Lehrman Hall, at New York City's Morgan Library & Museum - which will also be streamed LIVE here on The Violin Channel.