VC INTERVIEW | Reuning & Son Violins & A Far Cry's $90 Million "Stradivari Serenade"
VC recently caught up with Christopher Reuning and A Far Cry's Sarah Darling to get a better understanding of the new record-breaking "Stradivari Serenade" project
The Violin Channel recently caught up with Reuning & Son Violins President, Christopher Reuning and violist Sarah Darling from the A Far Cry chamber orchestra to get a better understanding of this weekend's exciting new "Stradivari Serenade" project.
Set to be performed on Saturday the 15th February and streamed live on The Violin Channel, each of the 18 members of the Boston-based string ensemble will perform on a collection of the world's finest Cremonese string instruments - all hand-selected from the vault of Reuning & Son Violins.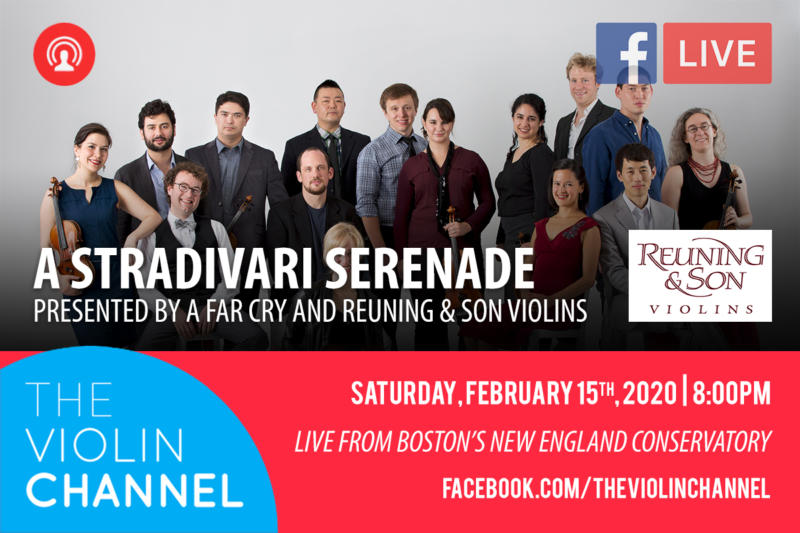 Sarah, please tell us about this exciting new 'A Stradivari Serenade' project?
"We're all thrilled to participate in this once-in-a-lifetime project …
The idea is simple … pair a string orchestra with some of the most amazing instruments out there for one special night - and then just luxuriate in the collective sound that emerges!"
Christopher, how did this all come together?
"We've been working with this extremely talented conductor-less chamber orchestra, A Far Cry, here in Boston for some time now …  so when this idea for the 'Stradivari Serenade' project came up, we jumped right in and pulled together a collection of 5 fine Stradivari violins, 3 Guarneri 'del Gesus', a Carlo Bergonzi, 2 Amatis, a Gagliano and a 'Filius Andreae' Guarneri violin … plus the violas, cellos and basses"
Sarah, what program will A Far Cry be performing on Saturday evening's live-streamed event with this incredible Cremonese collection?
"The two major pieces on the program will be Edward Elgar's magnificent 'Introduction and Allegro' for string quartet and string orchestra and Tchaikovsky's iconic 'Serenade for Strings' …
We were specifically looking for works to showcase the sounds of these instruments - and think that we've found them in this pairing ..."
And Sarah, we understand that the ensemble will perform the fiendishly difficult Tchaikovsky 'Serenade' from memory. How has the ensemble prepared for this gigantic feat?
"Fortunately for us, when we began the process of memorizing this masterwork, we already had years of experience playing it under our belts - including featuring it on our very first debut album!
Each musician in the group approaches the art of collective memorization differently - although I think it's fair to say that we all include a lot of muscle memory, analysis, and musical "storytelling" in our preparation.
The fun and fascinating part begins when we get in the same room and put the 'finishing touches' on together …. that's a combination of rehearsal, collective memorization exercises and 'marination' over time!"
Christopher, How will you go about matching each Crier with the 18 instruments in the collection?
"This is all a new experiment and we are kind of playing it as it goes along … but so far I am seeing that each of the musicians seem to be drawn to different instruments …
It's such a personal choice and I've had no ability to guess who might match best with which … but I can say, so far, no fights have occurred … "
If we may be bold enough to ask, Christopher, what is the total value of instruments that will be performing on stage during Saturday evening's concert?
"We are talking in excess of 90 Million US dollars"
And Christopher, how do you anticipate this 18 instrument collection will sound together?
"I've never heard a chamber ensemble of 18 musician all performing on fine Cremonese string instruments before and we believe this might be a world first… so I too am just as excited to hear the sound …
The acoustics at Jordan Hall are outstanding and the musicians of A Far Cry are so perfectly matched to each other …
My hope is adding these incredible instruments will enhance this special experience for everyone."
As the event's official online broadcast partner, The Violin Channel will be streaming the 'A Stradivari Serenade' concert and instrument showcase live from Jordan Hall at the New England Conservatory, in Boston - on Saturday the 15th February at 8.00pm | Join us here backstage