VC INTERVIEW | Luthier Julie Reed-Yeboah - 2019 Contemporary Violin & Bow Makers Exhibition
VC recently caught up with world-renowned string instrument restorer, Ms Julie Reed-Yeboah from Reed Yeboah Fine Violins
The Violin Channel recently caught up with world-renowned string instrument restorer, Ms Julie Reed-Yeboah from Reed Yeboah Fine Violins - in New York City.
Julie will host the 2019 annual Contemporary Violin and Bow Makers Exhibition at the Kosciusko Foundation, in New York - from the 18th to the 20th of October.
2016 CONTEMPORARY VIOLIN AND BOW MAKERS EXHIBITION | CURATED BY REED YEBOAH FINE VIOLIN IN NEW YORK CITY
Julie, Tell us about your upcoming contemporary makers' exhibition?
"Reed Yeboah Fine Violins has been hosting the annual Contemporary Violin Makers Exhibition in New York City since 2011. The 2019 event, to be held at the Kosciuszko Foundation, 15 E. 65th Street, from October 18th- 20th, will feature 44 violinmakers and 10 bowmakers from all over the world.
This promises to be a very exciting experience where performers and collectors have a chance to see and play some of the instruments from the best violin and bow makers of our time. In addition, this year we will have a concert before the exhibition featuring soloist Arnaud Sussmann, pianist Anna Polonsky, and members from the Ulysses Quartet.
They will perform on a selection of exhibited instruments to give the public a chance to hear them in a concert setting"
How did you start this and what is your mission for the annual event?
"This annual event was started by Yi-Ping Yang and myself in 2011. As the value of the antique stringed instrument market continues to increase across global financial markets, it is getting harder for musicians to obtain older instruments.
At the same time, the contemporary instruments have been getting better and are able to compete with some of the older instruments at a price point that musicians can afford.
Our mission for this annual event is to showcase violins, violas, cellos and bows from some of the most important living makers today. This gives everyone an opportunity to see these phenomenal works of art and to have a chance to try them.
We are providing a special experience for the public to play and potentially purchase these instruments all in one place"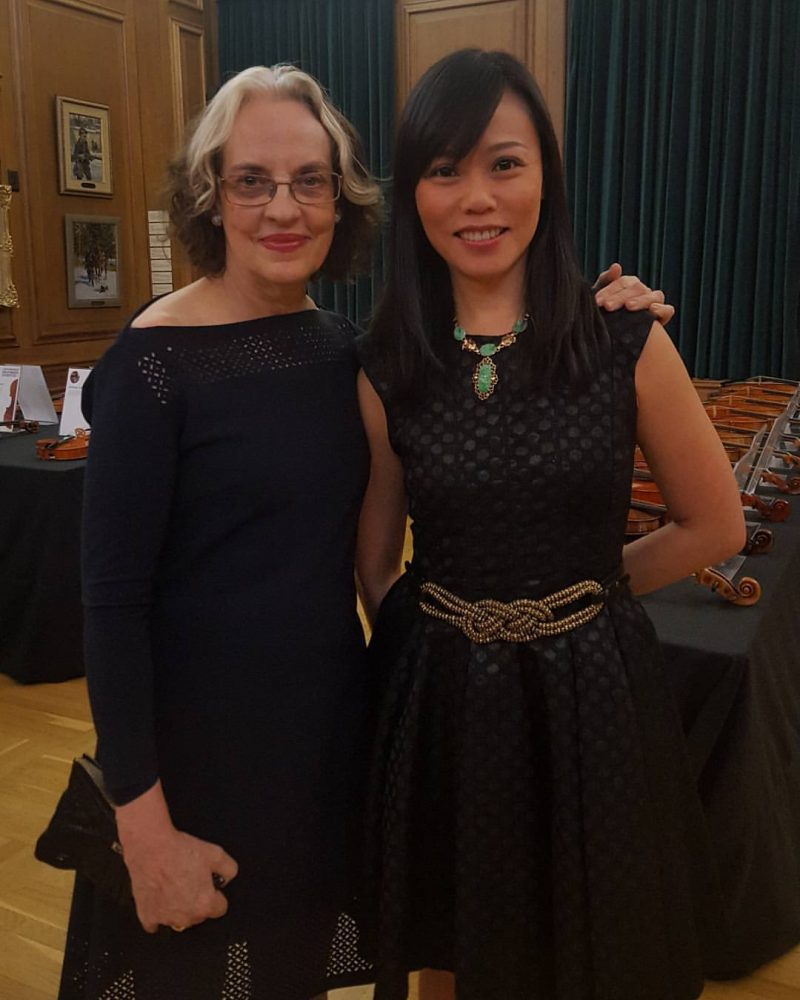 NEW YORK'S CONTEMPORARY VIOLIN & BOW MAKERS EXHIBITION FOUNDERS, JULIE REED-YEBOAH AND YI-PING YANG – OF REED-YEBOAH FINE VIOLINS, NEW YORK
How many makers and musicians are you expecting to visit this year?
"During the event, we will have 44 violinmakers and 10 bowmakers exhibiting their work. We try to select the very best makers from around the world as well as up-and-coming makers.
We expect around 1000 visitors, ranging from soloists, orchestral musicians, chamber players, teachers, collectors, and amateur enthusiasts. The visitors are welcome to try any of the instruments and bows, all of which can be purchased at the exhibition or at our office following the event"
What do you anticipate as some of the highlights?
"This year, one of the highlights of our event will be the kickoff concert, giving audience members a chance to hear exhibited instruments played by professional musicians and to get the musicians' impressions and feedback.
We are very excited about the level of violinmakers and bow makers, as the workmanship and sound improves every year.
The makers this year include many award winners from various violin and bow making competitions, as well as students from the Chicago School of Violin Making led by Antoine Nedelec"
Why is there still a mentality that 'old is better'- and how do you feel this is changing?
"I really see a renaissance happening with violin and bow making today. I've noticed that concert artists are performing more and more with their contemporary instruments in preference to their older instruments because the level of contemporary violin and bow making has reached such an incredible level.
In general, the mentality of 'old is better' may be true because the great masterpieces have history, provenance and beauty of tone that is almost impossible to reproduce. Having worked as a restorer and dealer of old instruments my whole life, it is remarkable how these instruments have withstood the test of time.
However, contemporary instruments and bows have a certain freshness to them. They are big and bright and are waiting to be in the hands of a great musician who can develop them to the fullest potential. I'm proud to say that these contemporary instruments are certainly worthy of consideration.