VC INTERVIEW | Pirastro's Technical Director on the New Perpetual Cadenza Violin String Set
The new Pirastro Perpetual Cadenza violin set is characterized by its warm and deep sound with a great wealth of colors
The Violin Channel recently discussed the new Perpetual Cadenza Violin String Set with Mr Adrian Mueller, Technical Director of Pirastro in Offenbach, Germany.
Noticeably easier to play, the set comes with a steel E, aluminum A, and silver D and G strings.
Tell us about the new Pirastro Cadenza Perpetual Set for violin. What was the thinking behind adding the new Cadenza variant to the existing Perpetual range?
The idea for the Cadenza is actually very old. We wanted to make a lower tension violin set which is noticeably easier to play than the Perpetual Medium, Evah Pirazzi, or Evah Pirazzi Gold — without compromising power and brilliance. Additionally, we wanted to create a violin set that allows the instrument to open up and resonate freely.
How does it differ from the traditional Perpetual set?
The Perpetual Cadenza requires less finger pressure and is noticeably easier to play. The set also has a lower string tension than most of our other violin sets and more warmth than the Perpetual Medium violin set. The Perpetual Cadenza also has a very open sound with lots of overtones.
For which violinists would you say this new set is best suited?
Any violinist looking for a lower tension string with very easy playability but still requires power and depth. The Perpetual Cadenza also works nicely on older, more fragile, instruments that require lower tension.
Can you tell us more about how you achieved this ease in playability?
The construction of the string itself is very new. We used special materials as well as new machinery and winding processes to create the Perpetual Cadenza.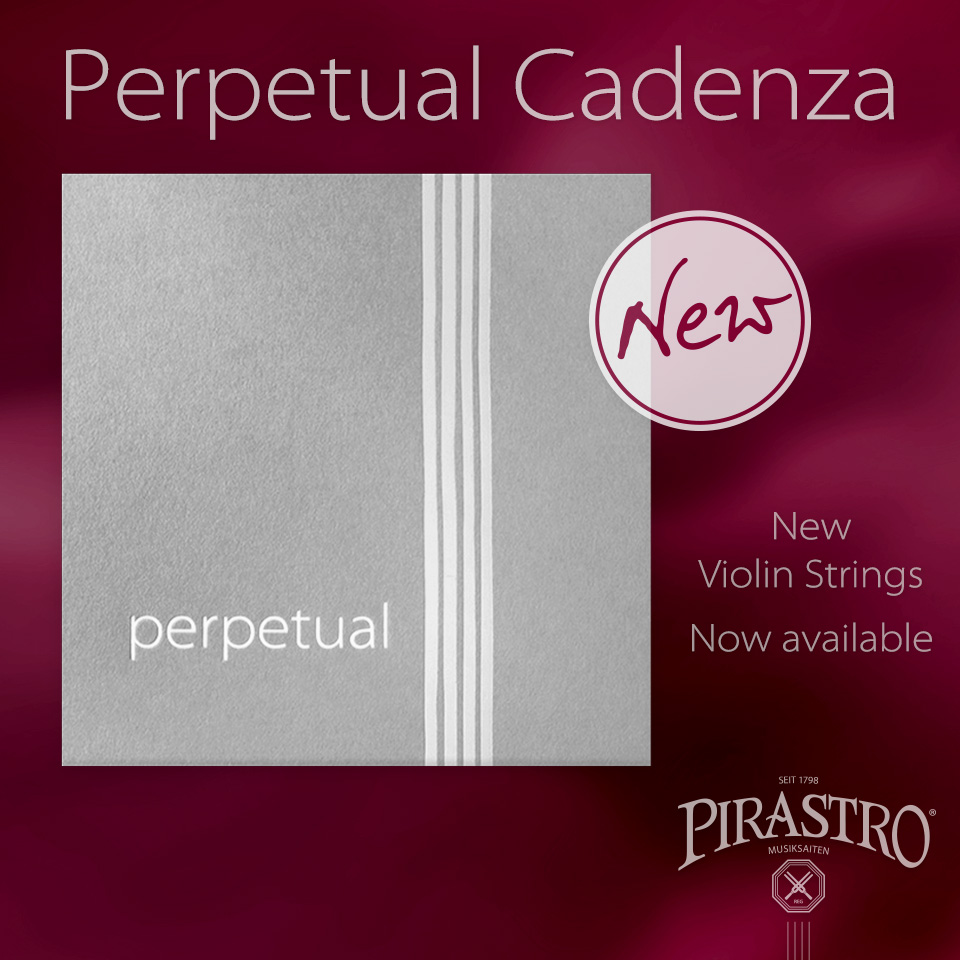 Do you work with musicians as part of the development process? Tell us how you work towards a finished project.
Absolutely, however, most of our development process is done in-house using our expertise and precise measurements. We worked with several violinists, but specifically with Sascha Maisky and his 1666 Nicola Amati violin to create a string that had lower tension but did not sacrifice projection. Most of the time, very few changes are made to the strings after we speak with the players.
Is it likely they will also be available for the viola at some point?
Unfortunately, it is way too early to say if we will make a viola version of the Perpetual Cadenza. However, the Perpetual medium viola set was recently released in December 2020.
If we want to learn more about the new Cadenza set, or any of the Pirastro range, how can we learn more?
Please visit our website www.pirastro.com or visit our official new Facebook and Instagram pages.
You can enter here now to win 1 of 5 fresh-off-the-press sets of the newly-developed Pirastro Perpetual Cadenza Violin Strings.
Entries close Monday July 12, 2021.