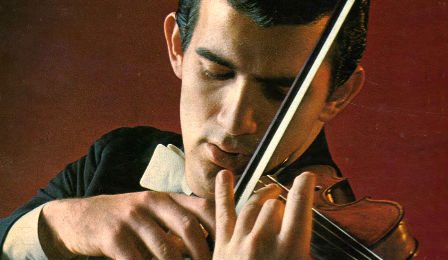 This week VC explores the recordings of American violin virtuoso Erick Friedman.
A student of Ivan Galamian, Nathan Milstein and Jascha Heifetz, he is remembered as one of the most gifted violinists of the 20th Century - though whose career, through a combination of bad luck and unfortunate decisions, sadly never blossomed with the same intensity as that of many of his contemporaries.
[video_lightbox_youtube video_id="Fj76dPUtKYo" width="590" height="385" auto_thumb="1" ]
ERICK FRIEDMAN | BRUCH VIOLIN CONCERTO NO. 1 | 3RD MVT | PRETRE | FRENCH NATIONAL ORCHESTRA | 1964
A celebrated child prodigy, he began an 80 concert per year international schedule aged just 14, before halting engagements at 17 to commence full time study with Jascha Heifetz.
Unfortunately his career never regained the same ascendancy - and was further stalled, at age 26, after placing a disappointing 6th in the 1966 Moscow-based Tchaikovsky International Violin Competition.
[video_lightbox_youtube video_id="Ibc8bes2WOg" width="590" height="385" auto_thumb="1" ]
ERICK FRIEDMAN | MENDELSSOHN VIOLIN CONCERTO | OZAWA | LONDON SYMPHONY ORCHESTRA
Mr Friedman was tragically forced to retire from the concert stage at the age of 45, after sustaining an arm injury in a car accident, but went on to serve an influential teaching career on the faculty of the Manhattan School of Music, Southern Methodist University and Yale School of Music.
He passed away in 2004 from cancer, aged just 64, yet fortunately bequeathed the world a brilliant and treasured recording legacy.
[video_lightbox_youtube video_id="pZbIBSmgzAQ" width="590" height="385" auto_thumb="1" ]
ERICK FRIEDMAN | SAINT-SAENS | HAVANAISE
[video_lightbox_youtube video_id="FT4zoVOiktw" width="590" height="385" auto_thumb="1" ]
ERICK FRIEDMAN & PAVEL OSTROVSKY | KREISLER | PRAELUDIUM AND ALLEGRO
[video_lightbox_youtube video_id="dXYWG8LI2BI" width="590" height="385" auto_thumb="1" ]
ERICK FRIEDMAN | WIENIAWSKI | LEGENDE | SARGENT | LONDON SYMPHONY ORCHESTRA
[video_lightbox_youtube video_id="QJ3N-4hhGpg" width="590" height="385" auto_thumb="1" ]
ERICK FRIEDMAN | WIENIAWSKI | LEGENDE | SARGENT | LONDON SYMPHONY ORCHESTRA
[video_lightbox_youtube video_id="HCR_Ez_u2Zs" width="590" height="385" auto_thumb="1" ]
ERICK FRIEDMAN | DEBUSSY | BEAU SOIR (ARR. HEIFETZ) | 2000
[video_lightbox_youtube video_id="o35V9g-JRUs" width="590" height="385" auto_thumb="1" ]
ERICK FRIEDMAN | TOMASO VITALI | CHACONNE IN G MINOR
[video_lightbox_youtube video_id="Rr3bzq0unU4" width="590" height="385" auto_thumb="1" ]
ERICK FRIEDMAN | TCHAIKOVSKY VIOLIN CONCERTO | FRENCH TV
[video_lightbox_youtube video_id="VkzDrcY23jE" width="590" height="385" auto_thumb="1" ]
ERICK FRIEDMAN | BACH | SOLO PARTITA NO. 2 IN D MINOR | CHACONNE
[video_lightbox_youtube video_id="83mhILFk_04" width="590" height="385" auto_thumb="1" ]
ERICK FRIEDMAN | PAGANINI | VIOLIN CONCERTO NO. 1 | HENDL | CHICAGO SYMPHONY