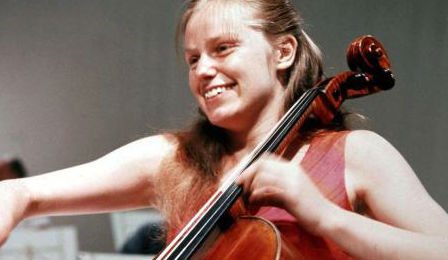 This week VC explores the recordings of thwarted British cello virtuoso Jacqueline du Pré.
Passing away in 1987 - aged just 42 - after a crippling battle with multiple sclerosis, she is remembered and universally admired as one of the finest musicians in history.
[video_lightbox_youtube video_id="_J-Iwtzzge8" width="590" height="385" auto_thumb="1" ]Jaqueline Du Pre | Elgar Cello Concerto | 1st Mvt | Daniel Barenboim | London Philharmonia | 1967
Legendary cellist Mstislav Rostropovich once declared Jacqueline du Pré as 'the only cellist of the younger generation that could equal and overtake his own achievements.'
Her performance career was lamentably cut short at age just 28 - yet fortunately bequeathed the world a brilliant and treasured recording legacy.
[video_lightbox_youtube video_id="M1MDPZX2_Jg" width="590" height="385" auto_thumb="1" ]Jaqueline Du Pre | Elgar Cello Concerto | 3rd & 4th Mvt | Daniel Barenboim | London Philharmonia | 1967
[video_lightbox_youtube video_id="63oyKi6fyD8" width="590" height="385" auto_thumb="1" ]Schubert | The Trout | Itzhak Perlman, Pinchas Zukerma, Jacqueline Du Pré, Zubin Mehta & Daniel Barenboim | 1969
[video_lightbox_youtube video_id="GODq5AHKf2Y" width="590" height="385" auto_thumb="1" ]Jaqueline Du Pre | Dvorak  Cello Concerto |  Celibidache | Swedish Radio Symphony | 1967
[video_lightbox_youtube video_id="bVFn7Hvxxos" width="590" height="385" auto_thumb="1" ]Jaqueline Du Pre | Schumann Cello Concerto |  Barenboim | New Philharmonia Orchestra | 1967
[video_lightbox_youtube video_id="-PGrOiDPbeM" width="590" height="385" auto_thumb="1" ]Jaqueline Du Pre | Bach | Solo Cello Suite No. 2 in D Minor | 1962 | Aged 17
[video_lightbox_youtube video_id="EcVSqJsCSYs" width="590" height="385" auto_thumb="1" ]Jaqueline Du Pre & Daniel Barenboim | Brahms | Cello Sonata No. 2 in F Major  | 1st Mvt
[video_lightbox_youtube video_id="DZCPV9Q9Fz4" width="590" height="385" auto_thumb="1" ]Jaqueline Du Pre | Saint-Saens Cello Concerto in A Minor | Barenboim | The Philadelphia Orchestra