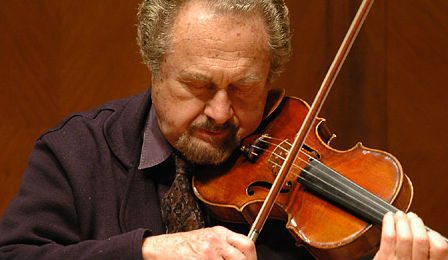 This week The Violin Channel explores the recordings of American violin virtuoso Aaron Rosand.
A student of Leon Sametini and Efrem Zimbalist, Mr Rosand has enjoyed a prolific recording and performance career spanning more than 7 decades - particularly noted for his insightful and passionate performance of the romantic repertoire and his legendary and beautiful 'Rosand tone'.
[video_lightbox_youtube video_id="HQfBqcSYAPM" width="590" height="385" auto_thumb="1" ]
AARON ROSAND & ROBERT KOENIG | SARASATE | ZIGEUNERWEISEN | 2003
He has been described by The New York Times as 'one of the great living exponents of Romantic violin music' - with Gramophone Magazine suggesting he has made 'some of the greatest recordings of the (20th) Century'.
Now 88 years old, Mr Rosand has served a distinguished teaching position at the Curtis Institute of Music since 1981 - his famed students including Alex Kerr, Benjamin Schmid and Stephanie Jeong and VC 'Artists' Ray Chen, Yu-Chien Benny Tseng, Stephen Waarts, Richard Lin, Dami Kim and Zeyu Victor Li.
[video_lightbox_youtube video_id="B29yXiB2_8Q" width="590" height="385" auto_thumb="1" ]
AARON ROSAND | WIENIAWSKI | SOUVENIR DE MOSCOW
[video_lightbox_youtube video_id="RE5jNT-fkHM" width="590" height="385" auto_thumb="1" ]
AARON ROSAND | SARASATE | CARMEN FANTASY | CBC CONCERT ORCHESTRA | 1969
[video_lightbox_youtube video_id="Au7YtKm8MvI" width="590" height="385" auto_thumb="1" ]
AARON ROSAND & GEIR HENNING | MENDELSSOHN VIOLIN SONATA IN F MAJOR | 1984
[video_lightbox_youtube video_id="KO4ruq04sBc" width="590" height="385" auto_thumb="1" ]
AARON ROSAND | SARASATE | ZIGEUNERWEISEN | REINHARDT | SOUTHWEST GERMAN RADIO ORCHESTRA
[video_lightbox_youtube video_id="6lltKnlm9w4" width="590" height="385" auto_thumb="1" ]
AARON ROSAND & EILEEN FLISSLER | TARTINI | SONATA IN G MINOR 'DEVIL'S TRILL' | 1964
[video_lightbox_youtube video_id="kRUvZjhXO90" width="590" height="385" auto_thumb="1" ]
AARON ROSAND & JOHN COVELLI | SARASATE | MALAGUENA OP.21 NO. 1
[video_lightbox_youtube video_id="XegQLFE1hlE" width="590" height="385" auto_thumb="1" ]
AARON ROSAND | BACH | SOLO PARTITA NO. 2 IN D MINOR | CHACONNE | 1997
[video_lightbox_youtube video_id="Us-5hJulb7U" width="590" height="385" auto_thumb="1" ]
AARON ROSAND & ROBERT KOENIG | TCHAIKOVSKY | VALSE SENTIMENTALE | 2003
[video_lightbox_youtube video_id="s-QVz2EewKg" width="590" height="385" auto_thumb="1" ]
AARON ROSAND | DVORAK VIOLIN CONCERTO | 1ST MVT | MAAZEL | CLEVELAND ORCHESTRA | 1982