VC WEB BLOG | Cellist Harry Wimmer – 'Juilliard School's Ms Shirley Givens Memorial' [TRIBUTE]
In a VC-exclusive blog, Mr Wimmer recounts a special memorial event held earlier this month in her honor – at New York's Juilliard School
The Violin Channel recently caught up with New York-based cello pedagogue, Mr Harry Wimmer – husband of the late violinist Ms Shirley Givens, who passed away on 10th of January, aged 86.
In a VC-exclusive blog, Mr Wimmer recounts a special memorial event held earlier this month in Ms Givens' honor – at New York's Juilliard School.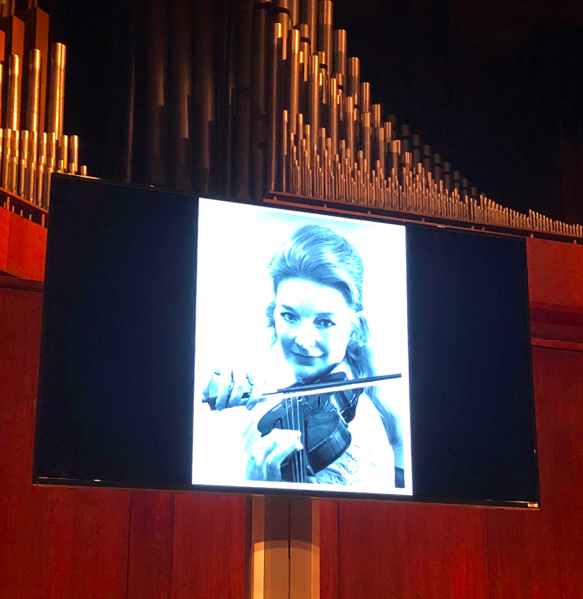 "There was a feeling of anticipation among those who had come from as far as Japan and the distant states of the U.S. to celebrate with joy the life of Shirley Givens. They included alumni and faculty colleagues from the many institutions and festivals she had been associated with, such as the Juilliard School, Peabody Conservatory, Mannes College, Yale University, and festivals in Aspen, Colorado, Victoria, Canada and the Ecole Americaine in Fontainebleau, France.
And they were not disappointed: Shirley's daughter, the glamorous Tiana Wimmer, took to the lectern and immediately took us all on an audio-visual journey of Shirley Givens' remarkable life, from child prodigy in both music and drama, serious classical violin virtuoso, talented visual artist, charismatic stage and TV performer, pioneering childrens' teacher and author, to world-wide artist-teacher and conservatory faculty member.
Two previous articles in the Violin Channel serve as a preview of Tiana's presentation. Enjoy the links to:
"Violinist Shirley Givens and the Lure of Hollywood"
"Violinist Shirley Givens on the Road to the White House"
Before turning to live presentations, two humorous video clips were shown:
First, here is Shirley's impersonation of Charlie Chaplin, with pianist Eduard Laurel as Buster Keaton.
Next, here is Noël Coward's tribute to love, "Any Little Fish," with Shirley joined by cellist-husband Harry Wimmer.
To pay tribute to his love, husband Harry Wimmer performed Pablo Casals' arrangement of the pensive Catalan folk song "The Song of the Birds" live with Eduard Laurel. Here is a photo: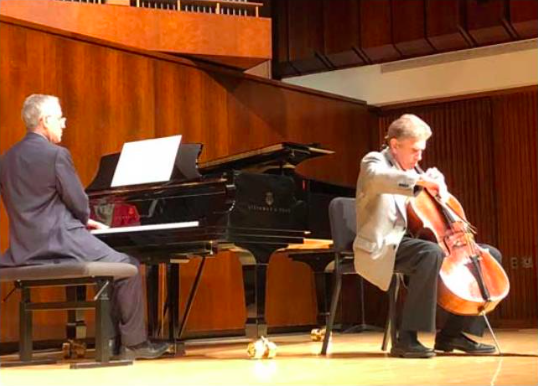 Alexis Kende Walls in a moving tribute from the lectern: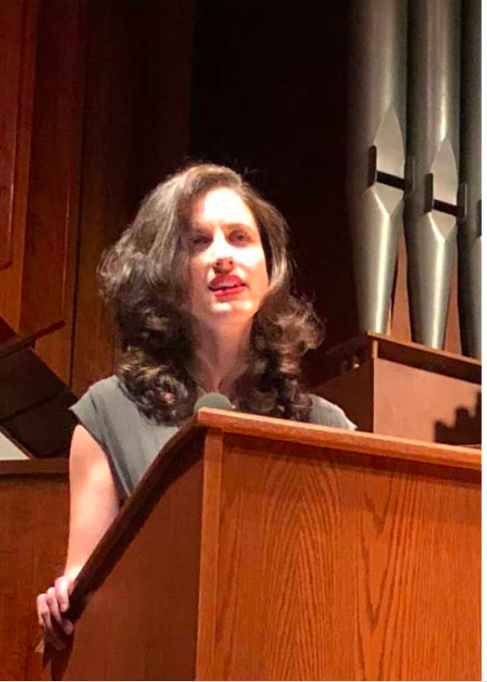 Shirley's son, famed Cajun and Jazz fiddler Kevin Wimmer, played Django Reinhardt's "Tears" assisted by guitarist Tom Mitchell and cellist Harry Wimmer.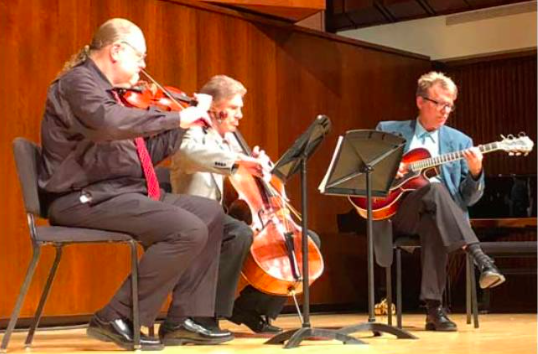 The formal celebration ended with a rousing rendition of Mozart's "Eine Kleine Nachtmusik" by a star-studded alumni orchestra conducted by Harry Wimmer.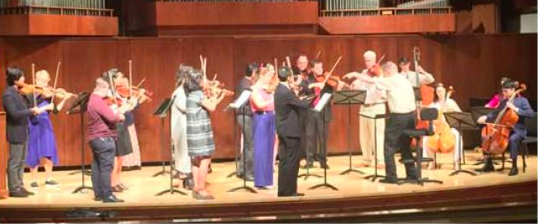 The reception at Morse Hall was like a reunion of old friends …….
Nostalgia Time: Pamela Frank (left) and Harumi Rhodes had begun their studies with Shirley at ages 5 and 7 respectively.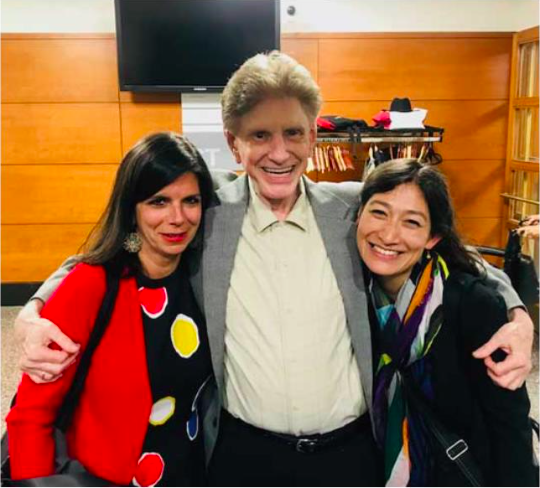 Two Quartets Meet: Joseph Lin of the Juilliard and Harumi Rhodes of the Takács Quartet.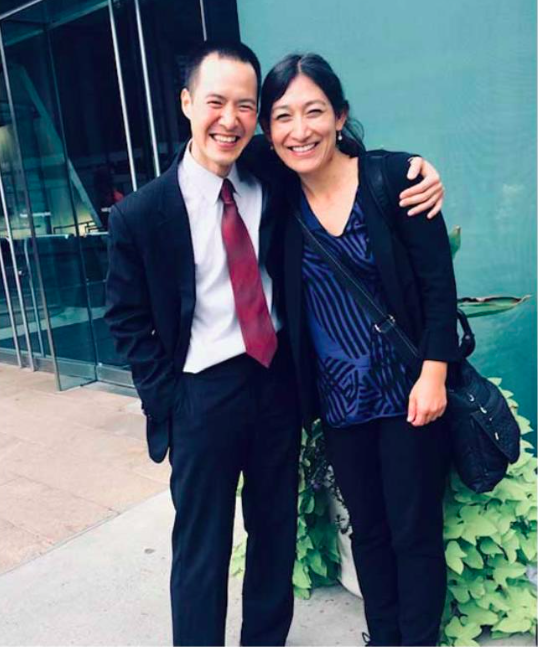 Sylvia Rosenberg, Juilliard violin faculty friend and Shirley's long-time travel companion to Peabody Conservatory, surrounded by Pamela, Tiana, Harumi, Kevin and Joe.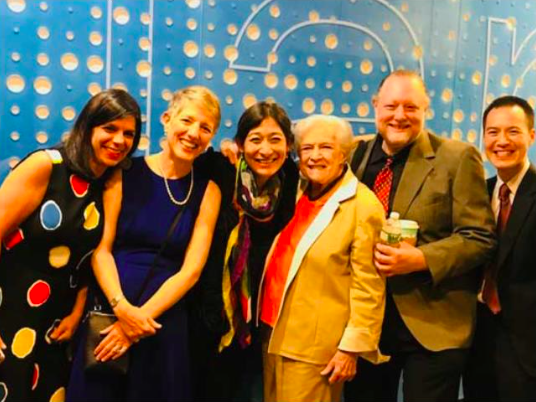 And finally, in closing, a priceless video of dear Shirley, which epitomizes the relaxed, generous spirit that she was able to share with those who came in contact with her. It is the OldTime "Fiddlesticks" with her son Kevin Wimmer, a YouTube sensation watched by more than 33,000 people to date!"
PREVIOUS
SAD NEWS | Juilliard School Violin Pedagogue Shirley Givens Has Passed Away – Aged 86