VC INTERVIEW | Natalie Cumming - A Violin's Journey from Auschwitz to Surrey
The true story traces the journey of a violin from the devastation of war and terror to safety and restoration in 21st Century Britain
The Violin Channel recently caught up with British writer Natalie Cumming, author of 'The Fiddle'.
Natalie, tell us about this incredible violin and its history?
PART ONE - ABRAHAM'S STORY
Abraham is Music Tutor to Tsar Nicholas II's children, when the Russian Revolution in 1917 causes him to flee St Petersburg with his family, his wife Anna, with 5 children including Israel and Rosa and Abraham's brother and his family. He knows they are in great danger from the Bolsheviks, not only because he works for the Tsar, but because they are Jewish. Taking his precious violin with him, they leave St Petersburg with only the belongings they can carry, and a small hand cart which the men pull.
A dangerous journey begins, in which they endure many hardships, dangers and sickness. It takes them nearly a year to cross Russia on foot. They suffer the extremes of winter and summer weather and are grateful for the generosity of strangers and their hospitality, whom Abraham delights by playing beautiful music on his violin. Finally, on reaching Odessa they manage to get places on a boat bound for England. The final destination for Abraham and his family is the City of Leeds in Yorkshire, where he believes they can begin a new life in safety.
PART TWO - ROSA'S STORY
Rosa is a superb violinist. When her father Abraham dies, she is given his violin, which he took on their long trek across Russia. Rosa is invited to join the Berlin Philharmonic Orchestra, and knowing what an honor this is to play with one of the best orchestra's in the world, she eagerly travels to Berlin.
It is 1936. There are several other Jewish members in the Orchestra, and when the persecution of the Jews begins under Hitler's regime, they believe they are safe from internment under the protection of the Orchestra. However, Rosa is taken by the Nazis on November 9, 1938 (Kristellnacht) and imprisoned in Mauthausen for one year. She is then moved to Auschwitz in 1939 and finally to Belsen Concentration camp in the spring of 1945, until the end of the war.
She remains alive because of her music, and her violin stays with her throughout. She survives only because she is a superb violinist and is forced to form one of the notorious women's orchestras, whose task is to "welcome" arriving Jews and other prisoners to the camps. She suffers repeated rapes by the Commanding Officer. She is operated on as a guinea pig by the infamous Dr. Mengele. Her will to live to tell the world what has been endured by her and many thousands of others in the camps keeps her alive until their liberation in 1945.
She gives evidence at the Nuremberg War trials, helping to convict some of the worst perpetrators of crimes against humanity that the world has ever seen. Once the effort of contributing her evidence is over, she dies in 1947 of the tuberculosis she contracted in the death camps.
Rosa's brother and my father, Israel, inherits the violin. A celebrated musician, he joins ENSA during the war, entertaining the troops. Post war, he investigates Nazis trying to escape trial. He forms several popular bands, well-known throughout the 60's & 70's.
Finally, the violin comes to me, who has written my family's extraordinary story, lest the world should ever forget global events, against which the journey of this beautiful instrument is told.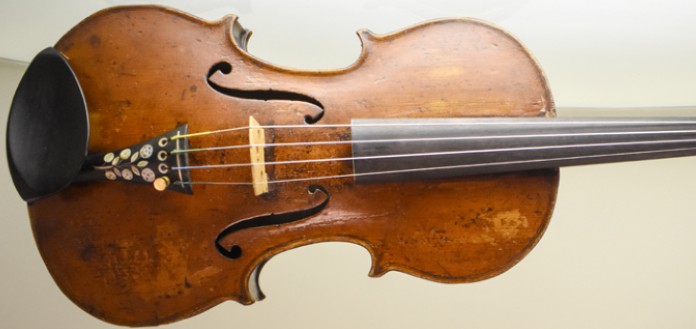 Your aunt Rosa sounds like an amazingly strong woman. Please tell us about her?
Her determination to tell the world about the atrocities carried out in Mauthausen and in Auschwitz and Belsen kept her alive, and once she had been released she was proud to be a witness at the Nuremberg Trials. 
Her body had suffered so much that she did not recover, dying from TB in late 1947, but not before telling my father and I (as a nine-year-old) what she and thousands of others had endured at the hands of the Nazis. The violin kept her alive during those terrible years.
What memories do you have of this violin growing up? 
The violin was passed to my father after my aunt died, so it was part of my life and the memory of it being played by him every day will stay with me forever. 
I played the piano and we would often play duets, my father saying it was "practice time" but we both got so much enjoyment from these times playing together that it never seemed onerous to me – as practice usually is!
Tell us about the restoration process? How did you decide to donate your violin to the Menuhin School?
The restorer, John Dilworth is a famous violin maker and restorer in the UK, and his instruction was that the violin could go on for another 100 years, but needed to be played regularly.  As no one in the family played I decided to donate it to the Yehudi Menuhin School for perpetuity in the name of my aunt and father. 
I have been honored that on many of the talks I have given in the London area the Administrator, Cathy Whitnall, has agreed that one of the two students who play my violin, Ezo and Kingsley, attend and play several pieces of music after my talk. 
The audiences are always enthralled at the talent of these two young students, and the resonance of the violin. In fact, Christian Garrick, who plays in the film and who composed a piece of music called Rosa's Wishing Waltz for the programme,  played the violin again about 6 months after its restoration, when the students were on holiday, and his words were that it was obvious it had been played regularly as the sound and resonance was even better than when he played it after its restoration.
What do you hope audiences will take away from hearing this instrument and its incredible history?
This violin has been the most important thing in my life. My family survived because of it. The people who cared for and protected it suffered – but the violin was still cared for – by my grandfather, my aunt, my father and now me.
It went on the journey with the family – suffered with them; rejoiced with them. They gave their lives, but this was not in vain because the violin continues to play beautiful music, despite suffering serious damage at the hands of the Nazis. Its heart enabled it to survive.
My father urged me to write down everything he and my aunt told me about their lives – and my book, The Fiddle, is the result. After every talk when the violin is played the audience seems to have one opinion, that this instrument has endured and now lives to give so much pleasure to many. The other very important point when they leave is their determination that such terrible atrocities must never be allowed to happen again.
KINGSLEY LIN | BACH | SOLO VIOLIN SONATA IN A MINOR | ALLEGRO | THE CUMMING VIOLIN