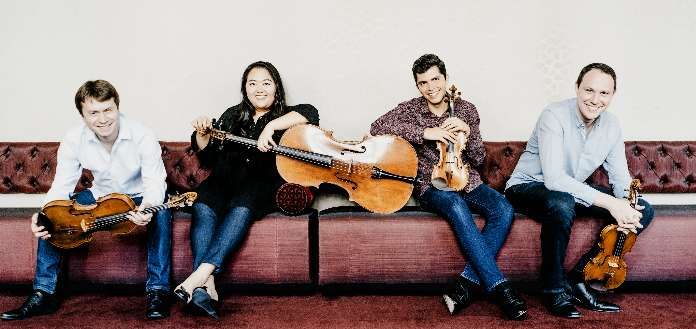 The New York-based Calidore String Quartet has in recent years firmly established themselves as one of the most celebrated young chamber ensembles to emerge internationally - praised for their "confidence", "finesse", "intellect" and "expression".
Comprising violinists Jeffrey Myers and Ryan Meehan, violist Jeremy Berry and cellist Estelle Choi, the Calidore Quartet are former 1st prize winners at the M-Prize and Fischoff Chamber Music Competitions - and former top prize recipients at the Hamburg and ARD Munich International Chamber Music Competitions.
The ensemble are also recent recipients of the coveted Lincoln Center Emerging Artist Award, Borletti-Buitoni Trust Fellowship - and an Avery Fisher Career Grant.
The Calidore Quartet is currently on the rosters of the Chamber Music Society of Lincoln Center's CMS Two program and the BBC Radio 3 'New Generation Artists' - and serve as Visiting Guest Artists at the University of Delaware and the University of Michigan School of Music.
Their mentors include Arnold Steinhardt, Andre Roy, David Finckel, Gunther Pichler, Guillaume Sutre and the Emerson and Ebene String Quartets.
VC ARTIST CALIDORE STRING QUARTET | MENDELSSOHN STRING QUARTET NO. 1, OP. 44 | 1ST MVT | CHAMBER MUSIC SOCIETY OF LINCOLN CENTER | 2018
VC ARTIST CALIDORE STRING QUARTET | MENDELSSOHN STRING QUARTET NO. 6, OP. 80 | 1ST MVT | CHAMBER MUSIC SOCIETY OF LINCOLN CENTER | 2017
VC ARTIST CALIDORE STRING QUARTET & ROBERTO DIAZ | BRAHMS | STRING QUINTET IN G MAJOR | 1ST MVT | CHAMBER MUSIC SOCIETY OF LINCOLN CENTER | 2017
VC ARTIST CALIDORE STRING QUARTET | MENDELSSOHN | STRING QUARTET NO. 2, OP. 13 | 1ST MVT | CHAMBER MUSIC SOCIETY OF LINCOLN CENTER | 2016
VC ARTIST CALIDORE STRING QUARTET | LIGETI | STRING QUARTET NO. 1 "METAMORPHOSES NOCTURNES" | CHAMBER MUSIC SOCIETY OF LINCOLN CENTER | 2017
https://www.youtube.com/watch?v=dKtGnnHV3PI&showinfo=0&autohide=1
VC ARTIST CALIDORE STRING QUARTET | HAYDN | STRING QUARTET OP. 33, NO. 3 "THE BIRD"| 4TH MVT | 2016 M-PRIZE CHAMBER MUSIC COMPETITION 
https://www.youtube.com/watch?v=9nyulBH-hG4&showinfo=0&autohide=1
VC ARTIST CALIDORE STRING QUARTET | DEBUSSY | STRING QUARTET IN G MINOR | 1ST MVT | 2016 M-PRIZE CHAMBER MUSIC COMPETITION
https://www.youtube.com/watch?v=VtuPjJT_PJ0&showinfo=0&autohide=1
VC ARTIST CALIDORE STRING QUARTET | WEBERN | FIVE MOVEMENTS, OP. 5 | 1ST MVT | 2016 M-PRIZE CHAMBER MUSIC COMPETITION 
VC ARTIST CALIDORE STRING QUARTET | JANÁČEK | STRING QUARTET NO. 1 | 1ST MVT | 2019 NPR MUSIC TINY DESK CONCERT
VC ARTIST CALIDORE STRING QUARTET | BEETHOVEN | STRING QUARTET OP. 18 NO. 4 | 4TH MVT | 2019 NPR MUSIC TINY DESK CONCERT
Name: Jeffrey Myers
Instrument: 1900-1910 Stefano Scarampella Violin
Bow: Dominique Peccatte
Teachers: Robert Lipsett | Paul Kantor | Michelle Kim
Name: Ryan Meehan 
Instrument: 1894 Eugenio Degani Violin
Bow: Alfred Lamy
Teachers: Robert Lipsett | Almita and Roland Vamos | Arnold Steinhardt
Name: Jeremy Berry
Instrument: Umberto Muschietti Viola
Bow: Millant Workshop
Teacher: Paul Coletti, Heidi Castleman, Misha Amory
Name: Estelle Choi
Instrument: C. 1860 Charles Jacquot Cello
Bow: Lloyd Liu
Teachers: John Kadz | Aldo Parisot | Ronald Leonard