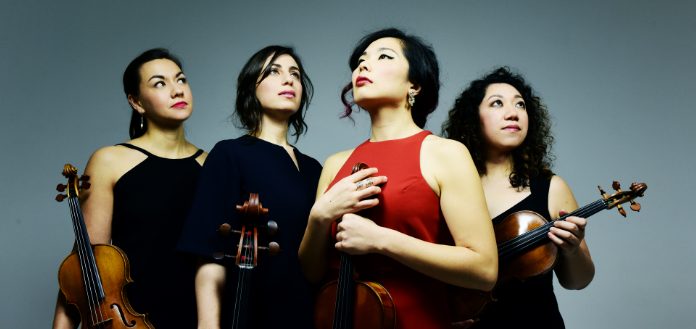 The New York-based Aizuri String Quartet has firmly established themselves as one of the most in-demand young, chamber ensembles to emerge internationally in recent years.
Comprising violinists Ariana Kim and Miho Saegusa, violist Ayane Kozasa and cellist Karen Ouzounian, the Aizuri are former top prize winners at M-Prize, Osaka and Wigmore Hall International String Quartet Competitions.
They previously served as Quartet-in-Residence at the Curtis Institute of Music, New York City's Metropolitan Museum of Art, the Caramoor Center for Music and the Arts - and Ravinia Festival's Steans Music Institute.
The Aizuri were recently described by the New York Times as "imaginative" and "genuinely exciting".
Their new independent album, Blueprinting, featuring new works by American composers Lembit Beecher, Yevgeniy Sharlat, Caroline Shaw, Gabriella Smith and Paul Wiancko was  recently nominated for a Grammy Award.
The Auzuri Quartet currently have worldwide general management with Concert Artists Guild, in New York.
VC ARTIST AIZURI QUARTET | LEMBIT BEECHER | "SOPHIA'S WIDE AWAKE DREAMS" | NEW AMSTERDAM RECORDS | 2018
VC ARTISTS AIZURI QUARTET | BEETHOVEN | STRING QUARTET IN E-FLAT MAJOR OP. 74  "HARP" | 3RD MVT | M-PRIZE CHAMBER COMPETITION | GRAND PRIZE WINNER
https://youtu.be/ZuNjRrel06w?t=6
VC ARTISTS AIZURI QUARTET | HAYDN | STRING QUARTET IN C MAJOR NO. 2 OP. 20 | 2018
VC ARTISTS AIZURI QUARTET | YEVGENIY SHARLAT | RIPEFG | 1ST MVT | M-PRIZE CHAMBER COMPETITION | GRAND PRIZE WINNER
https://youtu.be/daORy8NBsWE?t=7
VC ARTISTS AIZURI QUARTET | BEETHOVEN | STRING QUARTET OP. 133 "GROSSE FUGUE" | 2018 
VC ARTISTS AIZURI QUARTET | GABRIELLA SMITH | "CARROT REVOLUTION" | NEW AMSTERDAM RECORDS | 2018
VC ARTISTS AIZURI QUARTET | CONLON NANCARROW  | STRING QUARTET NO. 3 | NEW AMSTERDAM RECORDS | 2018
VC ARTISTS AIZURI QUARTET | SOFIA GUBAIDULINA | STRING QUARTET NO. 4 | METROPOLITAN MUSEUM OF ART | 2018
Name: Ariana Kim
Violin: 1735 Peter Guarneri of Venice
Bow: Voirin
Strings: Tonica A, D, G | Lenzner E
Teacher: Ellen Kim | Young-Nam Kim | Ian Swensen | Camilla Wicks | Cheryl Stewart | Robert Mann
-
Name: Miho Saegusa
Violin: Grancino 1697 - On generous loan from a private donor
Bow: Eugène Sartory
Strings: Dominant A,D, G | Goldbrokat E
Teacher: Masao Kawasaki | Dorothy DeLay
-
Name: Ayane Kozasa
Viola: Joseph Hel
Strings: Obligato
Accessories: SAS Chinrest | Krentzworks Modulator | Pierre Guillaume Rosin
Teacher: Nobuko Imai | Roberto Diaz | Misha Amory | Kirsten Docter
Instagram: @yanyanbears
-
Name: Karen Ouzounian
Cello: 1999 Guy Harrison
Bow: 2012 Benoit Rolland
Strings: Larsen | Spirocore Tungsten
Teacher: Timothy Eddy | Simon Fryer | Andras Weber
Instagram: @karenouzounian