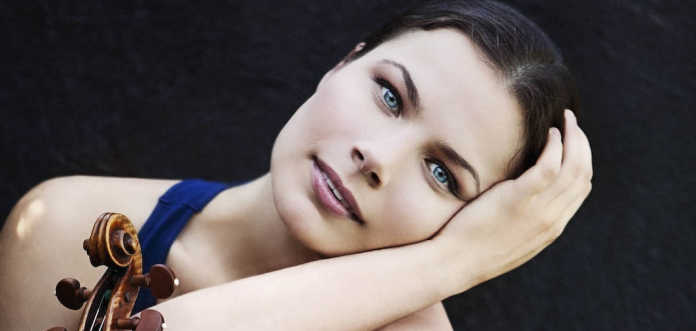 Bulgarian-American violinist Bella Hristova is quickly building an international reputation as one of the most exciting young virtuosi to emerge in recent years.
A graduate of the Curtis Institute of Music, where she studied with Ida Kavafian and Jamie Laredo, Bella is a former 1st prize winner at the Michael Hill International Violin Competition and the Young Concert Artists International Auditions - and was the recipient of a prestigious 2013 Avery Fisher Career Grant.
BELLA HRISTOVA | BARBER | VIOLIN CONCERTO | DARRYL ONE & VICTORIA SYMPHONY ORCHESTRA
Her 2016 highlights include solo engagements with the Buffalo Philharmonic, Columbus Symphony and the Kansas City Symphony - and upcoming world premiere performances on a new concerto by acclaimed American composer, David Ludwig.
Bella currently performs on a 1655 Nicolo Amati violin - once owned by celebrated violinist, Louis Krasner.
BELLA HRISTOVA | BACH | PARTITA NO. 2 IN D MINOR | CHACONNE | 2013
BELLA HRISTOVA | MILSTEIN | PAGANINIANA | 2013
BELLA HRISTOVA | YSAYE | SONATA NO. 4 'FRITZ KREISLER' | ALLEMANDE | 2015
BELLA HRISTOVA | YSAYE | SONATA NO. 4 'FRITZ KREISLER' | SARABANDE | 2015
BELLA HRISTOVA | YSAYE | SONATA NO. 4 'FRITZ KREISLER' | FINALE | 2015
BELLA HRISTOVA | CORIGLIANO | RED VIOLIN CAPRICES | 2013
BELLA HRISTOVA | TCHAIKOVSKY | VIOLIN CONCERTO | 3RD MVT | NICK PALMER & OWENSBORO SYMPHONY ORCHESTRA
BELLA HRISTOVA | PIAZZOLLA | TANGO ETUDE NO. 3 | 2013
BELLA HRISTOVA & NOREEN POLERA | GERSHWIN | IT AIN'T NECESSARILY SO | 2013
BELLA HRISTOVA | YSAYE | SONATA NO. 2 'JACQUES THIBAUD' | 1st MVT 'OBSESSION'
https://www.youtube.com/watch?v=IccSkB8LHHE&showinfo=0&autohide=1
BELLA HRISTOVA | BERIOT | 12 SCENES OR CAPRICES, OP. 109 | NO. 8 'SALTARELLA' | 2009
https://www.youtube.com/watch?v=flH5MdOpejU&showinfo=0&autohide=1
BELLA HRISTOVA | BERIOT | 12 SCENES OR CAPRICES, OP. 109 | NO. 12 'LA CONSOLATION' | 2009
https://www.youtube.com/watch?v=MIasJh8rMmk&showinfo=0&autohide=1
BELLA HRISTOVA | BERIOT | 9 STUDIES | NO. 9 'IN IMITATION OF THE OLD MASTERS' | 2009
BELLA HRISTOVA & MUSICIANS FROM MARLBORO | STRAVINSKY | CONCERTINO FOR STRING QUARTET | 2014
Name: Bella Hristova
Violin: 1655 Nicolo Amati
Bow: Dominique Peccatte and H. R. Pfretzschner
Accessories: Baker's Rosin
Teachers: Ida Kavafian and Jaime Laredo