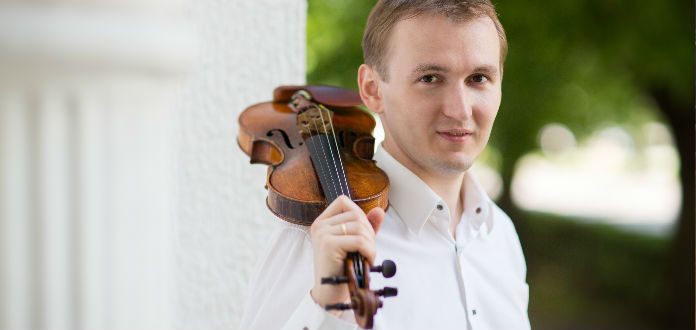 Russian violin virtuoso Nikita Boriso-Glebsky has firmly established himself as one of the new generation's eminent young European concert artists - praised for his "deep musical thinking, impeccable technique, elegance and instinctiveness". 
A graduate of the Moscow Tchaikovsky Conservatory, Chapelle Musicale Reine Elisabeth and the Kronberg Academy, Nikita is a former major prize winner at the Tchaikovsky, Monte-Carlo, Joseph Joachim, David Oistrakh, Montreal, Fritz Kreisler, Queen Elisabeth and Jean Sibelius International Violin Competitions.
His recent engagements include solo performances with the Saint-Petersburg Philharmonic Orchestra, Cape Town Philharmonic Orchestra, Sinfonia Rotterdam, Munchner Symphoner, National Symphony Orchestra of Mexico and the NHK Symphony Orchestra.
Nikita's upcoming performances include a solo recital at the 2018 Kuhmo Festival - and solo performances with the Russian National Orchestra, Finnish Radio Orchestra and the Bournemouth Symphony Orchestra.
He has recently released a CD on the PROFIL label showcasing the works for violin and piano of composer Nikolai Medtner.
NIKITA BORISO-GLEBSKY | ELGAR VIOLIN CONCERTO | JAN LATHAM-KOENIG & THE NEW OPERA ORCHESTRA
NIKITA BORISO-GLEBSKY | BRITTEN VIOLIN CONCERTO | CONRAD VAN ALPHEN & MOSCOW PHILHARMONIC ORCHESTRA
NIKITA BORISO-GLEBSKY & DANA PROTOPOPESCU | FRANCK VIOLIN SONATA IN A MAJOR
RUBIK ENSEMBLE | DVORAK | STRING QUARTET OP. 77 IN G MAJOR | FINALE 
NIKITA BORISO-GLEBSKY & KASPARAS UINSKAS | POULENC VIOLIN SONATA
NIKITA BORISO-GLEBSKY | BRAHMS VIOLIN CONCERTO | 1ST MVT | 2010 MONTREAL INTERNATIONAL VIOLIN COMPETITION 
NIKITA BORISO-GLEBSKY | MENDELSSOHN VIOLIN CONCERTO | 1ST MVT | LEO KRAEMER & ST PETERSBURG PHILHARMONIC ORCHESTRA
NIKITA BORISO-GLEBSKY | YSAŸE | SOLO VIOLIN SONATA NO. 3 (BALLADE)
Name: Nikita Boriso-Glebsky
Violin: Matteo Gofriller
Bow: Pierre Simon, Noel Burke
Teachers: Eduard Grach | Tatiana Berkul | Augustin Dumay | Ana Chumachenco