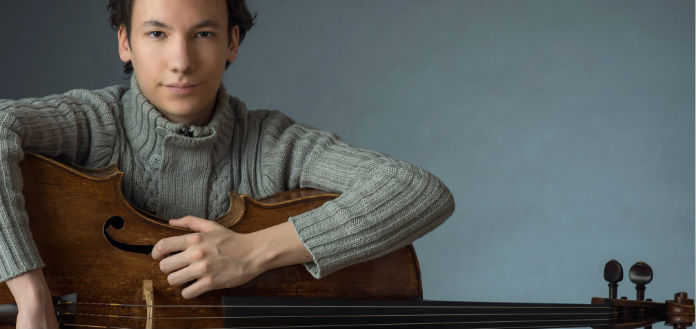 21 year old French cello virtuoso, Edgar Moreau is quickly building an international reputation as one of the most captivating young concert soloists to emerge in recent years.
A graduate of the Paris Conservatoire and the Kronberg Academy, where he studied with Philippe Muller and Frans Helmerson, Edgar is a former major prize winner at the Tchaikovsky International Cello Competition - and the New York Young Concert Artists International Auditions.
EDGAR MOREAU & JESSICA OSBORNE | CHOPIN | INTRODUCTION AND POLONAISE BRILLANTE | 2016
His recent debuts include solo engagements with the Sinfonia Iuventus Orchestra, Orchestre Philharmonique de Radio-France, Simon Bolivar Orchestra, Zurich Chamber Orchestra, Mariinsky Orchestra, Orchestre National de France and the St. Petersburg Philharmonic - and recital performances at the Barbican, Concertgebouw and Musikverein.
https://www.youtube.com/watch?v=peDuq7i03Zk&showinfo=0&autohide=1
EDGAR MOREAU & PIERRE-YVES HODIQUE | SHOSTAKOVICH | SONATA FOR CELLO & PIANO | ALLEGRO | 2013
EDGAR MOREAU & JESSICA OSBORNE | FRANCK | SONATA IN A MAJOR, M.8 | 2ND MVT | ALLEGRO | 2016
https://www.youtube.com/watch?v=fAVZdUR3wMM&showinfo=0&autohide=1
EDGAR MOREAU & JESSICA OSBORNE | FRANCK | SONATA IN A MAJOR, M.8 | 3RD MVT | BEN MODERATO : RECITATIVE FANTASIA | 2016
EDGAR MOREAU & JESSICA OSBORNE | BACH | SONATA NO. 3 IN G MINOR | 1ST MVT | VIVACE | 2016
EDGAR MOREAU & JESSICA OSBORNE | BACH | SONATA NO. 3 IN G MINOR | 3RD MVT | ALLEGRO | 2016
EDGAR MOREAU & JESSICA OSBORNE | SCHNITTKE | SONATA NO. 1 | 2ND MVT | PRESTO | 2016
EDGAR MOREAU & PIERRE-YVES HODIQUE | MONTI | CZARDAS | 2015
https://www.youtube.com/watch?v=ndwLsEqyAwI&showinfo=0&autohide=1
EDGAR MOREAU & PIERRE-YVES HODIQUE | FAURE | APRES UN REVE | 2013
https://www.youtube.com/watch?v=hdyGkDMtu2A&showinfo=0&autohide=1
EDGAR MOREAU & JEAN-FREDERIC NEUBURGER | DEBUSSY | SONATA | 2013
EDGAR MOREAU & PIERRE-YVES HODIQUE | POPPER | ELFENTANZ | 2014
Name: Edgar Moreau
Cello: David Tecchler
Bow: Emile-Auguste Ouchard
Teacher: Frans Helmerson & Philippe Muller