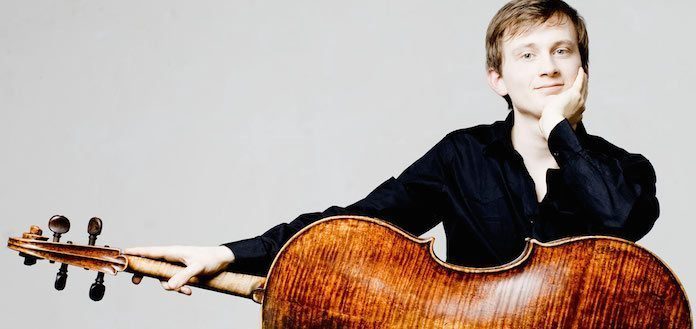 German cello virtuoso Benedict Kloeckner has firmly established an international reputation as one of the new generation's most gifted young string virtuosi - praised by Maestro Daniel Barenboim for his "really remarkable, perfect playing."
A graduate of the Kronberg Academy, where he studied with Frans Helmerson and Gary Hoffman, and private student of Martin Ostertag, Benedict is a former major prize winner at the Emanuel Feuermann and Animato International Cello Competitions - and recent recipient of the 'European Broadcasting Union Award' and the 'European Culture Prize' from the European Culture Foundation.
His recent solo engagements include concerto performances with the Royal Philharmonic, Kremerata Baltica, German Radio Philharmonic Orchestras, NDR/Leipzig Radio Symphony Orchestra, Berlin Chamber Orchestra, Slovakian Radio Orchestra, MDR Radio Symphony Orchestra and the Russian/Polish State Orchestras.
Benedict is the artistic director and founder of the Koblenz International Music Festival - and currently performs on a 1680 Ruggeri Cello, on generous loan from Deutsche Stiftung Musikleben.
VC ARTIST BENEDICT KLOECKNER & JOSÉ GALLARDO | BRAHMS | CELLO SONATA NO. 2 IN F MAJOR | 2018 
VC ARTIST BENEDICT KLOECKNER | BACH | CELLO SOLO SUITE NO. 6 IN D MAJOR | 2016
VC ARTIST BENEDICT KLOECKNER | TCHAIKOVSKY | VARIATIONS ON A ROCOCO THEME | MICHAEL SANDERLING & MDR LEIPZIG RADIO SYMPHONY ORCHESTRA | 2015
VC ARTIST BENEDICT KLOECKNER | DVORAK CELLO CONCERTO | ROLF GUPTA & CAMERATA OSLO | 2014
VC ARTIST BENEDICT KLOECKNER & ANNA FEDOROVA | CHOPIN | CELLO SONATA IN G MINOR | 2015
VC ARTIST BENEDICT KLOECKNER | ELGAR CELLO CONCERTO | HOWARD GRIFFITHS & BRANDENBURG STATE ORCHESTRA | 2013 
VC ARTIST BENEDICT KLOECKNER & JOSÉ GALLARDO | SARASATE | ZIGEUNERWEISEN | 2012 
VC ARTIST BENEDICT KLOECKNER | SCHUMANN CELLO CONCERTO | 1ST MVT | KAMMERORCHESTER BERLIN | 2011
VC ARTIST BENEDICT KLOECKNER | TRADITIONAL (ARR. PABLO CASALS) | SONG OF THE BIRDS | 2011 
Name: Benedict Kloeckner

Instrument: Francesco Ruggeri, Cremona 1680

Bow: François Voirin, Paris 1920

Strings: Larsen

Accessories: Kolstein Rosin

Teachers: Frans Helmerson, Gary Hoffman, Martin Ostertag