Three Joint-1st Prize Winners Awarded at USA's Hudson Valley String Competition
Three joint-1st prizes have this week been awarded at the 2018 46th Hudson Valley Philharmonic String Competition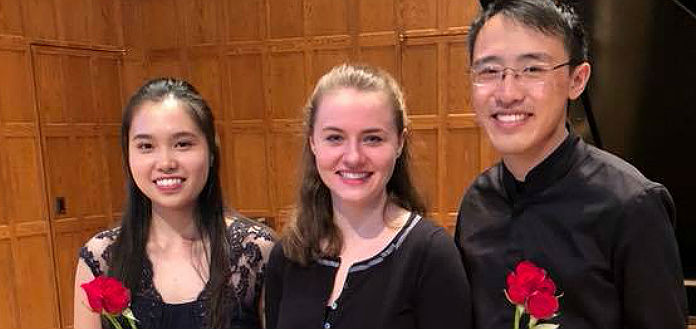 Three joint-1st prizes have this week been awarded at the 2018 46th Hudson Valley Philharmonic String Competition – at Vassar College, in Poughkeepsie, USA.
In an unprecedented jury decision, all three finalists, violinists Ania Filochowska, Max Tan and Choi Tung Yeung, were awarded joint-top prize. 
"All three judges agreed that we couldn't artistically separate the three finalists this year ... in our professional opinion each of them played their concerti as well as it could be played ..." juror and The Juilliard School faculty member, violist Samuel Rhodes has told The Violin Channel.
"It was an extremely exciting afternoon ... I have never seen all three finalists get such an overwhelming response from our audience - immediate and sustained standing ovations," event organiser Susan Avery has told The Violin Channel.
"We will split the total prize money equally ... and find a way to offer solo concerto engagements to Ania, Max and Choi in our upcoming Hudson Valley Philharmonic season," she has said.
All three violinists will also be invited to give recital performances at this year's Musical Landscape of Tuscany Festival, in Italy.
Previous 1st prize winners include: Nobuko Imai, Fred Sherry, Ani Kavafian, Karen Dreyfus, Judith Ingolfsson and Arnaud Sussmann.