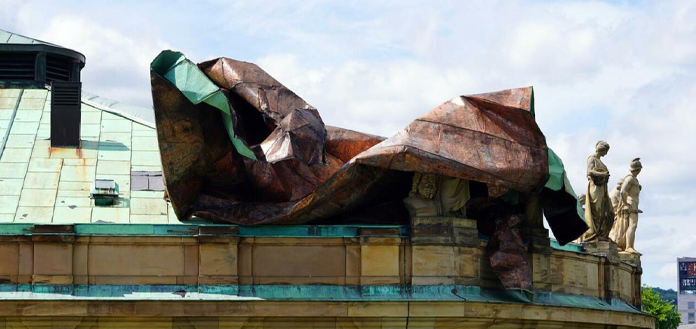 Torrential rain, giant hailstones, and strong winds tore through Germany, Switzerland, and France earlier this week, causing widespread flooding, accidents, suspended railway services, and hundreds of rescue operations. 
In Stuttgart, sections of the roof and several statues on the Stuttgart Opera House were tossed to the ground by the winds. Fortunately, nobody in the building was injured.
"I'm standing underneath the roof and getting very wet," the opera's manager Viktor Schoner told the German News. According to Schoner, parts of the stage became flooded when 10,000 liters of water gushed in through the lighting installation. 
"There were frightening scenes that could be seen in the Stuttgart Opera House: the copper roof compressed into two huge balls, water dripping from the ceiling, trees snapped off like matches," reads an article on the opera's website covering the incident. "Two days later, there is still uncertainty about certain questions — and yet there is a slight degree of confidence.
"We are currently working flat out to professionally close the roof of the opera house in order to prevent water from entering the house again," it continued. "This work is expected to be completed tomorrow. The technical systems are also being examined."
The third tier of the opera house sustained the most amount of damage. Undergoing immediate restoration, the company will, at the moment, resume concerts on July 3.