Silkroad Announces Inaugural Residency at Georgia's Spelman College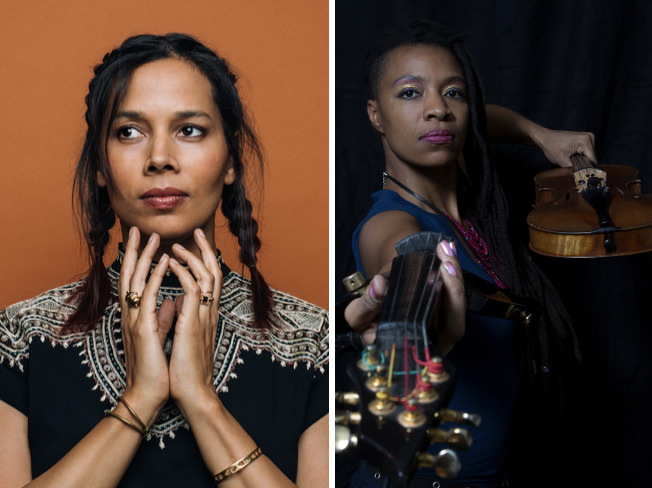 Silkroad artists Rhiannon Giddens and Mazz Swift
Silkroad Artistic Director Rhiannon Giddens and Silkroad artist Mazz Swift will join the students and faculty of Spelman College in a new partnership of musical activities. Spelman College, located in Atlanta, Georgia, is a historically Black liberal arts college.
The residency was launched on March 15 and continues today, with  Giddens leading a series of artist intensives for the students majoring in music — placing great emphasis on the art of improvisation, composition, pedagogy, and storytelling.
Additionally, the greater Spelman community will be able to join Giddens during her workshops on inspiring creativity through music.
The residency will conclude less than a month later on April 11. Silkroad artist Mazz Swift will host performances with Spelman faculty and students celebrating outgoing Spelman President Mary Schmidt Campbell — who retires at the end of the 2022 academic year.
The goal of Silkroad's residency is to steer Spelman students towards widening their musical horizons through creative means, thereby serving as a springboard for a more passionate musical career. A second residency is scheduled for the fall of 2022.
"All of us at Silkroad are thrilled to be forging this new partnership with Spelman College and to contribute to students' educational journey through exploration and exposure to diverse musics and cultures," Giddens said. "This experience will be just as enriching for us as we hope it will be for them."
"We look forward to welcoming Silkroad artists Rhiannon Giddens and Mazz Swift to Spelman's campus this spring," added Spelman President Dr. Mary Schmidt Campbell. "This invaluable experience will deepen our students' cultural collaboration and exchange of ideas, traditions, and innovation in music and the arts and underscores the College's commitment to [email protected]"
Cellist Yo-Yo Ma conceptualized Silkroad in 1998, focused on the exchange of ideas, tradition, and innovation across borders. Ma brought together musicians to form a touring ensemble comprised of world-class musicians from all over the globe in addition to a social impact organization.
Founded in 1881, Spelman College is a leading liberal arts college widely recognized as the global leader in the education of women of African descent. Notable alumni from the college include Children's Defense Fund founder Marian Wright Edelman, Walgreens Boots Alliance CEO Rosalind Brewer, political leader Stacey Abrams, former Acting Surgeon General and Spelman's first alumna President Audrey Forbes Manley, actress and producer Latanya Richardson Jackson, global bioinformatics geneticist Janina Jeff, and authors Pearl Cleage and Tayari Jones.