BREAKING | Finalists Announced at Sibelius Comp – Including VC 'Young Artist' Emmanuel Tjeknavorian
The 6 Finalists at the 2015 Jean Sibelius International Violin Competition have just minutes ago been announced, in Helsinki, Finland – including VC 'Young Artist' Emmanuel Tjeknavorian.
The 2015 Finalists are:
VC 'Young Artist' Emmanuel Tjeknavorian from Austria

Mayumi Kanazawa from Japan

Christel Lee from the United States

Friederike Starkloff from Germany

Minami Yoshida from Japan

Nancy Zhou from the United States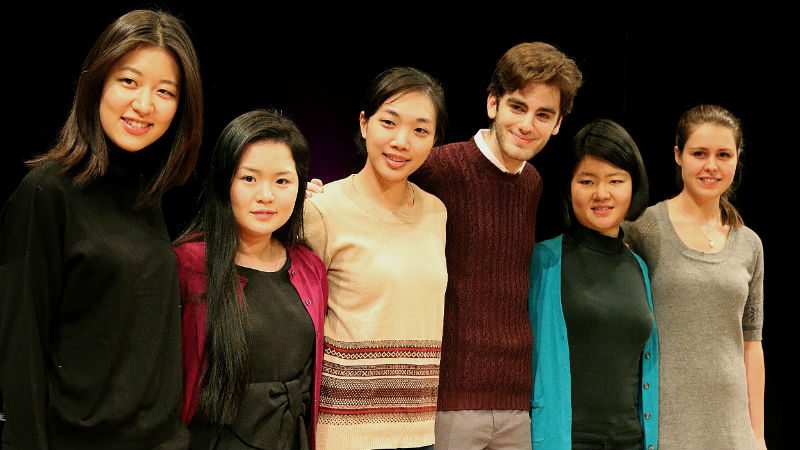 2015 SIBELIUS INTERNATIONAL VIOLIN COMPETITION FINALISTS, CHRISTEL LEE (USA), MINAMA YOSHIDA (JAPAN), NANCY ZHOU (USA), VC 'YOUNG ARTIST' EMMANUEL TJEKNAVORIAN (AUSTRIA), MAYUMI KANAZAWA (JAPAN) & FRIEDERIKE STARKLOFF (GERMANY) 
For the Final round, to be held on the evenings of the 1st to the 3rd of December, each candidate will present Sibelius Violin Concerto in D Minor, plus a major Romantic/20th Century Concerto of their own choice - with conductors Hannu Lintu and John Storgards and the Finnish Radio Symphony and Helsinki Philharmonic Orchestras.
The 1st prize winner will receive €25,000 (US $28,000) and a number of important international engagements – including a performance of the Sibelius Concerto with the Finnish Radio Symphony Orchestra at the 'Sibelius 150 Birthday Jubilee Gala Concert' in Hameenlinna, Finland.
This year's jury comprises: Chairman Veli-Matti Puumala, Pierre Amoyal, Serguei Azizian, Sigrun Edvaldsdottir, Pekka Kauppinen, Sung-Ju Lee, Cho-Liang Lin, Gerhard Schulz and Krzysztof Wegrzyn.
Previous 1st prize winners include Oleg Kagan, Liana Isakadze, Pavel Kogan, Yuval Yaron, Viktoria Mullova, Ilja Kaler and Leonidas Kavakos – and VC 'Artists' Sergei Khachatryan and Nikita Boriso-Glebsky.
The Violin Channel, as this year's official competition media partner will be providing rolling coverage direct from the Concert Hall at Helsinki Music Centre. You won't miss a beat!
PICTURED: 2015 Jean Sibelius International Violin Competition Finalist, VC 'Young Artist' Emmanuel Tjeknavorian
[PHOTO: SANDRA SAULO/YLE]