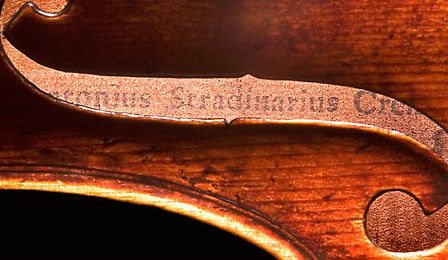 An academic study, published today in the American scientific journal PNAS, is set to send shockwaves through the 100s of millions of dollar international string instrument trade – after posing serious challenge to the wide-spread belief that violins crafted by Stradivari and other Old Italian makers have tonal qualities that cannot be found in new instruments.
The largest study of its kind, 'The Paris Experiment', lead by French scientist Claudia Fritz and US violin-maker Joseph Curtin, involved the blind-testing of six new and six Old Italian violins - including 5 'Golden Period' Stradivarius - under concert conditions, by 10 renowned international soloists.
[video_lightbox_youtube video_id="OHXOPjI9l0I" width="590" height="385" auto_thumb="1"]The Paris Experiment | Double-Blind Instrument Test | Stradivari Violins, New Violins and What Players Really Want
The participants, who included Olivier Charlier, Ilya Kaler, Elmar Oliveira, Solenne Paidassi and VC 'Young Artist' Tatsuki Narita, were asked to choose the one violin that would best replace their own for a hypothetical concert tour.
The surprising results, which come just days after Sotheby's and Ingles & Hayday announced the listing of the 1719 'Macdonald' Stradivarius viola on the market at offers over USD $45 Million, concluded:
The single most preferred violin was new.
6 of the 10 soloists chose new instruments.
The soloists were unable to tell new from old at better than chance levels.
On average new and old violins were rated about equally in terms of timbre.
The new violins were rated more favourably for playability, articulation and estimated projection.
The soloists found the overall quality of the test violins, both new and old, to be as high or higher than that of their own.
"I have played over 50 Stradivari and Guarneri Del Gesu violins in my lifetime and I am not surprised by this result," Canadian concert violinist Yi-Jia Susanne Hou has said, " … I have played contemporary maker's instruments with great success … including my solo orchestral debut, Juilliard School audition - and even winning my first international violin competition."
During the test, the participants wore modified welders' goggles, which together with very low ambient lighting made it impossible to identify instruments by sight.
The 6 Old Italian instruments, including 5 post-1712 Stradivarius, were supplied by internationally known dealers - who had vested interest in providing the highest quality instruments available.
The 6 modern instruments were built by professional makers in the USA and Europe and were between several days and ten years old.
"For me, the really important finding is that (under test conditions) soloists are able to say which instruments they like and don't like, but not whether those instruments are new or Old Italian ... Whatever it is that soloists are looking for in a violin, it is clearly not related to age or country of origin," experiment host Joseph Curtin has said.
The results support the findings of the controversial 2010 'Indianapolis' hotel-room study.
Two further papers will be published in coming months – the first covering the projection in the hall and the second to explore the correlations between the instruments' acoustical measurements and the players' and listeners' subjective evaluations.