Curtis Institute Offers Apology Over Poor Handling of Recent Historical Sexual Abuse Claims
Curtis Institute President and CEO, Roberto Diaz has issued an apology for the school's initial handlings of the recent historical sexual abuse allegations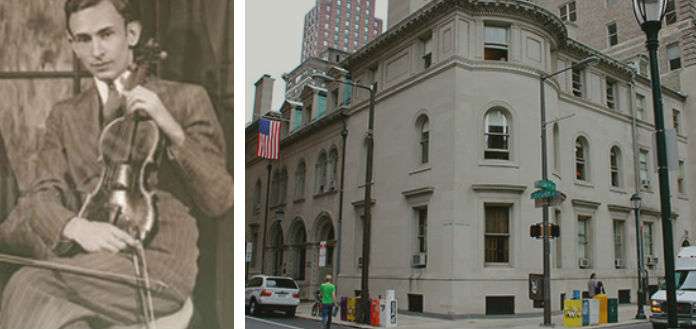 Curtis Institute of Music President and CEO, Roberto Diaz has today issued an apology for the school's initial handlings of this week's allegations of historical sexual assaults by five former students - suggesting the school will now set up an anonymous reporting hotline and will actively review all policies and claims surrounding alleged abuse.
Mr Diaz's announcement comes just days after violinist Lara St John made serious allegations that she had been sexually assaulted and raped by her 78-year-old teacher, Jascha Brodsky - when she was a 14-year-old 1st year student at the Philadelphia conservatory, in 1985.
Four other woman also told the Philadelphia Inquirer, on Thursday of this week, that they had been inappropriately pursued sexually by the former Curtis Institute staff member - who served on the school's violin teaching faculty from 1932 until his death in 1997.
In the 5000 word Inquirer article, Lara went on to say that she had attempted to report the assaults in 1986 to the then Dean of the school, Robert Fitzpatrick - but felt mocked by him and that the allegations were disregarded.
"Oh, for God's sake, who do you think they're going to believe? Some 15-year-old kid or someone who has been here for decades?" Lara has said she was told by the head of the school at the time - when she suggested her intention to report the alleged abuse to the police.
Lara transferred from Jascha Brodsky's studio following the alleged rape in his office in 1985 - and left the Curtis Institute, before graduating, at age 17 following a suicide attempt.
The Curtis Institute of Music's initial response to this week's shocking historical allegations was to issue an email to all alumni and students asking them to refrain from speaking publicly about the matter - causing a flurry of online rage.
The email, sent by the school's Senior Director of Communications, Patricia Johnson, on Thursday morning, did not ask for students or other victims with any information to contact the school - a move widely perceived as an attempt to diminish the womens' claims and cover up the issue.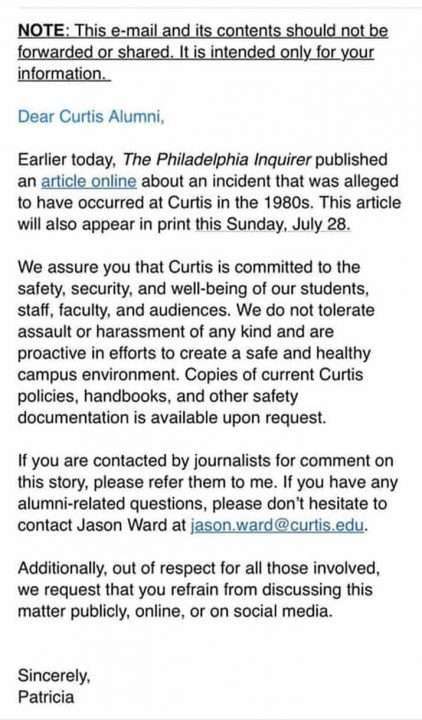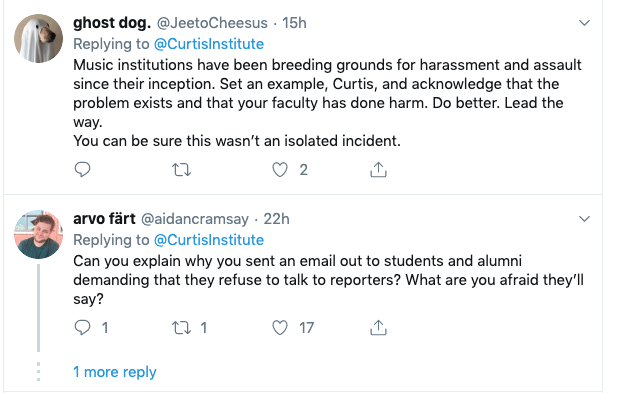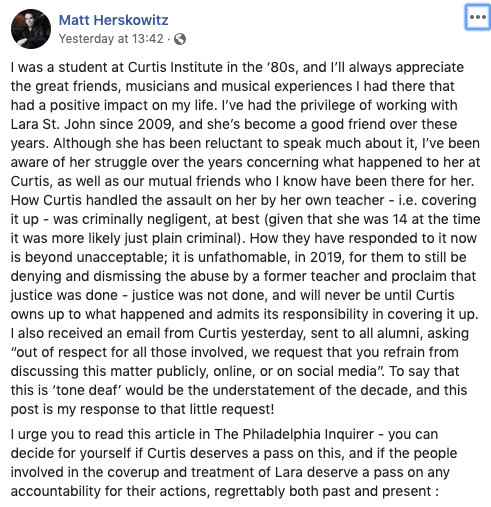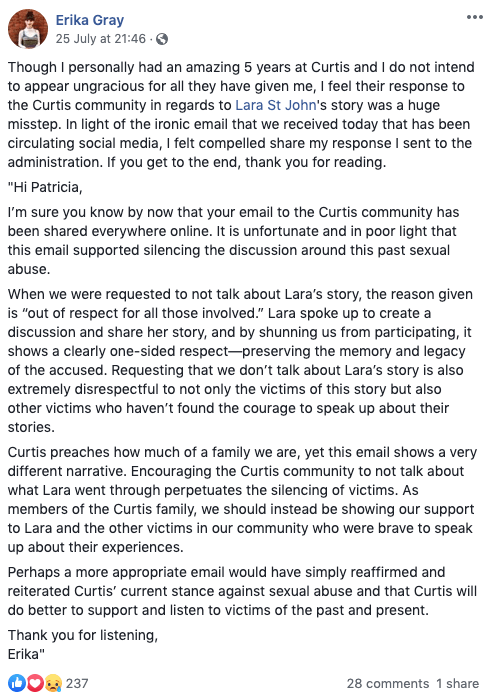 "Yesterday we communicated with all of you in a way that was not consistent with our values … we have understandably lost your trust and for that I am profoundly sorry …" Mr Diaz has today said in a follow up email to all Curtis Institute of Music alumni and students.
Mr Diaz has indicated that the school will set up an anonymous reporting hotline - and has indicated that the school's board and senior Curtis leadership will be reviewing its policies and procedures around sexual assault and harassment and will make any necessary changes if they are determined to be warranted.
"We will do whatever is needed to make this right," Mr Diaz has said.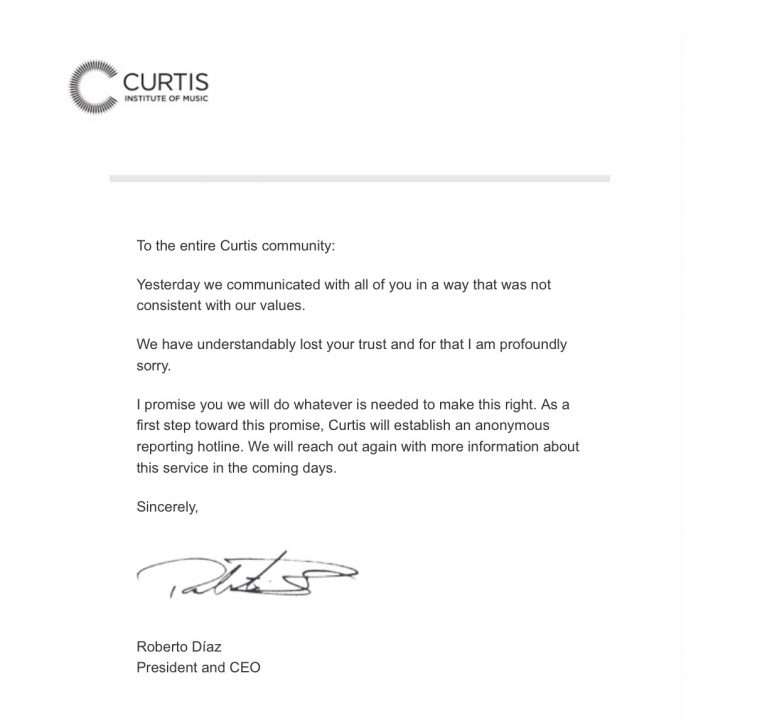 "At Curtis, we take issues of abuse very seriously, and we deeply sympathize with all victims of assault. We sincerely regret not properly conveying today the weight of our commitment to these values," the school has also said via social media.
Lara St John has today told The Violin Channel that she was not included on the school's alumni emails from Patricia Johnson nor Roberto Diaz - and that the Curtis Institute of Music has made no contact with her since 2013.