Prizes Awarded at 2023 Mirecourt International Violin Competition
24-year-old violinist from South Korea, Jaewon Wee, has been awarded first prize
The Mirecourt International Violin Competition, organized by the Jeunesses Musicales de Mirecourt, recently came to a close in Mirecourt and Thaon-les-Vosges, France.
After a competitive final round — which will be available to watch on The Violin Channel on November 14 — the following winners were announced:
1st prize: Jaewon Wee (24, South Korea)
2nd prize: Matthew Hakkarainen (23, USA/Finland)
3rd prize: Yixuan Ren (19, China)
4th prize: Hannah Kim (21, South Korea)
The first through fourth prize winners will receive € 5,000, € 3,000, € 1,000, and € 500 respectively.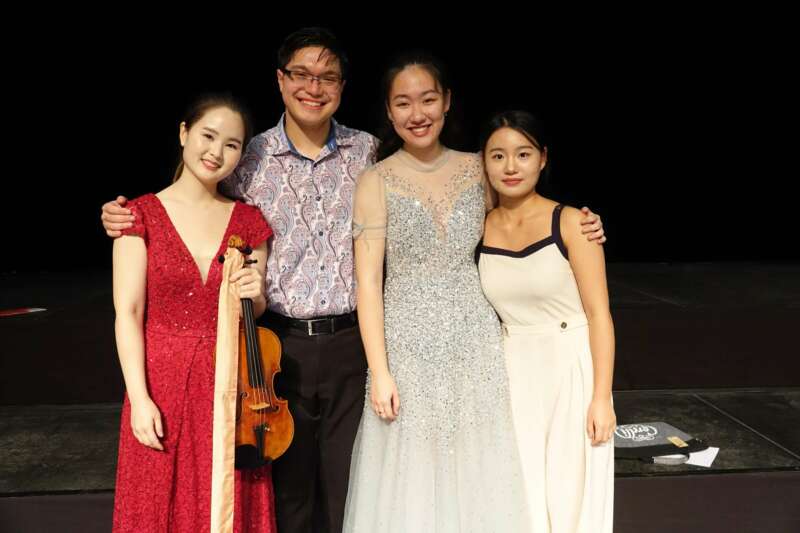 Multiple unique prizes were also given:
Special Prize of bow makers (a modern bow valued at €4,000, designed by Gabriel Pasquier in collaboration with Lucie Martinie, inspired by Nicolas Maire's work): Jaewon Wee
Special Prize of contemporary string instrument manufacturing (a two-year-lent-violin by David Wiedmer): Jaewon Wee
Special Prize for the best interpretation of the contemporary piece: Matthew Hakkarainen (for Eric Tanguy's Sonata breve)
Special Prize for the best interpretation of the French sonata: Yixuan Ren (for Poulenc's Sonata)
Audience's prize: Matthew Hakkarainen
Opéra national de Lorraine's Orchestra Prize: Jaewon Wee
The 2023 jury comprised Christian Altenburger (Austria), Nora Chastain (USA), Hu Kun (China), Alissa Margulis (Russia), Mihaela Martin (Romania), Lavard Skou-Larsen (Brazil), and Marianne Piketty (France).
Former first prize winners include Nathan Mierdl and Jian Ren, Yuna Ha, Roman Kholmatov and Yuliia Van, and Qingzhu Weng from the last edition.
South Korean violinist Jaewon Wee made her debut recital at the Kumho Art Center at age 11 and her solo debut with the Incheon Philharmonic Orchestra, performing Tchaikovsky's Violin Concerto at the same age.
Jaewon recently won the First Prize & the Audience Choice Award at the Dallas International Violin Competition 2023, performing Sibelius' Violin Concerto with the Dallas Chamber Symphony. Also, Jaewon has been awarded the First Prize at the YSAYE Senior 2022 International Violin Competition and the First Prize (Eleanor Woods Memorial Award) & the Audience Prize (Viola Musher and Amelia Stieglitz Wishner Award) at the 2022 Washington International Competition. In the same year, she won the Second Prize & the 'Weiss Prize for Best Performance of the Commissioned Work' at the 2022 Klein International Competition. 
As a winner of the Violin Concerto Competition 2019 at the Juilliard School, she made her New York debut concert at the Lincoln Center, Alice Tully Hall, performing Prokofiev's second violin concerto with the Juilliard Orchestra, conducted by Jeffrey Milarsky. 
She has appeared with world-renowned orchestras as a soloist, including George Enescu Philharmonic Orchestra, San José Chamber Orchestra, Symphony Orchestra of the Republic of Bashkortostan, The Great Mountains International Music Festival Orchestra, Palermo Festival Symphony Orchestra, The Juilliard Orchestra, The University of Texas Symphony Orchestra, New Russia State Symphony Orchestra, among many others.
A graduate of The Juilliard School's Master of Music Degree program under the tutelage of Ronald Copes, Jaewon recently graduated from New England Conservatory's Graduate Diploma program, where she received the Dean's scholarship (full scholarship) and studied under Donald Weilerstein. She received her bachelor's degree from Korea National University of Arts, where she studied with Nam Yun Kim, Koichiro Harada, and Takashi Shimizu, and graduated with the president's and highest performance awards. Jaewon pursues the Artist Diploma program at Rice University's Shepherd School of Music under Cho-Liang Lin with a full scholarship.
​