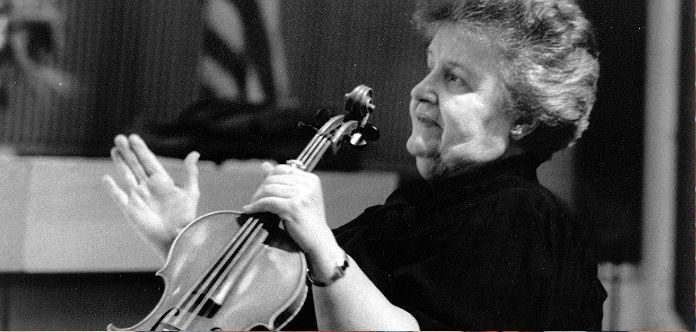 The Violin Channel recently caught up with Russian-American violinist Philippe Quint - organiser of the upcoming 'Dorothy Delay Centennial Celebration' concert in New York City on April 2nd.
In a VC-exclusive blog, Philippe talks us through his experience studying with Mrs. DeLay and his appreciation for the going role she has played in his life.
"Many people over the years asked me about Mrs. DeLay and her violin methods. What was her secret? I am happy to share Mrs. DeLay's secret with you.
Incredible patience and respect. Yes, it's that simple.
Of course, Mrs. DeLay was a firm believer in a practicing system/routine and insisted on many exercises and scales. Of course, she was also meticulously organized.
Every student had a file and each file contained a journal with hundreds of notes on each one of us. She monitored everyone's progress carefully evaluating if a student was serious about the work. She strongly believed that there was no such thing as untalented student and she had a proven theory that everyone has perfect pitch.
She had a story, analogy and example for everything. "Do you drive a car?" She would ask a 14-year-old student, "Do you drive a car?" "I don't," the puzzled student would reply. Then she would explain, "You have to think of a shift as if it was a car that needs to slow down the very last second in order not to slam through a garage."
But what was remarkable is her patience and respect towards anyone who has ever played for her. No matter how the student played, Mrs. DeLay with utmost respect in a declamatory way would say: "Congratulations! It is really quite good. You have so many wonderful things going for you. Now let's see what we can improve."
I miss her very much and on April 2nd, 2017 at Le Poisson Rouge in New York City (only 3 days after Mrs. DeLay's actual birthday), we remember a remarkable legendary woman, who dedicated her life to music, education and people.
-Philippe"