OUT NOW | Francesca Dego and Sir Roger Norrington's Second Volume of Mozart's Complete Violin Concerti
Recorded with the musicians of the Royal Scottish National Orchestra, the cycle marks Sir Roger Norrington's final recording project, and his first and only recording of the complete Mozart concerti
This second volume features Mozart's violin concerti No. 1 in B flat major K207, No. 2 in D major, K211, and No. 5 in A major, K219. The first volume, released in September 2021, presents Mozart violin concerti No. 3 in G major, K216, and No. 4 in D major, K218.
"I am thrilled with these recordings, probably the last I will ever make," Sir Roger Norrington said. "I've spent sixty years trying to make sense of Mozart's elusive style, and these performances come as close to my ideal as any I have been part of. Francesca's technically perfect, ecstatic playing, always in keeping with eighteenth-century scholarship, yet simple, playful, and youthful, is a wonder. And the delightful and remarkable RSNO, in the original Salzburg chamber proportions, shines forth in perfect harmony with our ideas."
"I am so excited and honored to present the final installment of 'my' Mozart alongside one of the most admired Mozart interpreters in history," Francesca said. "Working with Sir Roger on all of the violin concerti has been my most exhilarating musical journey yet! His knowledge is so profound that everything makes sense, from articulation to musical gesture, but his approach is charming, crisp, and theatrical. We discussed every detail and then somehow still managed to "improvise" in front of the microphones together with the gorgeous RSNO musicians. I think you can really hear the pure joy behind every note."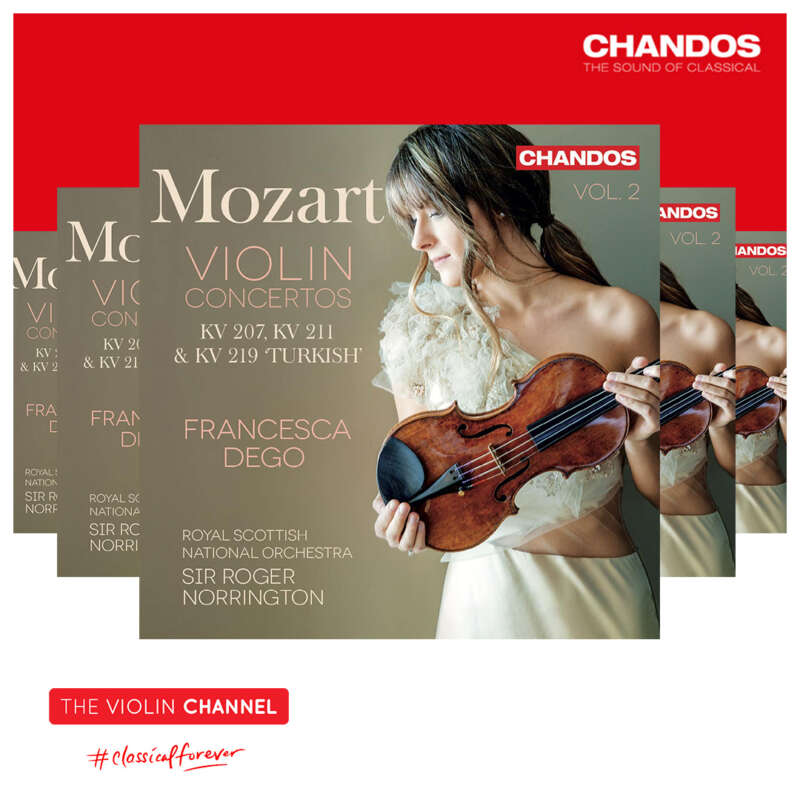 Francesca also recently released a collection of Mozart Violin Sonatas with pianist Francesca Leonardi.
Francesca regularly appears with major orchestras worldwide including performances with the Philharmonia, Hallé, Ulster, Royal Philharmonic and Royal Scottish National Orchestras, Gürzenich Orchestra Cologne, National Symphony in Washington, Indianapolis Symphony Orchestra, National Youth Orchestra of Great Britain, NHK Symphony, Tokyo Metropolitan and Tokyo Symphony Orchestras, Orchestre Philharmonique de Nice, Orchestre de Chambre de Lausanne, among others.
Her international career to date has seen her work alongside many esteemed conductors, Sir Roger Norrington, Fabio Luisi, Lionel Bringuier, Dalia Stasevska, Christopher Hogwood, Yoel Levi, Donato Renzetti, Grant Llewellyn, Wayne Marshall, Gianluigi Gelmetti, Diego Matheuz, Shlomo Mintz, Gemma New, Jader Bignamini, Alpesh Chauhan and Xian Zhang, to name a few.
Francesca is based in London and plays on a precious Francesco Ruggeri violin (Cremona 1697).
For 50 years, Sir Roger Norrington has been at the forefront of the movement for historically informed musical performance. He has sought to put modern musicians in touch with the style of the music they play.
Roger Norrington has conducted many of the world's leading orchestras including the Berlin Philharmonic, the Vienna Philharmonic, the Leipzig Gewandhaus Orchestra, the Philadelphia Orchestra and the London Philharmonic Orchestra. He has had memorable tenures as chief conductor with the SWR Stuttgart Radio Symphony Orchestra (13 years), the Salzburg Camerata (ten years) and the Zurich Chamber Orchestra (five years). Other permanent posts included being chief conductor of the Bournemouth Sinfonietta and music director of the Orchestra of St Luke's in New York.
Sir Roger has made over 150 recordings. Roger Norrington was knighted in June 1997 and is, among other distinctions, an honorary fellow of the Royal Academy of Music and of the Royal College of Music.