New Video Game Highlights Lead Character's Violin Skills
Free to play with game distributors GOG and ITCH, "Symphonia" recently won several prestigious game awards in the Best Student Game category and was a finalist for Best Sound
The game was created by a team of 13 who now represent the studio Sunny Peak. All creators of Symphonia studied at the same school — ISART Digital Paris — but specialized in different areas. It was only until their final school year that they began to create Symphonia.
The game recently won Best Student Game at Brazil's Independent Game Festival (BIG) and the 2021 GSA BAFTA Student Award for Games, among many others. 
Produced by Guillaume Roux, the game art is by Nicolas Derio, Pierre Vrel, Guillaume Gille, and Alexis Grand; the game designers are Simon Larguier, Martin Lepretre, and Corentin Pauvrasseau; game design and programming are by Kilian Dufour, Alexandre Mansois, and Quentin Vernet; the game programmer is Hicham Benrhannou; and the game's music and sound design are by Olivier Esman.
From the outset, their mission states: "As students, we built Symphonia with passion, dedication, and set the basis for the creation of a musical universe full of wonders," they wrote. "As professionals, we're looking to expand Symphonia even further, to surprise you, and make you dream."
"What appealed to us, in the beginning, was to center the experience around a tool used to move around and perform various actions," the team said in an interview.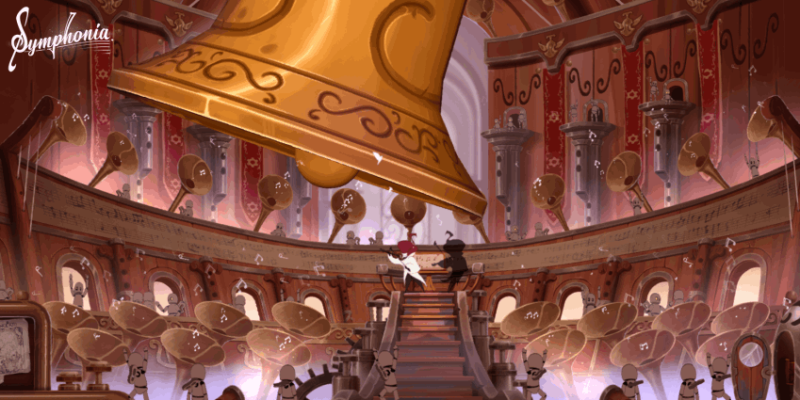 "When we realized that our former universe and character were not unique and different enough, we moved to gathering new ideas. And then came the possibility of having a virtuoso using an instrument."
The lead violinist is called Philemon, a bird-like character, and with the use of the violin as a game device, the instrument played a big role in the music composition and sound design of Symphonia. Its orchestral textures are a highlight of the game.
The music itself is inspired by Romantic and Modern eras, featuring a progressive awakening of the game's environment through its fantasy narrative that characterizes the world of Symphonia.
"We aimed for a melancholic tone that would slowly give way to a more energetic one as the player and the city become more and more carried by the music," the team said. "The more the player progresses, the more lively and large the environment becomes.
"We wanted a kind of connection between the player and their surroundings, and this connection reaches its peak during the concertos where the character and the scenery come into harmony.
For more information and to play the game, click here.