Lincoln Center Chamber Music Society Announces Two New Quartet Additions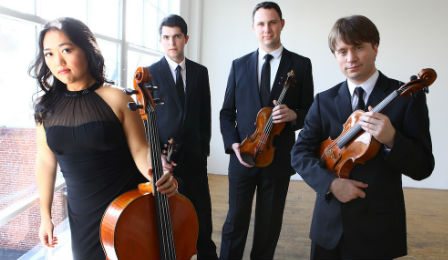 The Chamber Music Society of Lincoln Center, in New York has today announced two new ensembles, set to join the 'CMS Two' artist residency programme for 2016 – the Calidore String Quartet and the Schumann Quartet.
Chosen from international applicants, the 'CMS Two' three-year residency offers unparalleled professional opportunities – including New York concert seasons, national and international residencies and tour appearances, educational activities, recordings and international broadcasts.
The Calidore String Quartet, comprising violinists Jeffrey Myers and Ryan Meehan, violist Jeremy Barry and cellist Estelle Choi, was formed in 2010 at the Colburn Conservatory of Music - with the ensemble currently serving on faculty at the Stony Brook University, under the mentorship of the Emerson Quartet.
The Schumann Quartet, comprising violinists Erik and Ken Schumann, violist Liisa Randalu and cellist Mark Schumann, was founded in 2012 in Cologne – with the ensemble having received top prizes at the Schubert and Modern Music Competition, in Graz and the Jurgen Ponto Foundation Music Prize for String Quartets.
The current Chamber Music Society of Lincoln Center 'CMS Two' roster also includes VC 'Artists' Paul Huang, Chad Hoopes, Benjamin Beilman and the Danish String Quartet.
PICTURED: 2016 Lincoln Center Chamber Music Society 'CMS Two' Residents, The Calidore String Quartet