Violinist Lina Bahn's Advice on Music School Auditions
"What advice would you give to students auditioning for music schools this year?" We threw the question over to violinist Lina Bahn for her advice.
The season for music school auditions are about to begin soon for this year. With many hours and months spent on practicing and performing, the audition process can still be stressful and nerve-wrecking to many. VC reader Jason wanted to know some things to keep in mind while preparing for music school auditions.
Do you have any advice for music students preparing for music program auditions? Please let us know in the comments below. We're all keen to learn more from you.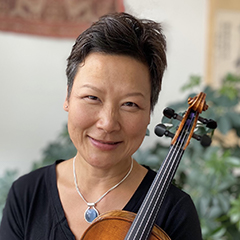 Violinist Lina Bahn Shares Advice on Music School Auditions
Dear Jason,
Auditioning for music schools will seem terrifying. And of course, this makes sense. Years of practice and dedication will seemingly come down to 20 minutes - with a thumbs up or a thumbs down at the end of it. You get in, or you don't. You will "succeed" or "fail" your audition. Suspend that idea for just a minute. Instead of giving you advice on what to say, how to dress, and what piece to start with, what I really want to say to you is that there is no such thing as a failed audition (*applause!). And, on the flip side, there is no such thing as a successful audition. An audition in the best sense of the word means that everyone (you, parents, faculty, administration) is trying to find the best place for you for the next four years to grow: where you can explore learn, and be nourished.  
Ask yourself what a successful audition will mean for you. Going through auditions is a process. Explore taking the component of pass/fail out of it altogether.
Yes, practice like crazy! Listen to your teacher, and prep accordingly. But when it comes down to the actual 15-20 minutes, accept that you might flub your high shift; that will mean you need more work on consistent shifting. That is where you are. Or you might suddenly develop locked-arm syndrome, and that will mean you need to work on tension. It does not mean you have failed. Conversely, you may find new color and depth in a section that you hadn't played before. This might mean you are developing performance creativity and spontaneity. Getting in or not getting into a school will not hinge on the actual flub or beautiful color, but will hinge on if what you say musically will inspire faculty to want to work with you where you are in your development.
The audition process is flawed. It would be much better if we could time travel back to your senior recital, sit in on a chamber music rehearsal with you, and then have a good chat about your passions and dreams. Students now average applying to 10-20 schools. Why not make your audition circuit experience more meaningful? As much as possible, within the construct, use the opportunity to learn more about yourself and to communicate who you are to the committee through your music. Realize that you are still the same musician before and after your audition circuit; the "verdict" from any school cannot serve as your identifier. It does not nor cannot sum up who you are as a musical citizen.
Practical things to add to that checklist:
Practice auditioning in front of friends, family, stuffed animals, etc.

Breathe during your audition. You really do need that oxygen.

Try to have a lesson with the teacher of your preference.

Try to attend rehearsals, lectures, classes, studio-class during your audition trips.

Look for students who go to the school you are visiting and ask questions.

It's difficult to project what it's like to be in college. Don't squash any question- no matter how strange, small or unusual you think it might be.

Don't let the inner voice of insecurity taunt you when you hear others warming up at auditions. Their process is hopefully the same as yours- they are looking for the best fit, and it does not have anything to do with your process. Say hello and talk to them- you may end up sitting next to each other in theory class freshman year.
What, then, is success if it does not singularly mean entrance into a school? Consider the things you do not know: How does your body react under stress? How does your mind react under stress? What aspects of the school can't you glean from the website? What do you know about the teacher of your preference? Open yourself to a fuller audition experience by listening and observing yourself. Learn about yourself and a new environment, and hopefully this will make your auditions a more enriching experience.
-Lina
Do you have a burning question for the pros? Simply email: [email protected]
A graduate of The Juilliard School and the Indiana University Jacobs School of Music, where she studied with Dorothy DeLay, Paul Kantor, Miriam Fried, and Paul Biss, Lina was a long-time member of the award-winning Corigliano String Quartet. She has served as Executive Director of the VERGE contemporary music ensemble for 14 years — and currently on faculty at the University of Southern California's Thornton School of Music.