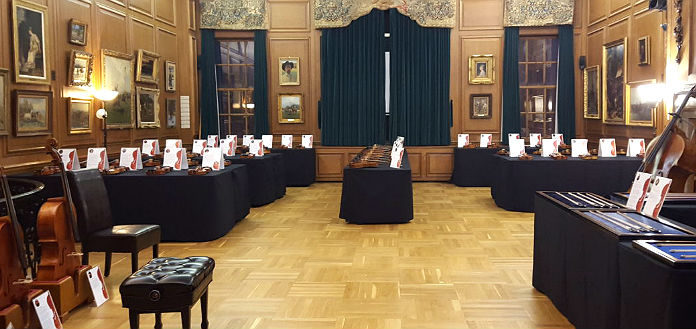 The Violin Channel recently caught up with respected New York City-based violin luthier and restorer, Mrs Julie Reed-Yeboah.
In a VC-exclusive blog, Julie talks us through her upcoming Contemporary Violin Makers Exhibition in New York City - and how the annual modern stringed instrument showcase came to be.
REED YEBOAH FINE VIOLINS | 2016 CONTEMPORARY VIOLIN MAKERS EXHIBITION
"Yi-Ping Yang and I started the Contemporary Violin Makers Exhibition 7 years ago. It all started when Yi-Ping, who was a professional violist and longtime client of mine, came to me looking for a new instrument. She ended up buying a contemporary viola by David Wiebe, my first violinmaking teacher and mentor.
After that, Yi-Ping forced me to hire her and I finally gave in. Together with her organizational skills and musicianship paired with my knowledge of violinmakers and years in the trade, we came up with the idea to have a boutique exhibition of violin and bow makers. Even in our first year we attracted well over 1,000 musicians to the exhibition. We have continued to put up the exhibition each fall, featuring the work of some of the best violin and bow makers from around the world.
The purpose of the exhibition is to give musicians a chance to try many different makers' work all in one place. The instruments and bows featured at the event are all for sale. The roster of makers changes from year to year, and features both established makers with long waiting lists and young makers who have yet to be "discovered". 
New York City is a wonderful place to host the exhibition as it attracts so many fantastic musicians and has always been a thriving marketplace for fine instruments. The exhibition is also an amazing opportunity for the makers to meet musicians and to get feedback on their work. The whole event is pretty much a feel-good experience for musicians and makers alike.
We have been hosting the event at the Kosciuszko Foundation on East 65th street between 5th and Madison for the last few years. This year we will have 50 violinmakers from Australia, Japan, Germany, Italy, Brazil, France, Canada, and the US, as well as six internationally recognized bow makers.
It is very exciting for us to be able to host this event every year. We feel strongly that the level of violin and bow making has risen so much in the last few years and we see contemporary instruments as a viable solution for musicians who are looking for an instrument that will work for them in many different situations.
It is also extremely valuable for the makers to have a showcase in a major cultural capital where they can find a lively market for their exquisite work. Our aim is to promote contemporary violin and bow makers and to give musicians the chance to see and hear the genius of those makers, who spend their lives trying to improve on the classical instruments which inspire them.
-Julie"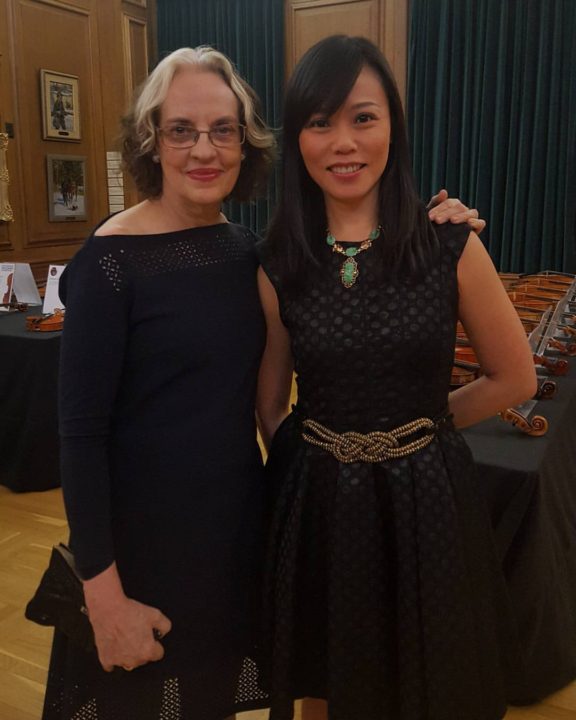 NEW YORK'S CONTEMPORARY VIOLIN MAKERS EXHIBITION FOUNDERS, JULIE REED-YEBOAH AND YI-PING YANG - OF REED YEBOAH FINE VIOLINS, NEW YORK
The 2017 Contemporary Violin Makers Exhibition will be hosted from 10am to 6pm on October 14-16th at the Kosciuszko Foundation - 15 East 65th Street, New York.