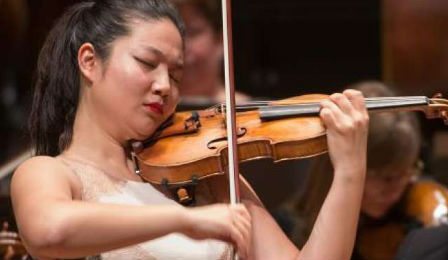 The Violin Channel recently caught up with 2014 International Violin Competition of Indianapolis Gold Medalist, violinist JinJoo Cho.
We sat the 26 year old South Korean-born virtuoso down for a spirited game of VC '20 Questions' – to help gain some funny and fascinating insight into the woman behind the win.
[video_lightbox_youtube video_id="lIMK9LFQLJI" width="590" height="385" auto_thumb="1"]
JINJOO CHO | VC '20 QUESTIONS' | 2014 INDIANAPOLIS INTERNATIONAL VIOLIN COMPETITION GOLD MEDALIST
A student of Paul Kantor and Jaime Laredo, 26 year old JinJoo Cho, from South Korea is a former 1st prize winner at the Montreal, Buenos Aires, Schoenfeld and Stulberg International Violin Competitions. In September 2014 she was awarded 1st prize at the coveted International Violin Competition of Indianapolis.