Jazz Violinist Christian Garrick on Teaching Improvisation
"Is it possible to teach someone how to improvise? If so, what are the basic steps?" We threw the question over to British Jazz violinist Professor Christian Garrick to seek his advice.
"Can you improvise a cadenza, or play improvisatory chords to this new tune we just created?" How often have you heard a question like theis? Do they make you nervous or are you someone who welcomes the idea with open arms? If you fall into the former group, not to worry, as you're not alone. VC reader Francesco was keen to know where to start.
What are some improvisatory techniques or skills that you know of? Are they easy or difficult to pick up? Please leave a comment below, we are keen to know your thoughts.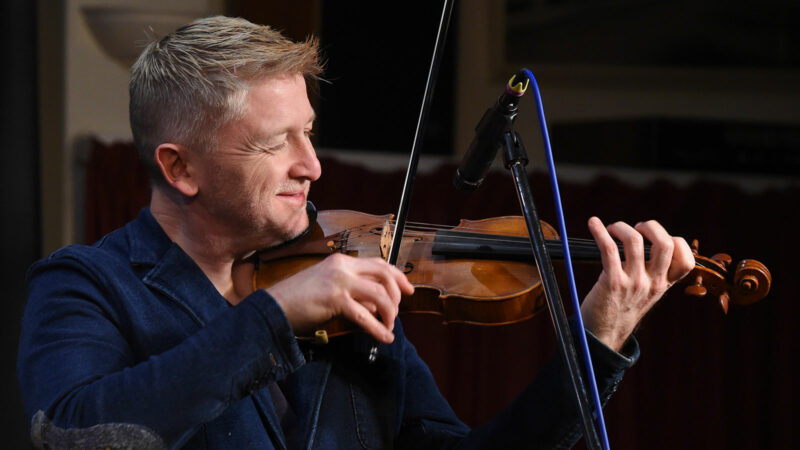 Jazz Violinist Christian Garrick shares Whether Improvisation Can be Taught
Dear Francesco,
Yes. Providing the student is able and willing to put their trust in the teacher. "Improvising" in its most idealistic sense is to mean "making it up in the moment". In actual practice i.e. a professional performance scenario, on stage, or in the recording studio, improvisation is but one of many component elements brought to the feast. To some degree, we are inexorably bound to rely on our memories of learned practices surrounding rhythm, harmony, and melody and to employ central musical devices such as patterns, repetition, inversion, pitch, and dynamics.
A straightforward approach is often to begin somewhere the student is already comfortable. For example, on violin, the G major scale. We begin by creating new shapes with the scale, first by removing the 4th and 7th to create a major pentatonic scale, then by showing that repetitive patterns work to create an illusion of something more complex. Quickly the student's imaginations are fired up to experiment. We emphasize the value of rhythmic ideas in order to create tension and release and we work on the rhythmic side of phrasing using bebop and Indian classical systems.
Transcription is a very immediate and thorough route to getting to grips with the work of our favorite musicians and musical performances. I have transcribed the work of leading pianists, guitarists, and drummers as well as that of violinists. It may seem an obvious thing to point out but there is no reason to limit your studies to violin people. On the contrary. There's every reason to investigate – through detailed transcription – the music at the source of your interest whatever the instrument happened to be.
Always then transfer your finished transcription onto your violin. It is in this final part of the process, as you tackle it with your fingers on the fingerboard for the first time, the secrets behind the magic of that favorite solo, at last, hove into view.
All of this gets absorbed into your broadening experience and contributes to your development as a fledgling improvising violinist.
Ultimately the key to successful improvisation, as in all effective music making, is relaxation and concentration. We strive towards a state of effortless flow where self-perpetuating energy abounds — the center of everything — for it is here we are able truly to be ourselves, explore our deeper-most ideas, and imbue our improvisations with them.
–Christian
Do you have a burning question for one of the Pros? Simply email: [email protected]
Christian Garrick is an improvising violinist, a composer, and a bandleader. He is active on the international concert circuit and on the London studio session scene. He is a professor of jazz and non-classical violin at three of London's major music conservatoires. Christian was born in 1971 and began violin aged five. In this musical maelstrom of a household his father, Michael Garrick MBE, played jazz piano, while his mother, Susan Robinson, taught piano and clarinet peripatetically. One day would involve an encounter with the likes of Jaco Pastorius, Spike Milligan, Nigel Kennedy, or even Petula Clarke and the next, perhaps a trip to the Royal Festival Hall. There, a youthful Christian would bump into the likes of Olivier Messiaen, Itzhak Perlman, Klaus Tennstedt or Zubin Mheta.