Instrument Collector David Fulton: "My Instrument Journey"
The Violin Channel recently sat down with the fine violin collector to gain some insight into the world of instrument collections
David Fulton's most recent book, "The Fulton Collection — A Guided Tour," is available now. Readers are taken into the world of Fulton's fiddles, chronologically ordered by the date on which he acquired each extraordinary instrument.
Enter to win a copy, here. Entries close on Tuesday, November 27, 2022.

---
Where did your love of instruments come from? What is it about instruments that really grabbed you?
I started playing the violin in the fourth grade and quite liked it.  After some time, I was given an old German violin by a friend of my father's and I played that violin for the next 28 years.  In 1960 I entered the University of Chicago where I became concertmaster of the orchestra during my last three years.
Then in my senior year, an alumnus gave the University a Testore violin which, as concertmaster, I was allowed to use that last year.  It was the first time I'd put a decent violin under my chin and I fell in love with it.
Curious about fine violins, I went downtown to the shop of William Lewis and Son --- then the big Chicago dealers --- with that Testore in hand.  I had heard that they sold Strads, so I told a little lie and said "I'm thinking of trading up. I'd like to get a better violin."  Well, thanks to the Testore, they thought I might be a real customer, so they let me try out a few fine violins; I remember two of them, a Strad and a Guadagnini.  That experience spoiled me immediately and permanently.  For the next 17 years, I dreamed about those violins.
After graduating in 1964, I played in the Hartford Symphony for four years and, in 1970, moved to Ohio.  Then in 1981, a good friend, Bill Sloan, asked me to come with him to the Bein & Fushi shop in Chicago where he was having his Strad adjusted.  While I was waiting for Bill, Robert Bein said, "Why don't you try some of these violins over here?"  So, I played for two or three hours and totally fell in love with a 1698 Petrus of Mantua Guarneri (pictured). Bein suggested I buy it and, of course, I told him it there was no way I could possibly afford it.  But he said I could borrow the fiddle, take it home over the Thanksgiving holiday, enjoy it, and then return it later.  (Try a little of this drug; you can always stop).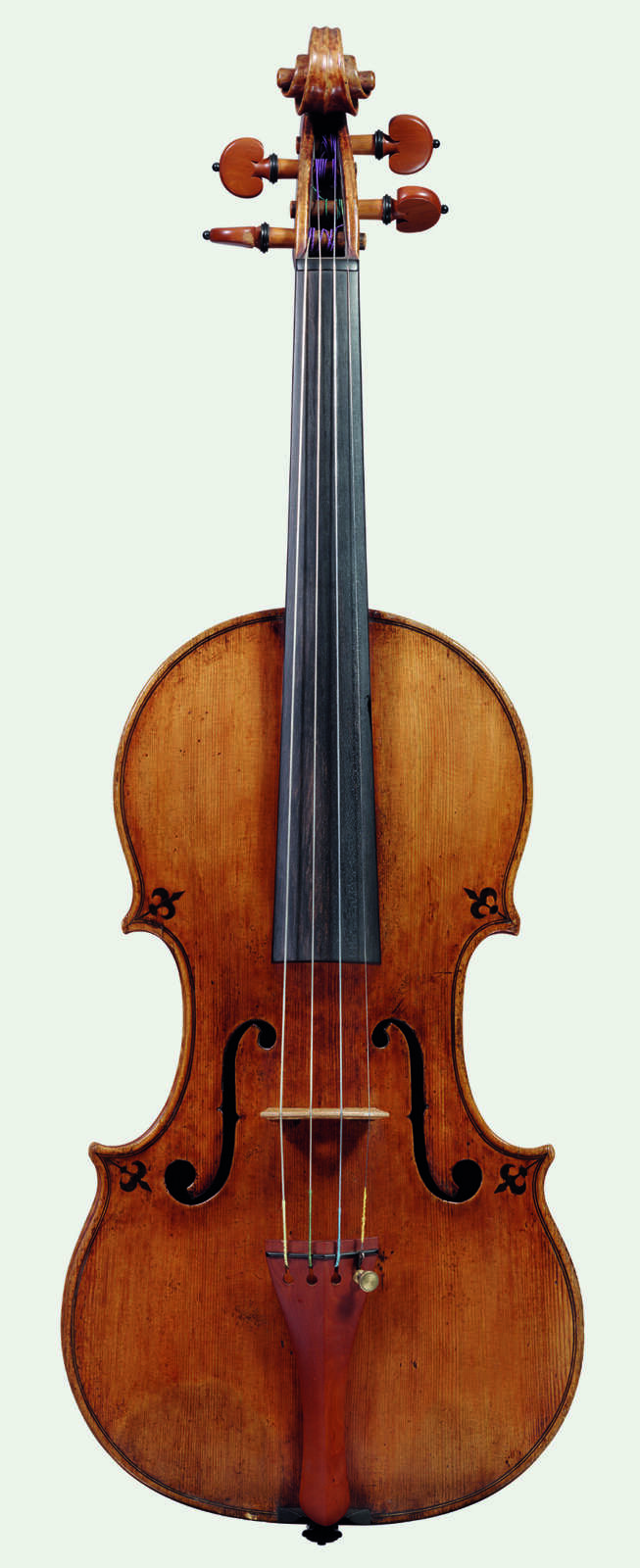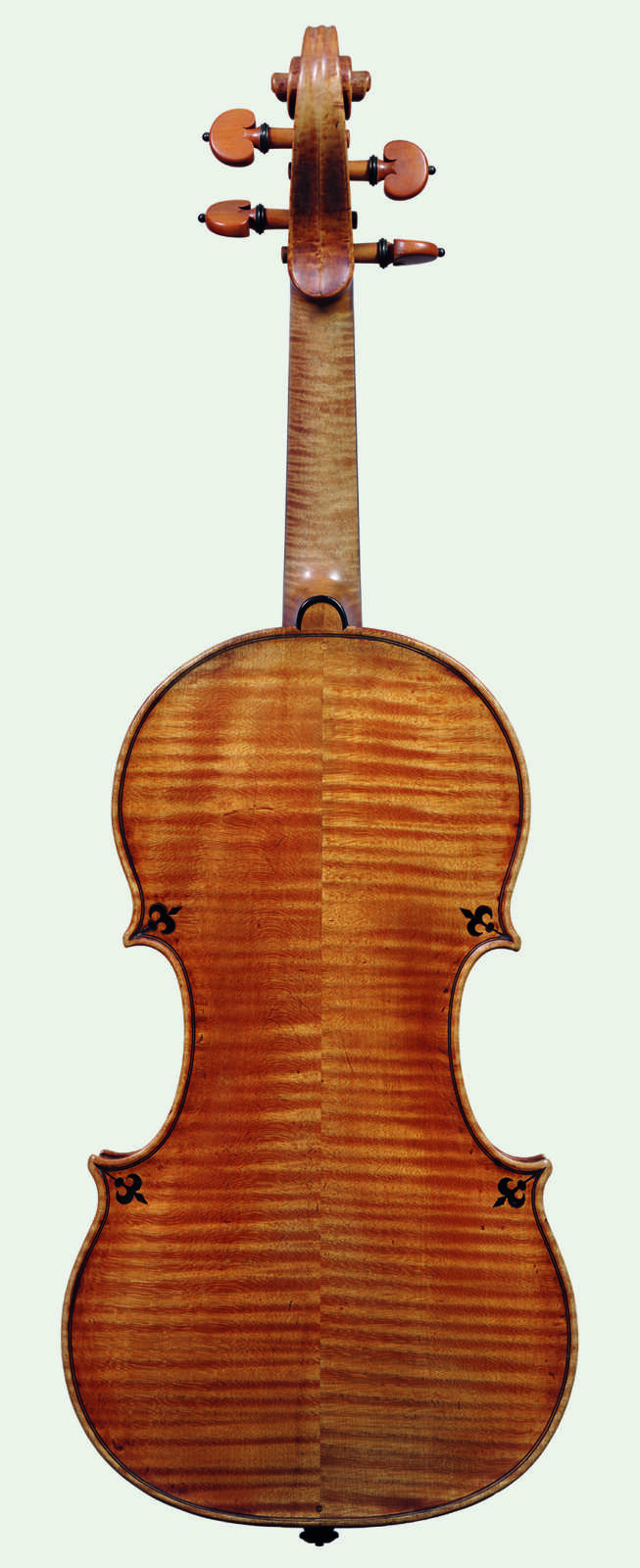 Well, needless to say, I shortly found myself down at the bank, taking out a loan to buy the violin … which, by the way, was worth more than my house.  At the time, it cost $120,000.  Today the same fiddle is probably worth 2 million.  I still own and love my "Little Petrus."
That was the only violin I had for the next 10 years while my business prospered until I had enough money to buy a Strad.
"If someone's interested in buying a Strad, it's known in milliseconds — The violin dealer community is very small."
How do you find the violins that you've collected throughout the years?
The answer is: they find you. If a dealer in Chicago hears that there's someone interested in buying a Strad in, say, Australia, it's known in milliseconds in London, Los Angeles, New York, and everywhere else. The violin dealer community is very small.
The first really great violin that I purchased was the 1715 Baron Knoop Strad (pictured), another violin I still have.  It's my favorite violin of all the fiddles I've owned.
A few years after buying the Knoop, I heard that Heifetz traveled with a Strad and a del Gesù violin in a double case.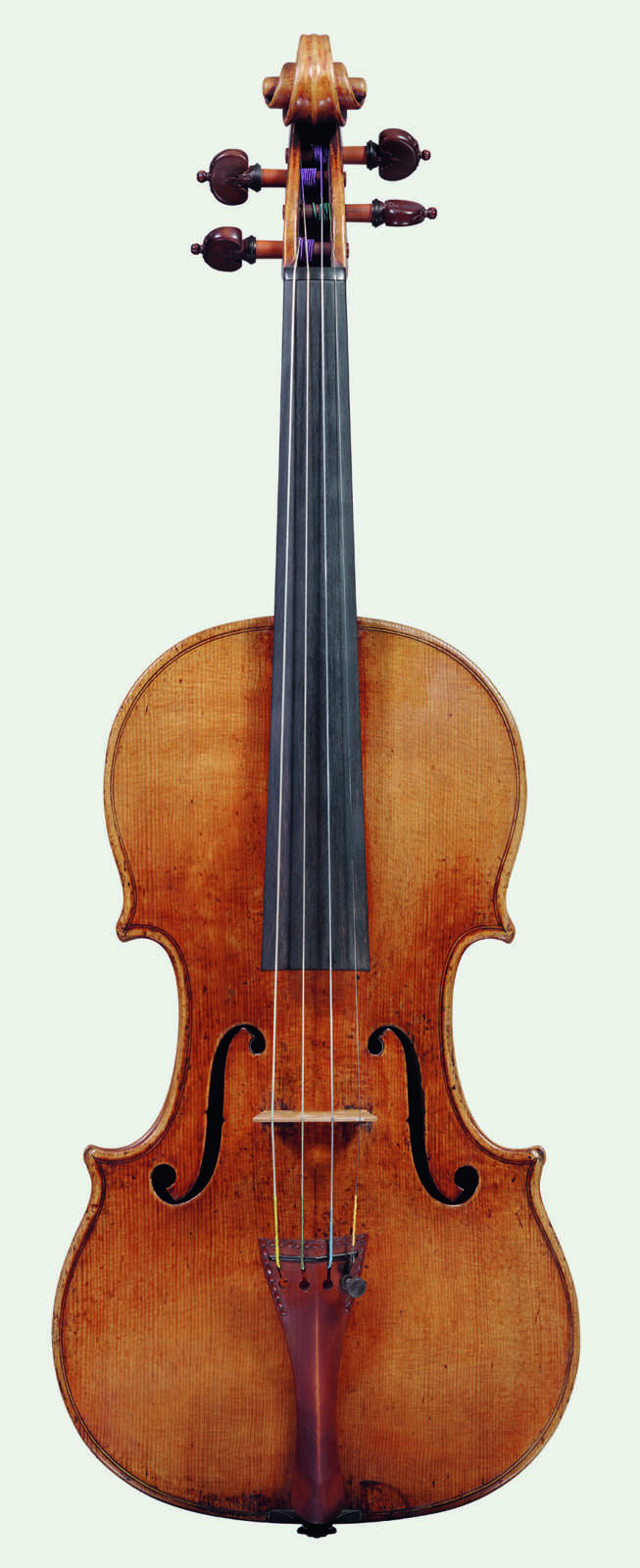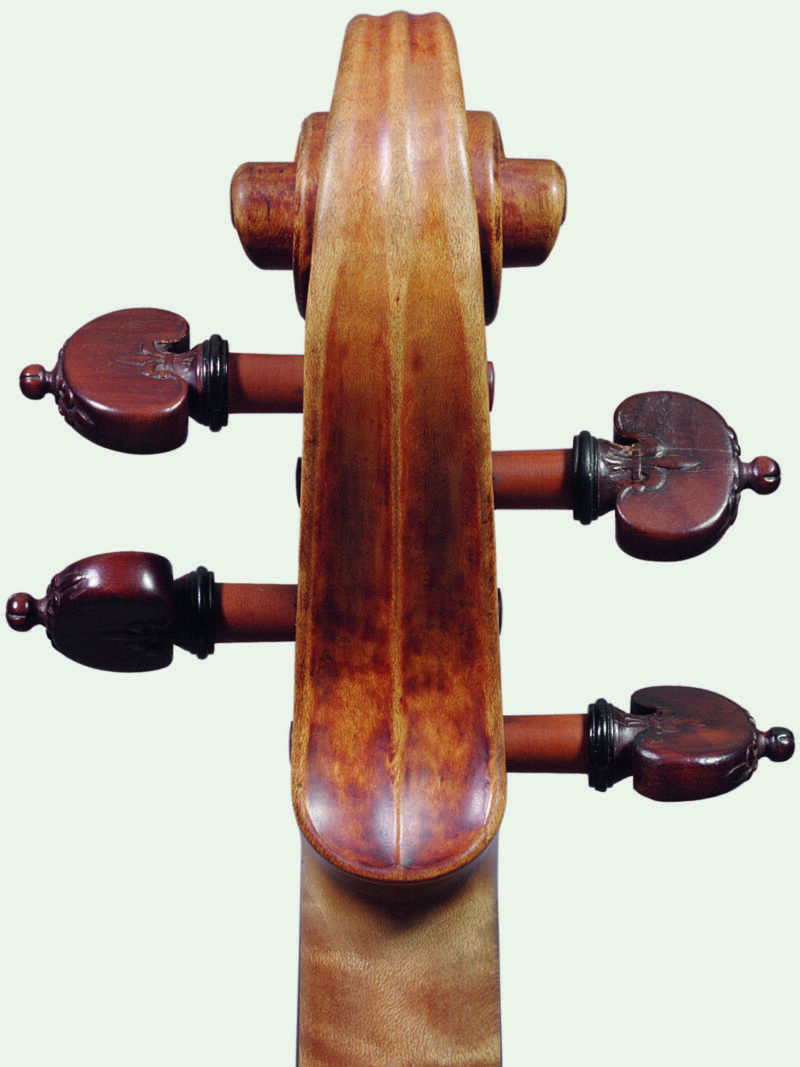 That sounded like a great idea!  So, I decided I really needed a del Gesù and eventually worked out a deal with Bein & Fushi to trade in my Petrus of  Mantua Guarneri for the 1734 Haddock del Gesù.  So, Robert  Bein came to Seattle with the del Gesù ready for the trade-in.  I reached down to take the Petrus of Mantua out of its case to hand it to him.  But I couldn't do it!
At that point, I knew I was in trouble:  I had become a collector.
"My fixed goal was always to obtain the best instruments possible — even if that meant waiting years."
Are there any purchases you regret? Or mistakes you've made as a collector?
I made some mistakes early on. For example, right after buying the Strad, I decided I needed a viola. I bought one that was not quite up to the standards of the other instruments I owned and sold it a year later.
You learn patience. The kind of instruments I wanted became available only occasionally, often when the current owner died or got too old to play.  I was frequently presented with lesser violins, instruments that I didn't care for.  But my fixed goal was always to obtain, not the most, but the best instruments possible... even if that meant waiting years.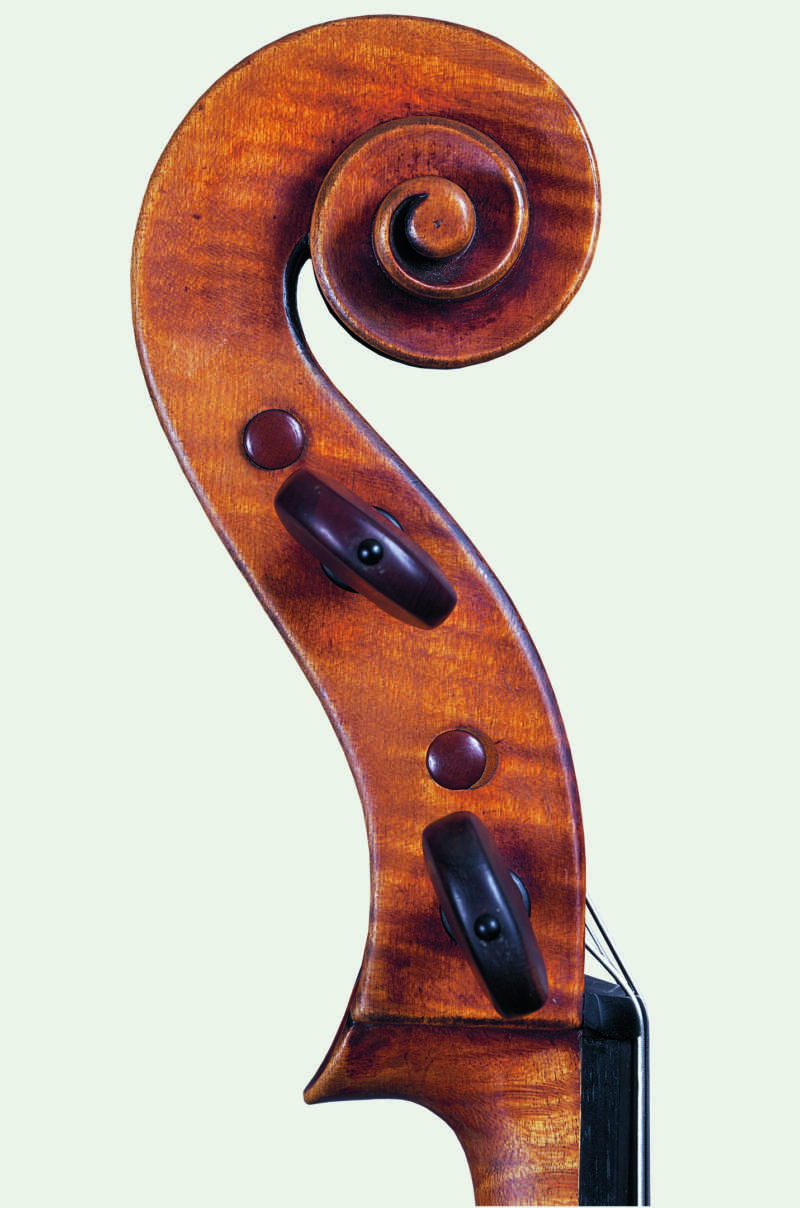 How do you decide which instruments to purchase; is there a set of criteria that you look for?
I think that if you're trying to collect instruments and can afford them, the most secure investments are famous instruments:  the ones that are in all the books and that everyone knows.  This eliminates problems of authenticity and makes the instruments more saleable.  I always wanted instruments that were beyond question.
"First of all, a Strad is a Strad. It's not going to lose its value."
Did you look at your instruments as investments?
At the time, I didn't look at them as investments.  I viewed them as quality-of-life expenditures, pure consumption.  I fell in love with the instruments themselves, their history, their beauty, and the incredible sounds that people could make with them... sounds that I could make with them.  It was pure green-eyed craving and lust.
I collected violins for 40 years and have now sold most of the collection.   While writing my book, I worked out the internal rate of return on the whole investment, from the first violin purchased to the last one sold. The internal rate of return on the entire investment, 40 years of buying and selling, was just over five and a half percent.  Not a windfall; rather like the return on a house.
Some people think that you can make a lot of money buying then quickly selling violins, what realtors call "flipping."  True, it is sometimes possible to buy an instrument and then sell it a year later for some big number, but you can also win money in a lottery or in Las Vegas... if you're lucky.
The idea of buying violins solely as an investment is, in my opinion, stupid unless you intend to love and enjoy them.  Buy stocks and bonds instead.  I would not recommend violins as an investment with any expectation of quick return. That's very problematic.
"I fell in love with the instruments themselves, their history, their beauty, and the incredible sounds that people could make with them."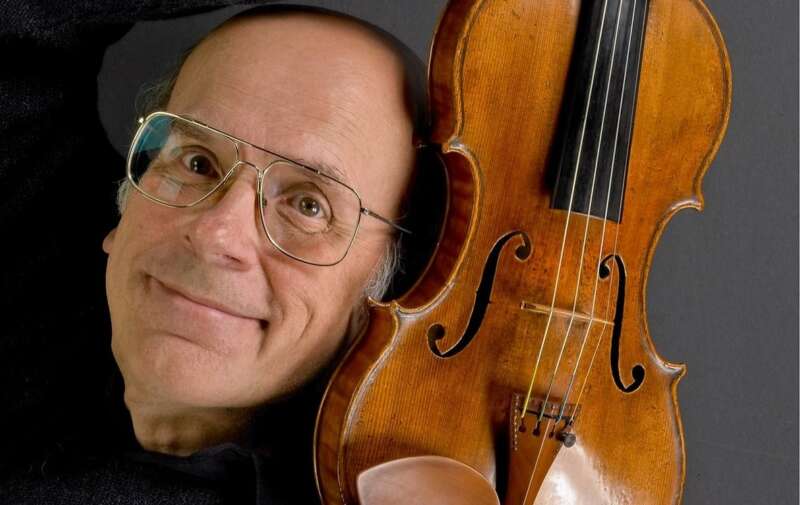 What would you say are the advantages of purchasing instruments like yours?
First of all, a Strad is a Strad. It's not going to lose its value.
Second, you can sell violins in international markets and they cross international borders easily.   That's hard to do with, say, real estate.  Also, there were musicians during the Nazi era who managed to get their fine instruments out of Germany.  Those instruments helped finance the creation of new lives for themselves.
But the biggest advantage of collecting great instruments is that you get to play and enjoy them.  Thanks to the collection, I was able to meet the majority of the world's working concert artists.  I heard them play in my living room, I played chamber music with some of them, and I listened to how they sounded on my instruments.  I was able to observe how they approached the instruments.  It's hard to assign a monetary value to that kind of experience.
Some of these artists have become dear friends.  Perlman, Spivakov, Bell, Midori, Shaham, Sitkovetsky, and Stern have all visited our home.  Stern once gave me a violin lesson.  (I was not an outstanding pupil.)  I've known James Ehnes since he was a teenager and helped him obtain his violin.
There are so many indelible memories from those collection years.  For instance, there was the evening Oscar Shumsky played chamber music in my living room with three members of the old NBC Symphony.  And then afterward, he took one of my del Gesùs and a Tourte and entertained us for some 45 minutes.  He played the Bach Chaconne then tossed off several of those nearly impossible Ysaÿe solo sonatas.  About those he said, "People take the Ysaÿe sonatas too seriously. They're just Viennese bon bons!"  (In his hands only.)
Why did you sell your treasured collection? 
At the collection's peak, I had 28 great instruments and something like 45 bows, mostly Tourtes and Peccattes. There were 7 Strads, 7 del Gesùs, Amati, Bergonzi, Gasparo, etc.  So why sell the collection?
There came a point where a visiting violinist would have too many options. I wasn't running a museum. I collected because I loved the music, I loved the instruments and I liked meeting and playing with the musicians.  But eventually, it became just too big a meal for a visiting artist to digest in an afternoon, too many instruments, too many bows.
Another factor is what I call the "wallflower effect." If you came to visit, you'd want to play the supreme, ultra-famous violins: Lord Wilton, King Joseph, Baron Knoop, etc.  The others, all perfectly wonderful violins, would be left alone, untouched, wallflowers.  This seemed to me a pity, maybe a bit unlucky.
And then, you reach a dead-end collecting.  If you've bought the La Pucelle Strad, perhaps the finest Strad, the Lord Wilton (pictured) and King Joseph, supreme del Gesùs, the Bass of Spain Strad cello, the greatest cello on earth, the greatest viola, etc. you've arrived at the top.  Where do you go next?  You've run out of things to collect.  Yes, you could buy more, but there is nothing better to buy.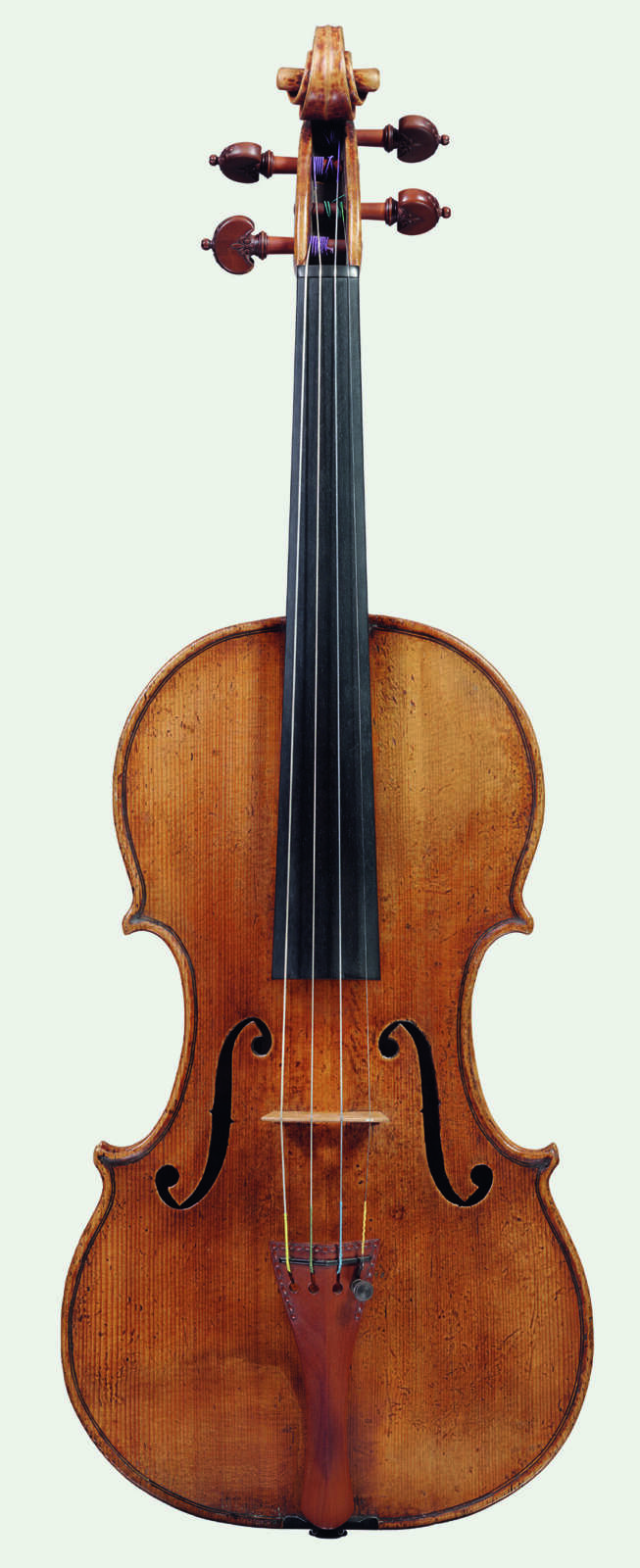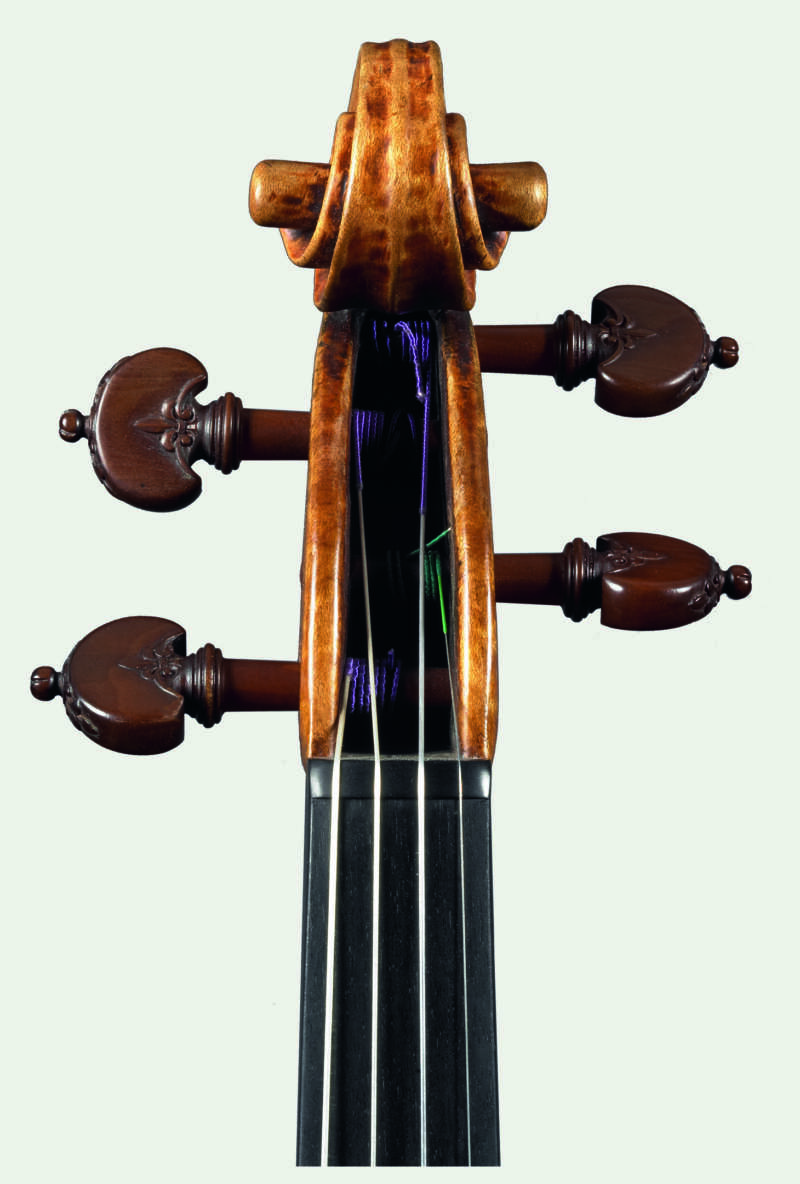 Then, there are practical factors. For one thing, you can't take your collection with you.  Posthumous collecting is not possible.
Also, you absolutely do not want to die with your collection intact.  The violin market is not elastic. If you try to sell 28 superb instruments quickly, you'll realize only a fraction of their value.
And then you have taxes.  The US estate tax law is such that, if you died with a big collection intact, it could create a huge tax problem.  The IRS would obtain an appraisal, an honest appraisal. (They accept valuations only from IRS authorized appraisers, of which there are only two in the entire United States.)  Then they would assess tax of something like 40% of that appraised value (plus 20% if you live in Washington state) and insist that the tax be paid within six months.  This could force a ruinous bargain-basement instrument sale, not to mention draining liquid assets from an estate just to pay the taxes.
Around 2005, my wife, Amy, and I decided that we would sell all but the very best things on an opportunistic basis.  Over a period of 13 years, we did sell quite a few instruments, but we held onto the very, very best.
Then in late 2018, we decided to disperse the rest.  We gave most of the remaining instruments to our charitable foundation and the foundation then sold them.  The money will be used for charitable purposes.  We thought this was an excellent outcome for our beloved collection.  We loved and enjoyed having it and now we'll have the fun of giving away the money created by its sale to worthy causes.
All that's left are three violins, one viola, and three bows.  That's quite enough at this point.
Where did the idea for the Fulton Collection book come from? How did you go about putting it all together?
At some point, I looked back and realized the peak of my collection had been 20 years ago.  That's a long time in a human life.  My memory of the reality of owning the collection was becoming insubstantial, dreamlike, almost like it happened to somebody else.
But building and owning the collection was truly a remarkable experience; it deserved to be memorialized.  I had actually met, socialized with, and played music with Bell, Shumsky, Shaham, Mörk, Harrell, Ehnes, Stern and so many others.  I had made a journey, with a few bumps to be sure, but with tons of exhilaration and joy along the way.  I thought people might find an account of that journey interesting.
Simultaneously, I had several months of idleness enforced by COVID. But I'd had a head start: quite a bit of the book had been written along the way and I had already taken good instrument photographs over a period of years.
It was my wife, Amy, who came up with the brilliant and novel idea of using the instruments, in the order I bought them, as the framework upon which to hang the story of my journey as a collector.  I hoped that people will want to come along with me on what has been a fascinating and exciting journey.
Writing the book was fun.  I hope it's fun to read too.