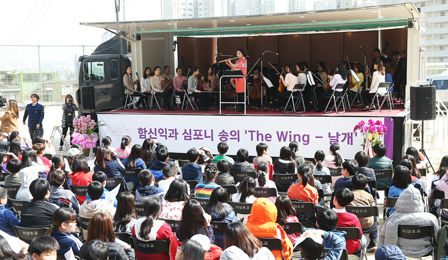 Former KBS Symphony Chief Conductor, Hahm Shin-ik has this week launched an ambitious new project – the world's first classical music truck orchestra.
Based on the concept of a street food vendor, the 58 year old Korean Maestro has unveiled the Symphony Orchestra for the Next Generation (S.O.N.G) mobile truck orchestra - with the belief that performances in non-traditional settings will offer greatly increased chances for the public to have exposure to classical music.
"As far as I know, my orchestra is probably the world's first full size one to perform classical music on a truck," Shin-ik has told the Korean Times.
"Whenever I toured around the country, I always felt that there were not enough proper concert halls except in a few major cities …." he has said, " … I always thought this is why the public felt distanced from classical music, so therefore, I began to plan this project in the early 2000s."
To help realise S.O.N.G.'s vision, the conductor borrowed the 5.5 ton truck from a local paint manufacturer, he has said.