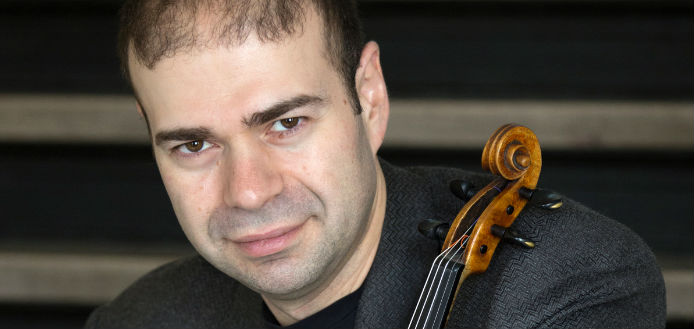 The Violin Channel recently caught up with Indiana University Jacobs School of Music violin pedagogue, Professor Grigory Kalinovsky.
In a VC-exclusive guest blog, Grigory shares his insider thoughts on which classes he feels every conservatory student should be taking?
"Both breadth and depth of education are incredibly important for becoming a truly intelligent musician.
Among music-related subjects, besides the usual core curriculum (theory, ear training, music history, large and small ensembles, etc.), I believe every student should take score reading and/or in-depth score analysis, historical performance practice, and pedagogy.
From the perspective of string players (or 'one-liners', as my good pianist friend called us), score reading and analysis fills a very detrimental gap in our core education; being able to read a score 'vertically' is something that pianists, for example, are taught naturally from the very beginning.
Besides being able to analyze basic musical form, understanding harmonic and motivic structure is crucial for making intelligent and expressive interpretative decisions. Being able to not only read an orchestral or a quartet score, but also understand why a composer chose a particular instrument for a particular motif or an accompaniment figure can also help us envision the right color for our own "one line".
Whether or not one believes in 'authentic' historical playing (and fortunately more and more musicians do nowadays), understanding the reasons behind certain stylistic and technical decisions can guide us to a more intelligent interpretation, regardless of whether one plays with a baroque bow on gut strings, or a modern bow on perlon.
'Ignorance is bliss' should not be applicable to a musician.
Understanding basic concepts of pedagogy is not only important if one decides to become a teacher, it is also an invaluable asset for analyzing and improving one's own playing and musicianship.
Personally, I was very fortunate to study with some of the best teachers one could hope for, yet I probably learned more about violin playing and musical interpretation from being a teacher myself than I ever did as a student.
According to a quote from a 1945 documentary about Moscow Central Music School, the purpose of Art is to 'elevate and ennoble the human spirit'.
I would add that Art teaches us empathy on the highest level - it gives us a way to experience the widest range of emotions 'by proxy'.
In order to attain a real depth of musicianship earlier in life, we need to amass several lifetimes worth of emotional experiences in a space of a few years.
Studying and experiencing all forms of Art - be it painting, architecture, literature, film, or theater - is crucial to accumulating a baggage of expressive imagery we can draw on in our own musical explorations.
To that end, I would also highly encourage all music students to take art history, literature, and film courses, if available.
- Grigory"
A graduate of the Manhattan School of Music, where he studied with Patinka Kopec and Pinchas Zukerman, Grigory currently serves on the teaching faculty at the Indiana University Jacobs School of Music and the Pinchas Zukerman Young Artists Program | A native of St. Petersburg, he commenced his violin studies in Russia under Tatiana Liberova
Do you have a burning question for one of the Pros? Simply email: [email protected]